Bank managers are certain people that when they dress, you yourself will know they are bank managers without them telling you. They dress decently classic with their coat on a long sleeved shirt and a trouser with their neatly polished shoe and other stuffs.
In this article, a bank manager dressed a way thst I can't even describe. Many people are saying he's pretending to be poor and of course, he doesn't live in a big house it's just a single room. He lives alone too and with his profession, I don't think he should be living there but everyone and his choice or plans so, I can't judge.
He wore a coat, a trouser, a shoe with a long mouth, Muslims cap, a Ghana is longer than Africa socks, a long sleeved shirt tacked in neatly, a bow tie and a brief case in hand. From the things mentioned above, you will slightly say then he looks good, the picture below wipp tell how good he looks for his profession.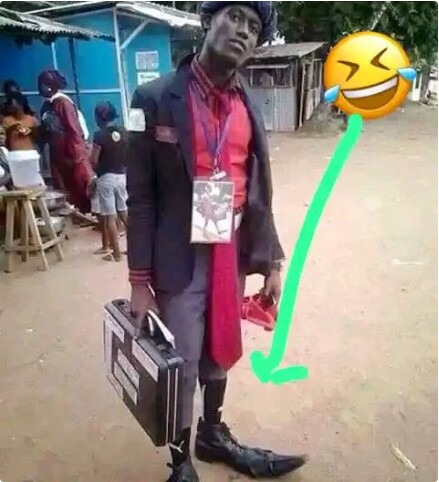 The dressing you see above is his office wear, that's what he sends to work always. Some people doubted that he is a bank manager because of his way of dtessing but it has been proven that yes, he is a bank manager.
What do you think?
Please like, share, comment and follow.
Content created and supplied by: agyemanb75 (via Opera News )