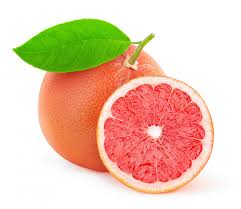 Grapefruit is the fruit of a subtropical citrus tree and across between two species- sweet orange and pomelo. Grapefruit offers numerous health benefits. Here are health benefits of consuming grapefruit every day.
Immune Booster
Grapefruit helps boost a person's immune system. According to researchers half a medium-size grapefruit gives 59 percent of a person's daily vitamin C needs. Vitamin C plays a role in immunity and helps neutralize free radicals in the body.
General Nutrients
Grapefruit is rich in vitamins and minerals. The fruit is rich in vitamin A, vitamin B, and vitamin C. Vitamin A is essential for vision, as well as to the integrity of the skin and the mucus membranes. Vitamin B is important to the function of the nervous system, which includes learning, thinking and memory. Vitamin C is known for its ability to raise the body's defenses against infection and sickness.
Weight Management
Grapefruit also helps in weight management, specifically weight loss. Consuming grapefruit every day a helps person to lose unwanted weight.
Thank you for reading this article. Please kindly follow me, like, comments and share it to others.
Content created and supplied by: Bgifty (via Opera News )