A mango is a stone fruit produced from numerous species of tropical trees belonging to the flowering plant genus Mangifera indica, cultivated mostly for their edible fruit. Most of these species are found in nature as wild mangoes. It has a large seed in the middle. The genus belongs to the cashew family Anacardiaceae. Mango is native to India and Southeast Asia and has been cultivated for over 4,000 years. There are hundreds of types of mango, each with a unique taste, shape, size and colour. Mangifera indica, has been distributed worldwide to become one of the most widely cultivated fruits in the tropics.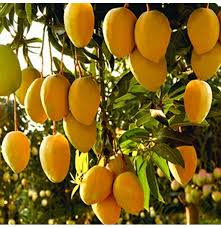 Worldwide, there are several hundred cultivars of mango. Depending on the cultivar, mango fruit varies in size, shape, sweetness, skin color, and flesh color which may be pale yellow, gold, or orange. Mango is the national fruit of India, Pakistan and the national tree of Bangladesh.In some parts of the world, mango (Mangifera indica) is called the "king of fruits."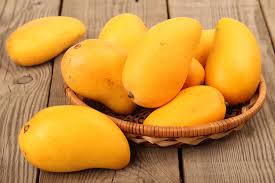 This fruit is not only delicious but also boasts an impressive nutritional profile.In fact, studies link mango and its nutrients to health benefits, such as improved immunity, digestive health and eyesight, as well as a lower risk of certain cancers. It also contains small amounts of phosphorus, pantothenic acid, calcium, selenium and iron.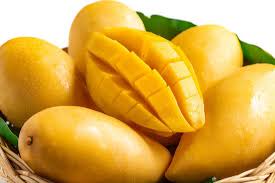 Mango contains nutrients that support a healthy heart. For instance, it offers magnesium and potassium, which help maintain a healthy pulse and your blood vessels relax, promoting lower blood pressure levels. Mango has several qualities that make it excellent for digestive health. For one, it contains a group of digestive enzymes called amylases. Digestive enzymes break down large food molecules so that they can be easily absorbed. Amylases break down complex carbs into sugars, such as glucose and maltose. These enzymes are more active in ripe mangoes, which is why they're sweeter than unripe ones. Mango is high in vitamin C, which promotes healthy hair and skin.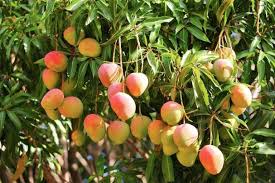 One of the biggest health benefits of mango is that it contains iron in abundance, which is necessary for the health of a pregnant woman. Mango contains all the necessary nutrients and vitamins required for a healthy pregnancy. Mangoes act as healthy yet tasty supplement food for pregnancy. It not only provides essential nutrients to the mother and the unborn but also ensures that the lackluster appetite of pregnant women is kickstarted.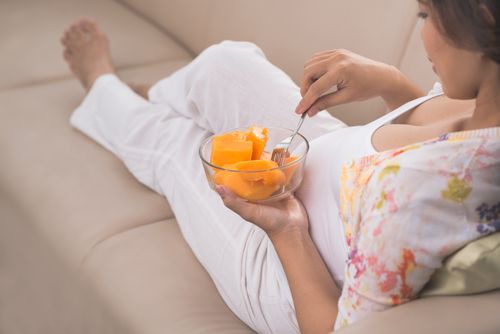 Looking at the health and nutritional benefits of mango, one would want to eat this fruit everyday but it's unfortunate, it's seasonal. Nevertheless, you can turn it into a homemade ice cream. 
Ingredients
1. 3 mangoes (2 cups cubed)
2. ¾ cup sugar
3. ¼ cup lemon juice (optional)
4. 1 cup heavy (whipping) cream
5. ¾ cup whole milk
Instructions
1. Freeze the freezer bowl 24 hours prior to making ice cream. Wrap in a plastic bag so the bowl stays clean.
2. In a blender, add mango, ¼ cup sugar, and lemon juice and puree until texture is smooth. Set aside.
3. In a large bowl, combine heavy whipping cream, milk, and the remaining ½ cup sugar, stirring to dissolve the sugar.
4. Stir in the pureed mango and gently stir to mix.
5. Cover and chill the mixture in the fridge for at least 4 hours. I put it in the freezer for one hour.
6. If you desire a firmer consistency, transfer the ice cream to an airtight container and store in the freezer for 4 hours before serving.
Your yummy mango ice cream is ready to be enjoyed. I hope you would try it at home.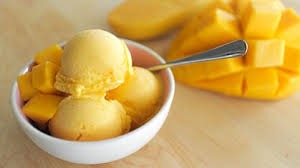 Thank you for reading. 
Please like, share and follow me for more updates on delicious recipes. 
Content created and supplied by: SenamAma (via Opera News )