Cooking is vital to our survival. Cooking obviously comes with using and cleaning dishes. Thanks to technology we now have gadgets that make cooking easier. Talk of toasters, burners, kettles, microwaves,deep fryers and many more.
To be healthy we need not just eat right and exercise right. Eating right doesn't just mean avoiding junk but ensuring proper hygiene in the preparation, handling and dishing out of the food.
I've heard a lot of people complaining that washing a blender is difficult and in some cases people have been cut by the blender blade. Washing a blender should be a herculean task. It could be the simplest thing to clean. You're probably wondering how. Leave the 'how' to me. Just relax and let me show you this life changing hack.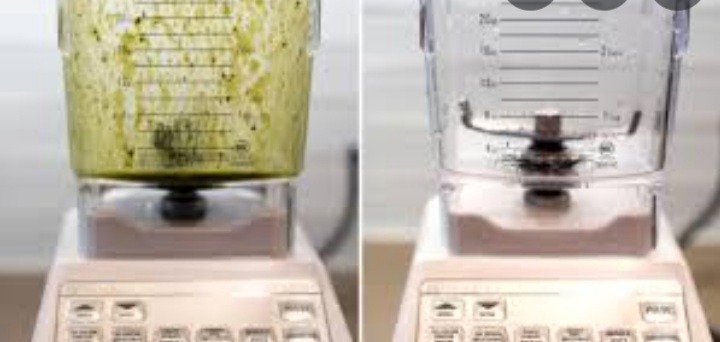 1. After using your blender fill it with water to cover up all the stain.
2. Add enough liquid soap to it.
3. Cover the blender with it's lid.
4. Place it on the regulator.
5. Put it on and let it whisk the soapy water.
6. Continue till it cleans all the stains.
7. Depending on how long it's after using the blender one whisk should be enough to clean all the stain.
8. If the blender has been left for the stain to be dried I advice you soak it. Pour away the water and replace it with soapy water and blend it.
9. Watch how the magic happens.
Your days of suffering to clean the blender is over. Try this hack out today. Thanks for reading. Kindly like and share this. Do follow me as well. Don't forget to be safe and mask up. Till next time, bye!!!
Content created and supplied by: Mandeiya (via Opera News )