These Ghanaian Local drinks are unique and tasty because of its natural ingredients and non preservatives use for preparation. These Local drinks also have different variations from each of the ethnic groups in Ghana.
This drink has little or no side effect as compare to the industrial drinks made with flavors, sugar, colours etc. It is important for every parent to rather give any of these local drinks to their child especially the one with less natural alcohol, than given them those carbonated drinks. When we thought about the industrial beverage its usually made with coffee, sugar, flavors, colors etc.
But These local beverages are prepared with so much attention to their medicinal and nutritional values and it is made from our tropical herbs around us. Some of these beverages can heal minor illness and boost our immune system as well. You can even serve these local drinks at any party. So help share across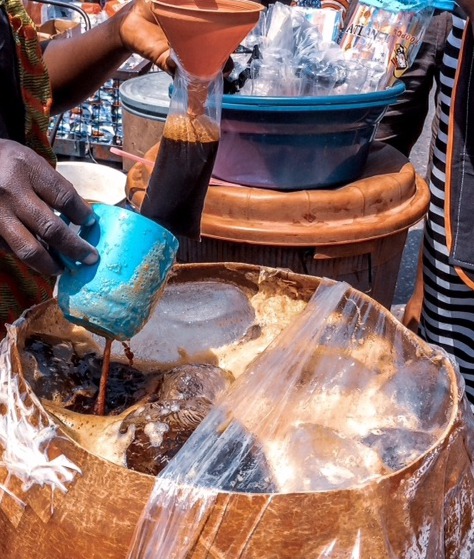 The following are few example of local drinks
1. Lamugin
Lamugin is prepared by blending a mixture of chopped ginger, lemon, soaked cloves and water. The blended mixture is then strained into a jar or bowl then they add sugar to make it taste good.
2. Asaana Drink
Asaana is a corn drink also called Ahai in Fante language prepared from fermented corn and caramelized sugar. Water is sprinkled on the corn in a big bowl and left for 3 days. It is then milled to a fine dry dough and just like the process of preparing porridge. It is then allowed to cool overnight.
3. Pito
Pito is a traditional alcoholic beer that is made from fermented sorghum or millet. Locally brewed. It is popular in the northern part of Ghana. It could be served cold or hot but usually it is cool.
4. Sobolo
Sobolo which can also be referred to as Hibiscus tea is a popular Ghanaian drink which is delicious and unique in taste
Sobolo is not just a refreshing drink, it is also medicinal as it helps improve a person's health. This drink is made from dried Hibiscus flowers mixed with sugar and ginger juice as the main ingredients.
5. Brukina
Burkina, is prepared from millet and this is prominent in the northern part of Ghana. It is mostly taken when chilled. It is made with ancient grain millet, with its sweet essence, milk, salt and sugar. The milk is mostly fresh cow milk. Some people refer to it as Brukina but the correct name is Burkina which its origin is from Burkina Faso and its original name is "Deger"
6. Ice Kenkey
Ice Kenkey prepared from any of the two main types of Kenkey, The Fante or Ga kenkey. The kenkey is mixed with water in the right quantity and then mashed or blended into a smooth paste. Sugar and salt is added to taste and the smoothie is completed by adding milk. Its Even sustain hanger like the Burkina.
6. Solom Drink
This drink is much popular in the Volta region of Ghana and it is made from fermented red millet and water and allow to boil for about some minutes. It is allowed to cool and small brown sugar is added to taste much better it.
7.Palm Wine or Nsa-Fufuo
A favourite amongst many others. Palm wine is tapped from a fully grown palm tree and the process is enhanced by heat application. The longer the days the sap is stored, the higher the alcoholic content but it is mostly sold fresh. It is completely natural and it is well know by most African country not only Ghana. To much of this can make you go drunk so it is not recommended for children.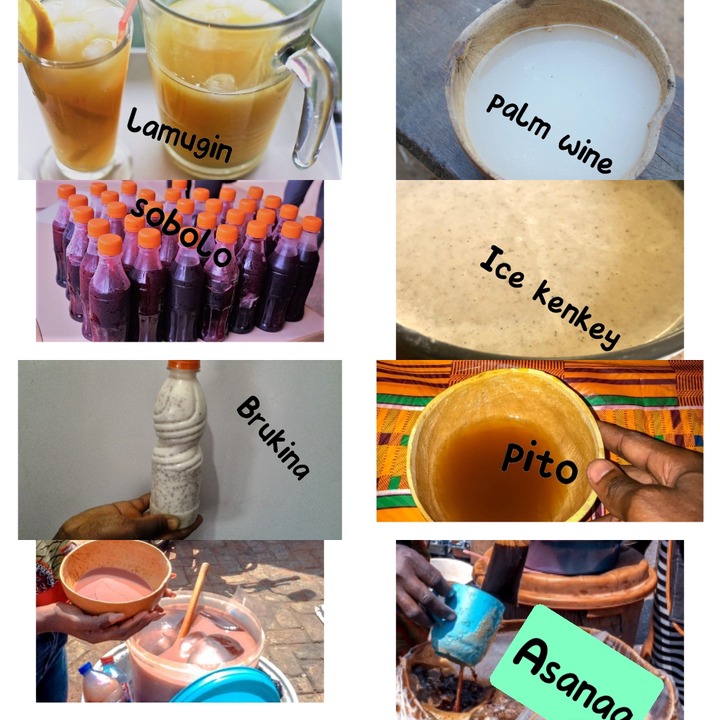 Among of the above mention which one is your favorite and do you think people will reject these drink when you serve at your wedding? These are natural so let's like and share with friend to know the important of these local drinks thank you.
Content created and supplied by: HisExellency_75 (via Opera News )