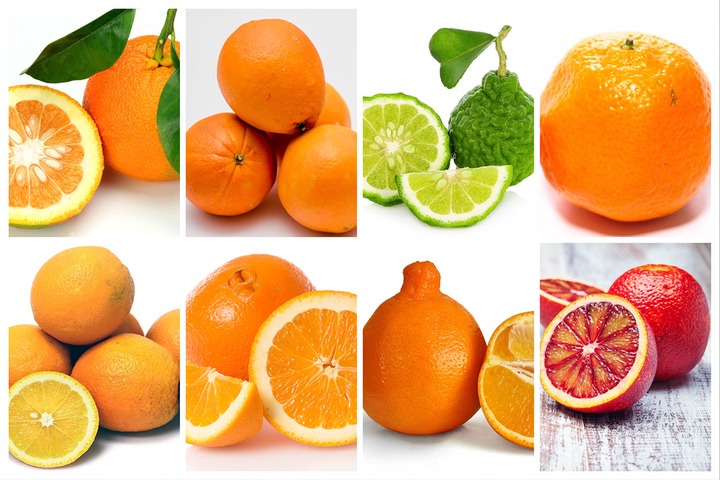 Over the last couple of articles, we've been looking at the variety of each type of fruit. We did coconut and pineapple, today we are looking at the different types of orange.
The orange is the fruit of various citrus species in the family Rutaceae (see list of plants known as orange); it primarily refers to Citrus × sinensis, which is also called sweet orange, to distinguish it from the related Citrus × aurantium, referred to as bitter orange. 
 This is a guide simply to the most common orange varieties, but trust 
me, that's complicated enough.
VALENCIA ORANGE : this type was created in southern California in the mid-19th century. It is sweet, with low acidity and a bright orange color. The valencia is the most common juicing orange though it is also eaten. 
NAVEL ORANGE : it is not clear where the navel orange is from, some say it's from Portugal, others claim Brazil. It gets its name from the fact that it tries to grow another orange at it's base, which produces an effect similar to the human belly button. With regards to flavor, the navel orange is a bit bitter than the valencia and it has a harder peel and is even harder than the valencia. They are mostly seedless therefore sterile.
CLEMENTINE : some call it the adorable 'little nephew of the orange family'. The clementine is a hybrid of a sweet orange (likely the valencia or the navel orange) and a mandarin which was discovered by a French missionary who supposedly discovered the variety in Algeria. The clementine is very tiny, sweet, seedless and has loose skin which makes it easy to peel without tools. It is ideal for eating, all you need is a sharp fingernail to get started. 
TANGELO : the name suggests a hybrid from a tangerine and a pomelo 
(the tangerine is probably a type of mandarin or a fruit similar to the mandarin, nobody really knows but it is in the mandarin orbit). The tangelo is easily identified by its reddish skin and a nipple-like  thing at the stem end. It is especially juicy and sweet with a very low amount of acid which makes it an excellent choice for juicing but the skin is rather hard to peel making it a bit difficult to eat raw.
BLOOD ORANGE : this one is probably a natural mutation of a regular orange. It has a deep sinister red flesh which indicates a high level of antioxidants called anthocyanins (most oranges do not have these). There are a few different types of blood oranges of which include the sanguinello and the moro (the most common). Blood oranges are not as sweet as the other oranges but they have an appealing raspberry-like flavor to them. 
Content created and supplied by: Peccuy (via Opera News )