Yam and palava sauce popularly known as kontomire stew is a Ghanaian dish eaten and loved by many. Preparing this dish is somehow difficult but in this article, I am going to show you how to prepare the best of this dish in a simple and non cost manner.
The ingredients needed for the preparation of the palava sauce popularly known as kontomire stew are, palm oil, onions, Scotch bonnets (pepper), kobi, smoked mackerel, diced tomatoes and salt.
Let's get started with the procedure, boil the kontomire for 10 minutes and set aside. Pour the palm oil into a sauce pan, chop the onions and pour into the palm oil, cook for 3 minutes. Add the kobi, grind the Scotch bonnet or pepper and pour in addition, fry for 2 minutes. Add the smoked mackerel, dice the tomatoes and add, add a little salt to taste. Simmer for 30 minutes and finally add the kontomire. Cook for 15 minutes and we are done with the palava sauce or kontomire stew.
It's time for the yam, cut the ends of the yam with a knife and throw away, cut the yam in rounds, peel of the yam with the knife. You can decide to divide the round yam into two or leave. Wash the yam multiple times in water till the water you are washing it in looks clean. Boil water over high heat with a salt in it, put in the yam into the boiling water and check after 5 minutes. To know if it's ready, put a toothpick into the yam and if it penetrates without you forcing it in, then it's ready, drain down the water and leave the yam for 10minutes to let it dry (to harden it a little). Serve yourself!!!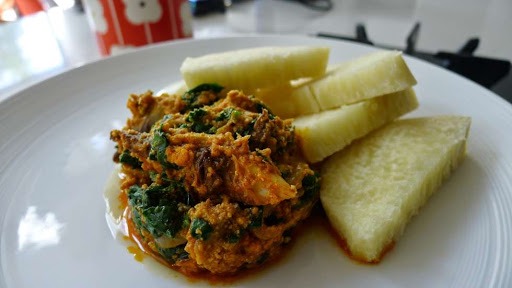 What do you think? Was it helpful?
Please like, comment, share and follow.
Content created and supplied by: agyemanb75 (via Opera News )