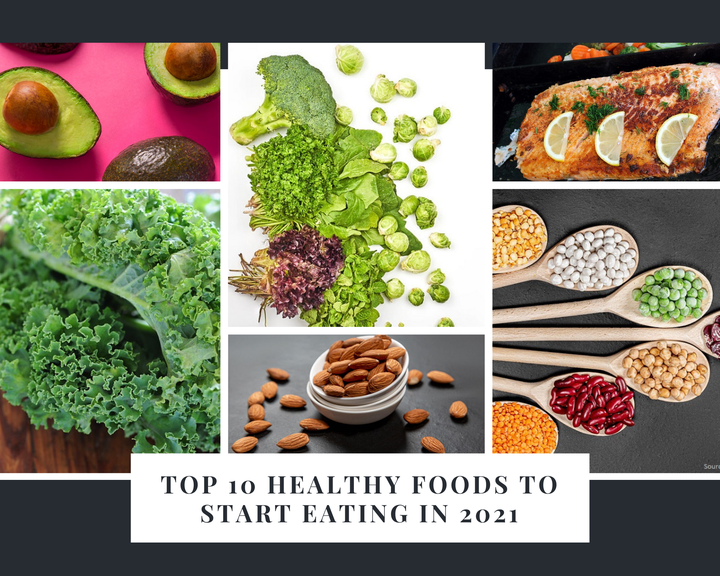 Eating healthy is the best way to start your day and you shouldn't compromise with it. The year 2020 had bought a lot of hardship and then people realized the value of healthy food and lifestyle. You shouldn't wait for more to start eating healthy and the year 2021 is the perfect time for consuming healthier eatables.
When you think about the best healthy foods to eat, many names pop into your mind. The list of healthy foods is quite large as each and every food item consist of one or many nutrients. All of the below mentioned foods can easily be imported anywhere in the world by using a package forwarding service. We are going to know about a few ones which are packed with a lot of nutrients and thus sometimes called "superfoods".
1.Almonds
Just a half cup of almonds can provide you tons of nutrients. These nuts are packed with multiple vitamins, healthy saturated fats, antioxidants, fibers, energy, and the list goes on. Easily available this superfood can be simply consumed raw and that's the best thing about Almonds. Let's have a look at its nutritional values:
Protein
Calcium, Magnesium, Iron, Copper, Potassium
Vitamin E
Riboflavin, Niacin
Monosaturated Fat
2.Lentils
Lentils are a staple food item in most Asian countries including Pakistan, India, Bhutan, Sri Lanka, Bangladesh, Nepal, etc. One of the most common nutrients found in almost every variant of lentils is protein and fiber. India is the world's top lentils consumer country and you must add it to your daily diet.
It's a cheap, easily available food item that takes a little more time to cook. You can consume it even without cooking by sprouting after soaking it in water. Lentil sprouts are one of the healthiest food sources to consume on earth.
3.Apple
It's an old tale that 'an apple a day keeps the doctor away and that it ultimately correct. Apples are overloaded with nutrients and the best thing about these fruits is they are easily available no matter whatever the place it is.
Apples are rich in antioxidants and these antioxidants are capable of fighting free radicals. Free radicals are chemical compound produced naturally by our body which is responsible for damage of body cells. The unbalanced amount of free radicals in the body can lead to many chronic diseases and boost the aging process.
Eat apples on a regular basis to make your body capable of fighting free radicals and maintaining a balance. Eating apples can also help you slow down aging and making you look younger.
4.Kale
Kale smoothies are the most favorite smoothies of fitness freaks and weightlifters. This leafy vegetable provides a great range of nutrients from fibers to minerals and from healthy carbs to antioxidants. Kale is an excellent source of Vitamin K and C. The best way to prepare kale is to steam it as by doing this it doesn't lose its nutrients which get lost when gets overcooked.
5.Broccoli
Another miracle vegetable on the list and this time it's Broccoli. This food item is loaded with tons of phytonutrients and can lower the risk of many serious health problems including cancers, diabetes, heart diseases, etc. It is also rich in Vitamin C and a rare nutrient called beta-carotene. Small description of its nutrients;
Fiber
Calcium, folate, potassium
Vitamin C
Beta-carotene
Anti-inflammatory properties
6.Avocados
Avocado is tagged as a superfood and you must include it in your list of food to start eating this year. This is one of the fewer fruits which are rich in healthy fats. Avocado also offers a lot of Vitamins such as Vitamin B, K, and E. These fruits are also rich in fiber and lipo-protein a type of good cholesterol.
This good cholesterol fights harmful cholesterol and removes them from the blood vessels reducing the risk of heart diseases. The phytonutrients found in Avocado also inhibit the viability of cancer cells and protect you from prostate, colon, and breast cancer.
7.Blueberries
Berries are rich in vitamins and every continent has its native berries. Blueberries are considered one of most favorite berry variety and you must include them in your diet this New Year. This berry is loaded with fiber, antioxidants, vitamins, minerals, and a lot of other nutrients to help your body function healthily.
Eating blueberries can have a direct impact on your health and can make your body capable of fighting multiple diseases including Alzheimer's, obesity, blood pressure, hypertension, and many more.
8.Leafy Greens
Leafy greens are the best food you can give your body. Easy to consume and prepare, these eatables contain an array of nutrients and you shouldn't miss a chance to have them. The nutrient content of leafy green is quite large and I have mentioned some of them here too:
Vitamin A, C, E, K and B6
Selenium, Potassium, Niacin, Zinc, iron, etc
Fiber
Healthy carbs
9.Yogurt
Yogurt is one of the simplest food items to be consumed. You can even eat it raw by just adding a few spoons of sugar if you want. If you haven't tried curd/yogurt this way before, make a try once and I am sure you would love that. This eatable is ideal for our gut health as it increases the production of good bacteria which helps in better digestion and immunity.
10.Fish
Fishes are a rich source of Omega-3 acids and that's why you must add a variety of fish to your diet. No matter if your favorite fish is salmon, trout, herring, sardines, mackerel, or any other species, all of them carry almost identical nutrients. You can also go with freshwater fishes as they are also great for our overall health.
Bottom Line:
Food is necessary for survival but it also decides whether you are going to live a healthy life or deal with health problems. Healthy food can help you make your body capable of fighting a lot of diseases and health issues.
Make sure to adopt a healthy lifestyle by consuming a nutrition-rich diet. Along with diet also increase body activity and does at least a 30-minute workout daily. The eatables featured above will surely help you maintain a great body and health.
Content created and supplied by: Northub (via Opera News )
Opera News is a free to use platform and the views and opinions expressed herein are solely those of the author and do not represent, reflect or express the views of Opera News. Any/all written content and images displayed are provided by the blogger/author, appear herein as submitted by the blogger/author and are unedited by Opera News. Opera News does not consent to nor does it condone the posting of any content that violates the rights (including the copyrights) of any third party, nor content that may malign, inter alia, any religion, ethnic group, organization, gender, company, or individual. Opera News furthermore does not condone the use of our platform for the purposes encouraging/endorsing hate speech, violation of human rights and/or utterances of a defamatory nature. If the content contained herein violates any of your rights, including those of copyright, and/or violates any the above mentioned factors, you are requested to immediately notify us using via the following email address operanews-external(at)opera.com and/or report the article using the available reporting functionality built into our Platform See More