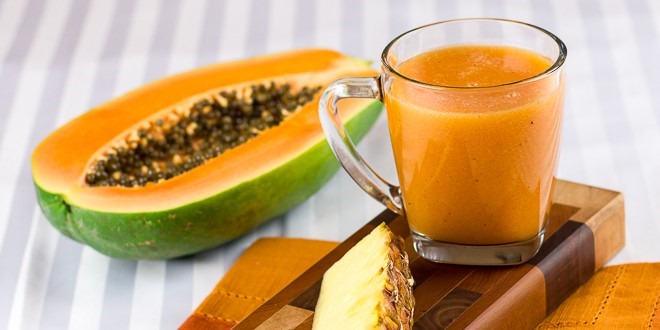 Ginger is a powerful spice that goes down well when paired with several fruits and vegetables. Pawpaw is also known in the herbal world for its great antioxidants, anti-inflammatory and anti-cancer effects.
However, when the two comes together, the result is something that you don't want to start your day without. I mean Pawpaw Ginger Smoothie.
In this article, I will share with you some of the benefits of this refreshing smoothie so make sure to read to the end. First thing first.
Before we dive into the details, kindly take a moment and hit the FOLLOW button at the top right corner to get all my daily health tips. Thanks in advance.
How to make Pawpaw Ginger Smoothie for great benefits?
Ingredients
1. Pawpaw – 2 1/2 cups
2. Ginger – 1 tablespoon, chopped and grounded
3. Honey – 1 tablespoon
4. Lemon – 2 and juiced
5. Mint leaves – 16 pieces
6. Almond milk – 2/3
Process
You may want to store your sliced and sized pawpaw in the fridge for a few hours to allow it cool.
Pour 1/4 cup of water and all the ingredients into a blender and make a smooth blend as desired.
Your refreshing smoothie is ready to be served. Remember this will yield 4 servings so do well to store the unused part in the fridge.
Benefits of drinking Pawpaw Ginger Smoothie In the Morning
Content created and supplied by: Health360 (via Opera News )