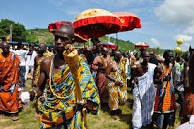 In the days of Moses when God spoke to Moses to deliver the people of Israel from the wicked king Pharaoh. After manifestation of ten solid miracles and wonders yet Pharaoh refused allowing the Israelites to go and serve God. Then God told Moses to command the people to kill a lamb and eat all but makes sure each and everyone of them should use the blood of the animal to mark their doorposts. This is later declared as the Passover. All the flesh of the animals killed must be consumed on that same. Nothing is expected to remain even if it happens that a portion of the flesh remains ,it must be buried.
 A tribe in Ghana has a story about a ritual that is similar to that of the Passover. The "Avenor" tribe in the Volta region has a ritual in which fowl must be taken to a specific place every year.The animals are slaughtered, the blood poured on the ground.The flesh must not be boiled but rather roasted. The roasted meat would be eaten accompanied with strong local drinks such as akpeteshie and palm wine.The roasted fowl meat must not be brought home but must be consumed there. Remains of the roasted meat must be buried.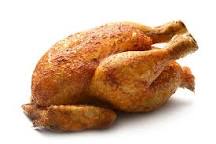 This yearly ritual has a story behind it. It was known that when the forefather's of the Avenor's were coming to the present location ,there were chased by their enemies.They reached a place where one of women set up fire to cook.After the cooking the enemies has catch up with them but there Avenor's were able to over power their enemies. They believed it was the place that saved them from the hands of their enemies so they put up such a ritual.All people belonging to this tribe are supposed to observed this day every year but men are the only ones involved now.
Content created and supplied by: Baruoxide (via Opera News )