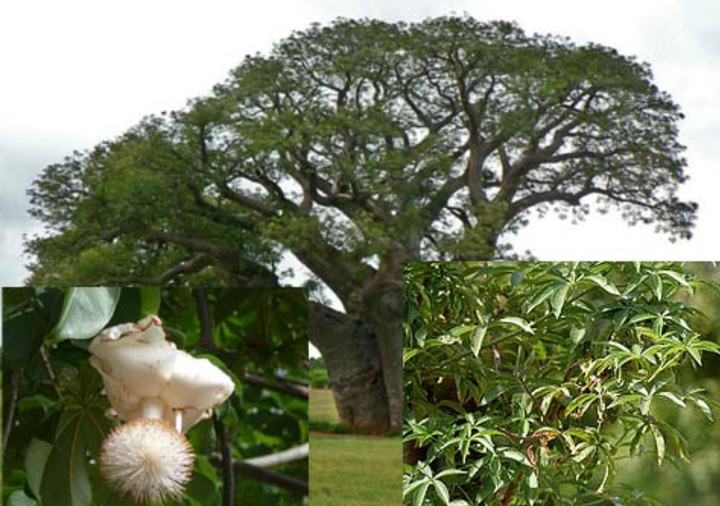 Before you read on, I urge you to please take a moment of your time to click on the follow button at the right top corner of your screen so you don't miss out on daily healthy tips from Healthmatics.
HISTORY AND USE
This tree has always struck the imagination for its grotesque shape and size.It is considered sacred tree in many villages.All parts of the plant are used.Apart of its food uses, we can mention antidiarrheal , antirachitic, anti-inflammatory, etc.
DESCRIPTION OF THE PLANT
It is a tree that can reach 20 to 25 meters in height with a huge trunk that can measure 3 meters in diameter.The leaves are alternate and composed of 5 to 7 leaflets.The white flowers hang at the end of a peduncle and give ovoid fruits called "monkey bread" containing black seeds embedded in a white floury pulp.
CURATIVE ACTION
The toxicity of the leaves is non-existent orally By subcutaneous injection, give an extract corresponding to 10 grams per kilogram to kill a mouse.The fruit pulp contains carbohydrates, proteins, lipids, vitamins, pectic substances, organic acids and mineral salts The antidiarrheal action is given by carbohydrates and pectic substances that absorb water.The leaves contain a high percentage of calcium useful for food and abundant mucilage which swells in the water and allows a better digestion.It is added to the millet couscous for this purpose in Mali and Burkina-Faso
USES
Diarrhea
Mix the dried fruit pulp after removing the seeds, in water or milk (10 grams per 100 ml) and drink at meals.
Content created and supplied by: Healthmatics (via Opera News )