The Human immunodeficiency virus is a virus that attacks the body's immune system. If HIV is not treated, it can lead to AIDS. Also study says within a few weeks of HIV infection, flu-like symptoms such as fever, sore throat and fatigue can occur. Then the disease is usually asymptomatic until it progresses to AIDS and some of the symptoms include weight loss, fever or night sweats, fatigue and recurrent infections.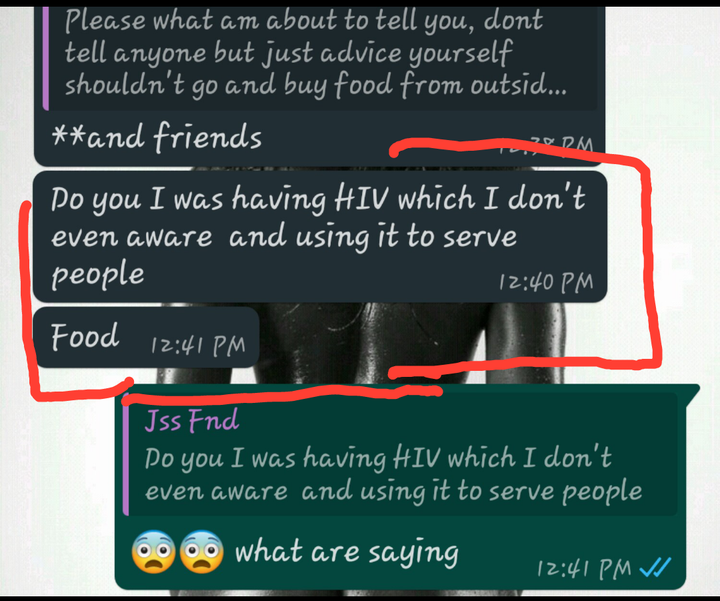 We all know that this disease can be transfer to person to person through cut, usafe or unprecedented sex etc. And according this screenshot of whatsapp massage the victim has acquire the disease and serving people food with it while he or she is not aware he had the infection.
Selling food to others ,the preparation involve in uses of knife which the victim can have a cut. The blood can can transfer to someone unexpectedly.
So he or she is advicing people to know where to buy their food because people may have to sale food other. Please you read the conversation for yourself and share to other to be aware for where they buy their food so that they wont be a victim.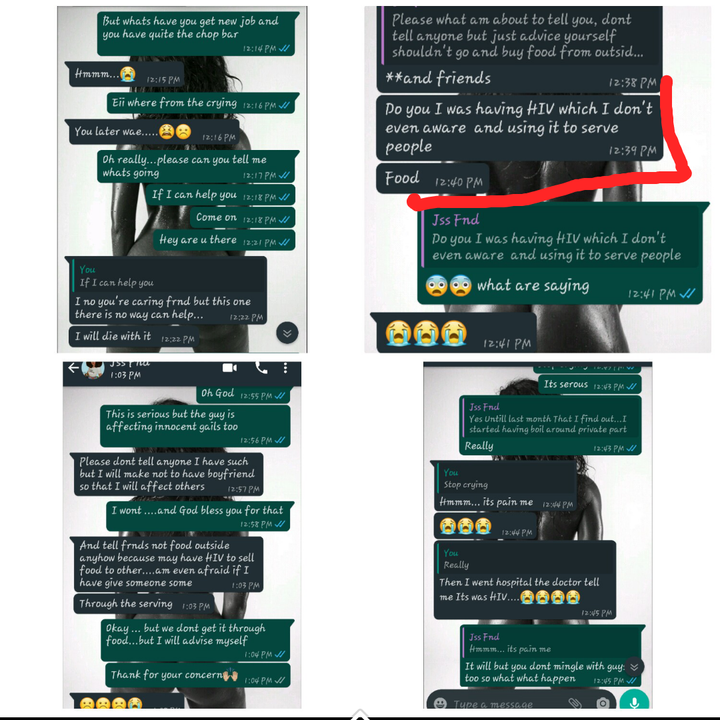 I think is better for for health services to test anybody who sale food, to see if he or she don't have any disease that can affect others . Before he or she can be allowed to sale food to others.
Again since we cant stop buying food outside, lets all try to be vigilant at places we choose to buy our food. Imagine this person is not a God fearing and quite the Job, what do we think it happen, so please help share across for other to be aware. Thank you lets be our brothers keeper.
Content created and supplied by: HisExellency_75 (via Opera News )