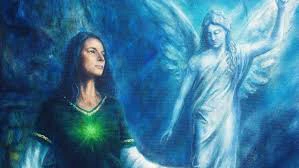 Each of your Spirit Guides, Guardian Angels and Loved Ones has a unique presence indicator called a 'calling card' that is only used by them and once you identify it, then you have a shorthand method of knowing when your spirit guide is communicating with you and when it's something else.
When you identify the calling card, rather than knowing that just a Spirit is with you, you can know for sure whether it is your Guardian Angel Samantha versus your Protector Guide Claudia, just by detecting slight nuances in their behavior.
To identify your Spirit Guide's presence, apart from the all other Spirit presences -
1. Intuition
Ever hear that soft little voice in your head that tells you it's time to do something? Turn right at the stop sign instead of left, make a big change even though it's scary, or sit back and listen to what people are saying… all of these are things that the little inner voice might be telling you, and yet often, we dismiss it. Some people believe that this intuitive voice is actually indicative of the presence of a spirit guide. Learn to evaluate your intuitive ideas, and see if they're correct. If they are, it's possible that this is your spirit guide talking to you.
2. Meditation
Some people seek out their spirit guides using meditation. While there are a number of guided meditations you can do to meet spirit guides, available commercially, there's no need to spend money on a CD or download. Instead, take some time to meditate on your own – be sure to read our Meditation 101 article for basics on getting started. As you begin, make sure you're clearing your mind out of anything that's not related to meeting your spirit guide. For many people, this mediation takes the form of a journey. Imagine yourself walking in a remote place, far from the madding crowd. Perhaps you're in a forest, or on a mountainside, or out in the plains of the Midwest. As you wander, chances are good that you'll meet someone along the way – and this person could be your spirit guide. Often, spirit guides are representative archetypes – that means they can be someone who symbolizes other things. For instance, your spirit guide might look like Abraham Lincoln. That doesn't necessarily mean that Honest Abe is your spirit guide, but that he represents certain things to you – honesty, freedom, perseverance, and so on.
3. Dream Journeys
Similar to meditation, a dream journey – which some people refer to as a vision quest – is a way of finding a spirit guide through the subconscious. However, unlike in meditation, during a dream journey, you're actually asleep. Lucid dreaming is the practice of dreaming with a purpose – as you go to bed, focus on what you wish to dream about. In this case, focus on meeting a spirit guide. Lucid dreaming can be a little tricky to get the hang of, but once you've done it a few times, you'll be able to pre-plan the basics of where you're going in your dreams, and what you might be doing there.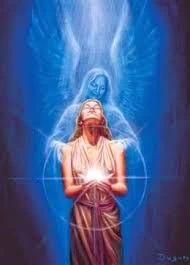 Because we tend to forget our dreams fairly quickly, it's important to write down any messages you get during a dream journey, as well as information about anyone you happen to meet. You can go back later and evaluate it for patterns and meaning.
4. Signs, Symbols and Omens
We often talk here about people looking for symbolism where there isn't any and then failing to recognize it when it's right in front of them. Some spirit guides will make themselves known to you with a series of symbols and signs. These may be very basic ones – perhaps you keep seeing blue things, and you've never noticed them before – or they may be more complex.
Many people believe that if you want answers from your spirit guide, you need to ask them a question – don't just assume that they're going to spoon feed you information that's beneficial. Ask a question, or at the very least, ask for a solution to a dilemma, and then watch for signs or omens that provide an answer.
Kiersta is a Pagan who lives in southern Ohio, and she was trying to decide whether or not she should return to college after a ten-year absence. "I kept weighing the pros and cons, and really couldn't make a decision because everything was pretty evenly balanced. After about three months of waffling around, I put it out there to my spirit guides. I figured if I was meant to go back and get my nursing degree, I'd get a sign. If I didn't get one, I'd know it wasn't the right time. Within a span of about five days, I kept seeing things that made me realize I needed to go – little signs, like college symbols popping up at random places, a song on the radio, a license plate in front of me that said AWSUM RN, stuff like that. The kicker was when I had to take my son to the emergency room for a nasty sports injury, and after seeing how calm I was, the doctor turned to me and said, "You ever think about going into nursing?"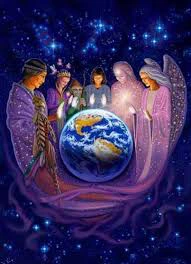 5. Psychic Evaluation/Divination
Ideally, most people find they want to discover their spirit guide on their own. If you're skilled at divination, you can try a variety of divination methods yourself to see if you can contact a spirit guide - you don't necessarily have to pay a psychic to do this for you.
However, if none of the above methods are really working out for you, another option is to have a psychic do some divination to help you meet your spirit guide. A talented psychic can often see if you've got guides around you – and can help identify them for you. As always, be sure that you're working with a reputable psychic, and not someone who is simply after your money. If you don't get an answer within a couple of sessions, then either (a) you don't currently have a spirit guide, (b) you have one and it's not ready to make itself known, or (c) you need to find a different psychic.
Remember, some people may not have a spirit guide, and some people have many of them working together or in turns.
If you do have a spirit guide, you may not find them available to you all the time. Often, they only appear when needed – after all, the purpose of a guide is to offer guidance. If you're doing just fine, there's a possibility that they're off helping others who need it more than you do.
Content created and supplied by: vgyasi (via Opera News )
Opera News is a free to use platform and the views and opinions expressed herein are solely those of the author and do not represent, reflect or express the views of Opera News. Any/all written content and images displayed are provided by the blogger/author, appear herein as submitted by the blogger/author and are unedited by Opera News. Opera News does not consent to nor does it condone the posting of any content that violates the rights (including the copyrights) of any third party, nor content that may malign, inter alia, any religion, ethnic group, organization, gender, company, or individual. Opera News furthermore does not condone the use of our platform for the purposes encouraging/endorsing hate speech, violation of human rights and/or utterances of a defamatory nature. If the content contained herein violates any of your rights, including those of copyright, and/or violates any the above mentioned factors, you are requested to immediately notify us using via the following email address operanews-external(at)opera.com and/or report the article using the available reporting functionality built into our Platform See More