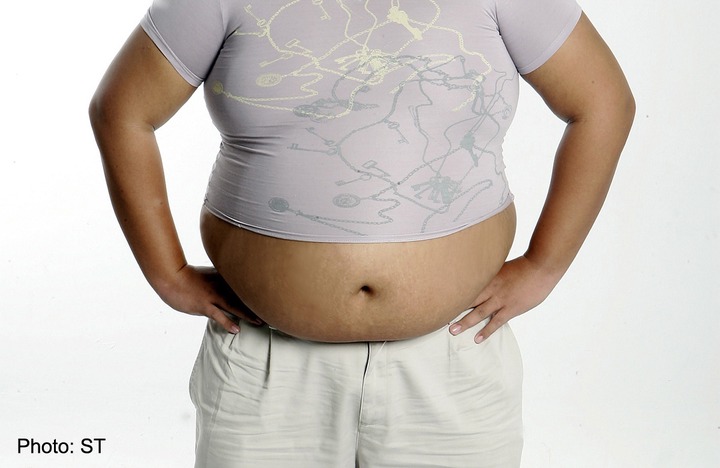 Abdominal obesity, also known as central obesity and truncal obesity, is a condition when excessive abdominal fat around the stomach and abdomen has built up to the extent that it is likely to have a negative impact on health. Central obesity has been strongly linked to cardiovascular disease, Alzheimer's disease, and other metabolic and vascular diseases.
Central obesity
Other names
Beer belly, beer gut, pot belly, spare tyre, bread box, muffin top
Obesity6.JPG
A centrally obese male. Weight 182 kg/400 lbs, height 185 cm/6 ft 1 in. The body mass index is 53.
Specialty
Endocrinology
Complications
Heart disease, asthma, stroke, diabetes
Causes
Sedentary lifestyle, Cushing's syndrome, alcoholism, polycystic ovarian syndrome, Prader-Willi syndrome
Visceral and central abdominal fat and waist circumference show a strong association with type 2 diabetes.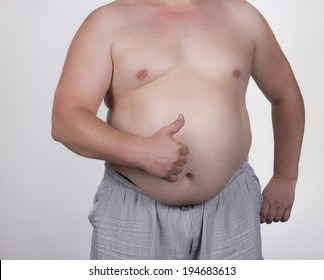 Visceral fat, also known as organ fat or intra-abdominal fat, is located inside the peritoneal cavity, packed in between internal organs and torso, as opposed to subcutaneous fat, which is found underneath the skin, and intramuscular fat, which is found interspersed in skeletal muscle. Visceral fat is composed of several adipose depots including mesenteric, epididymal white adipose tissue (EWAT), and perirenal fat. An excess of adipose visceral fat is known as central obesity, the "pot belly" or "beer belly" effect, in which the abdomen protrudes excessively. This body type is also known as "apple shaped", as opposed to "pear shaped" in which fat is deposited on the hips and buttocks.
Researchers first started to focus on abdominal obesity in the 1980s when they realized it had an important connection to cardiovascular disease, diabetes, and dyslipidemia. Abdominal obesity was more closely related with metabolic dysfunctions connected with cardiovascular disease than was general obesity. In the late 1980s and early 1990s insightful and powerful imaging techniques were discovered that would further help advance the understanding of the health risks associated with body fat accumulation. Techniques such as computed tomography and magnetic resonance imaging made it possible to categorize mass of adipose tissue located at the abdominal level into intra-abdominal fat and subcutaneous fat.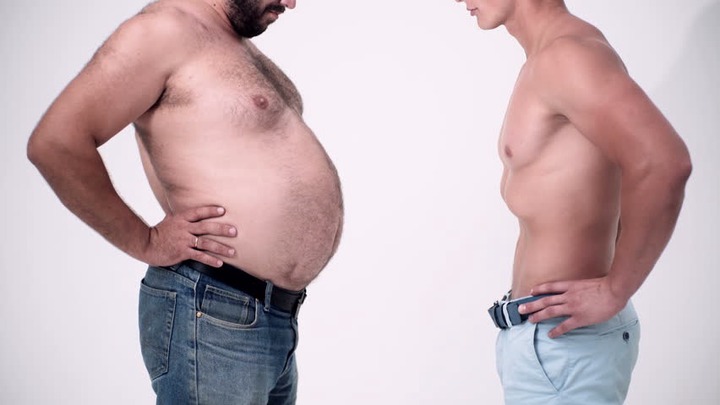 Health risks
Heart disease
Central obesity is associated with a statistically higher risk of heart disease, hypertension, insulin resistance, and type 2 diabetes (see below). With an increase in the waist to hip ratio and overall waist circumference the risk of death increases as well. Metabolic syndrome is associated with abdominal obesity, blood lipid disorders, inflammation, insulin resistance, full-blown diabetes, and increased risk of developing cardiovascular disease. It is now generally believed that intra-abdominal fat is the depot that conveys the biggest health risk.
Recent validation has concluded that total and regional body volume estimates correlate positively and significantly with biomarkers of cardiovascular risk and BVI calculations correlate significantly with all biomarkers of cardio-vascular risk.
Diabetes
There are numerous theories as to the exact cause and mechanism in type 2 diabetes. Central obesity is known to predispose individuals for insulin resistance. Abdominal fat is especially active hormonally, secreting a group of hormones called adipokines that may possibly impair glucose tolerance. But adiponectin, an anti-inflammatory adipokine, which is found in lower concentration in obese and diabetic individuals has shown to be beneficial and protective in type 2 diabetes mellitus (T2DM).
Insulin resistance is a major feature of diabetes mellitus type 2 , and central obesity is correlated with both insulin resistance and T2DM itself. Increased adiposity (obesity) raises serum resistin levels, which in turn directly correlate to insulin resistance. Studies have also confirmed a direct correlation between resistin levels and T2DM. And it is waistline adipose tissue (central obesity) which seems to be the foremost type of fat deposits contributing to rising levels of serum resistin. Conversely, serum resistin levels have been found to decline with decreased adiposity following medical treatment.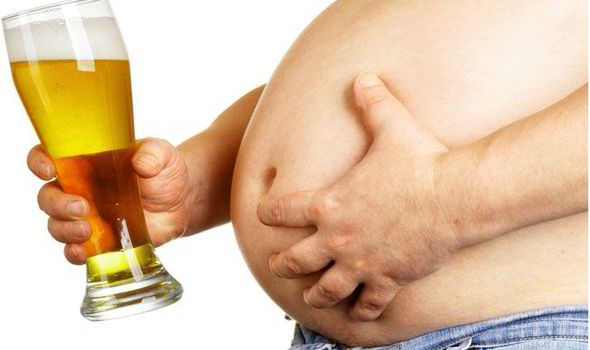 Asthma
Developing asthma due to abdominal obesity is also a main concern. As a result of breathing at low lung volume, the muscles are tighter and the airway is narrower. Obesity causes decreased tidal volumes due to reduced in chest expansion that is caused both by the weight on the chest itself and the effect of abdominal obesity on flattening the diaphragms. It is commonly seen that people who are obese breathe quickly and often, while inhaling small volumes of air. People with obesity are also more likely to be hospitalized for asthma. A study has stated that 75% of patients treated for asthma in the emergency room were either overweight or obese.
Alzheimer's disease
Based on studies, it is evident that obesity has a strong association with vascular and metabolic disease which could potentially be linked to Alzheimer's disease. Recent studies have also shown an association between mid-life obesity and dementia, but the relationship between later life obesity and dementia is less clear. A study by Debette et al. (2010) examining over 700 adults found evidence to suggest higher volumes of visceral fat, regardless of overall weight, were associated with smaller brain volumes and increased risk of dementia. Alzheimer's disease and abdominal obesity has a strong correlation and with metabolic factors added in, the risk of developing Alzheimer's disease was even higher. Based on logistic regression analyses, it was found that obesity was associated with an almost 10-fold increase risk of Alzheimer's disease.
Other health risks
Central obesity can be a feature of lipodystrophies, a group of diseases that is either inherited, or due to secondary causes (often protease inhibitors, a group of medications against AIDS). Central obesity is a symptom of Cushing's syndrome and is also common in patients with polycystic ovary syndrome (PCOS). Central obesity is associated with glucose intolerance and dyslipidemia. Once dyslipidemia becomes a severe problem, an individual's abdominal cavity would generate elevated free fatty acid flux to the liver. The effect of abdominal adiposity occurs not just in those who are obese, but also affects people who are non-obese and it also contributes to insulin sensitivity.
Ghroubi et al. (2007) examined whether abdominal circumference is a more reliable indicator than BMI of the presence of knee osteoarthritis in obese patients.They found that it actually appears to be a factor linked with the presence of knee pain as well as osteoarthritis in obese study subjects. Ghroubi et al. (2007) concluded that a high abdominal circumference is associated with great functional repercussion.
Thanks for reading
Please comment and share your ideas
Content created and supplied by: ProfFrancisT (via Opera News )