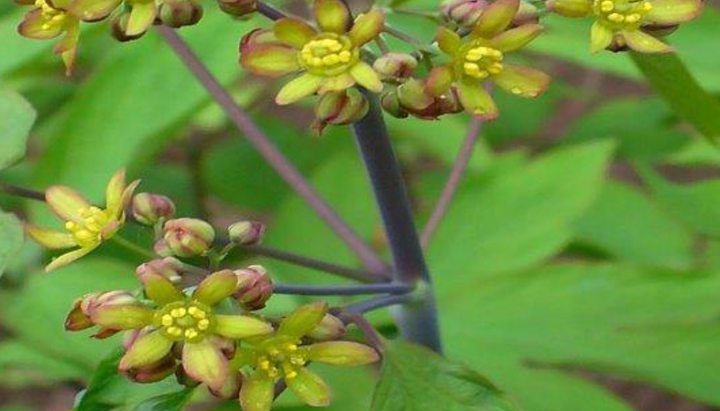 Whiles you benefit from reading this article now, wouldn't you like the idea of having tips like this everyday? if your answer is yes, I urge you to please take a moment of your time to click on the follow button at the right top corner of your screen so you don't miss out on daily healthy tips from Healthmatics.
Common Names
Blue Cohosh Root, Pappoose Root, Squaw Root, Blueberry Root
Botanical Name
Caulophyllum thalictroides
Family
Berberidaceae
Medicinal Uses
Amenorrhea, Dysmenorrhea, Pregnancy/Childbirth
Properties
Abortifacient, Antirheumatic, Antispasmodic, Emmenagogue, Hypertensive, Parturient, Uterine Tonic
Parts Used
Dried root
Constituents
Alkaloids, cystine (caulophylline), baptifoline, anagyrine, laburnine. also caulosaponin, resins
Habitat
April to May, before the full development of the leaves. The Blue Cohosh is indigenous to the United States, growing abundantly in moist, rich woods, from Canada southward to Kentucky and the Carolinas.
Side Effects
Because of its strong uterine stimulant properties, blue cohosh should not be used at any time during pregnancy, except in the last week, under the supervision of a qualified herbal specialist. It can cause premature uterine contractions leading to miscarriage and/or abortion. The seeds are poisonous.
How to Prepare
1. Powder: The standard dose of using blue cohosh root or rhizome powder is 0.3 gram to 1.0 gram taken thrice every day. This powder may also be taken in the form of decoction. It has been established that the official roots and rhizome results in a therapeutic impact having a mean dosage of 0.5 gram.
2. Alcoholic tincture: The standard dosage of the alcoholic tincture prepared from the roots and rhizomes of blue cohosh in the ratio of 1:5 is taking 0.6 ml to 1.8 ml (about 120 mg to 360 mg) thrice or four times every day.
3. Infusion: The infusion prepared from blue cohosh in the ratio of 1:16 is taking 15 ml to 30 ml (0.95 gram to 1.90 grams) once in every two to four hours.
4. Fluid extract: The fluid extract from the herb's roots and rhizomes diluted in the ratio of 1:1 in 60 per cent alcohol is taken in dosage of 0.3 ml to 0.9 ml (310 mg to 920 mg) thrice every day. Alternately, you may also take the fluid extract (1:1) in 70 per cent alcohol in measures of 0.5 ml to 1.0 ml thrice every day.
5. Caulophyllin: The standard dosage of this is anything between 130 mg and 260 mg.
Like and share this article with your friends and loved ones. Remember to share your views down in the comment section.
Health Disclaimer
The information provided in this app is not intended to be a substitute for professional medical advice, diagnosis, or treatment. Always seek the advice of your physician or other qualified health provider with any questions you may have regarding a medical condition.
Content created and supplied by: Healthmatics (via Opera News )