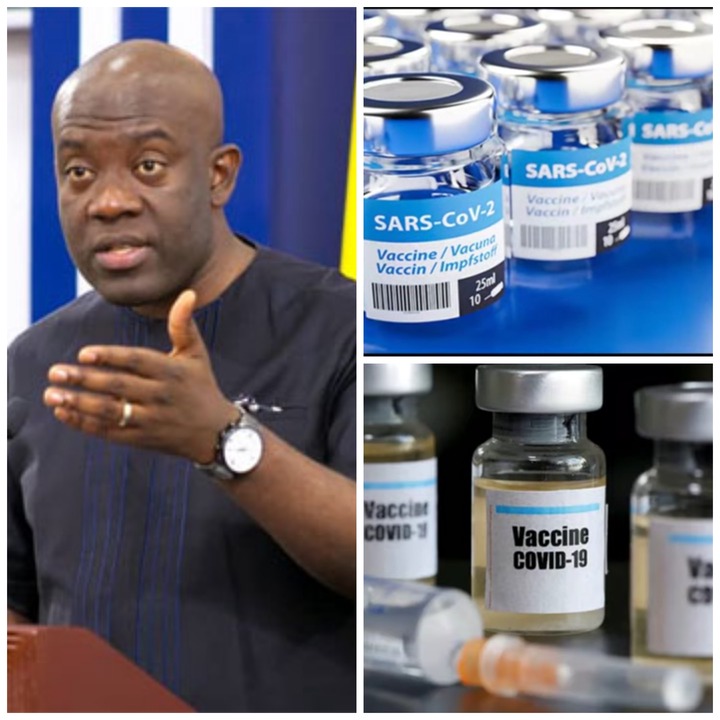 Following the press released by the information minister Hon Kojo Oppong Nkrumah, he made it known to the public that two types of covid-19 vaccines have arrived in Ghana which has been accepted by the Ghana Health Service. One of the vaccines is the Oxford-AstraZeneca vaccine which is from India and the other vaccines from Russia. According to Oppong Nkrumah, videos are circulating on social media making false claims that the covid-19 vaccine has dangerous side effects.
The information minister Kojo Oppong Nkrumah has assured the public that some of The Executives, Legislatures and, the Judiciary body will be the first people on which the covid-19 vaccine will be used on. This will show leadership by example to encourage the citizens to go in for the vaccines without fear.
The Ghana Health Service has announced the mass vaccination of the covid-19 vaccine will start in March. Frontline health workers and the security service will be vaccinated after the executives, legislature, and the judiciary of the state have received their vaccination. The vaccination will be extended to those with underlined health conditions, the aged with a weak immune system after which every Ghanaian will be vaccinated.
He said the information service department and other stakeholder departments will join forces to educate the public on the covid-19 vaccination. The Ministry of Health, Ghana Health Service, and the National Commission for Civic Education (NCCE) will help educate the public.
Dr. Kwame Amponsah program manager for the expanded program on immunization said 12,500 vaccinators will be trained to take part in the vaccination. 37,430 volunteers will be recruited to also help in the vaccination exercise.
Content created and supplied by: newsocean (via Opera News )