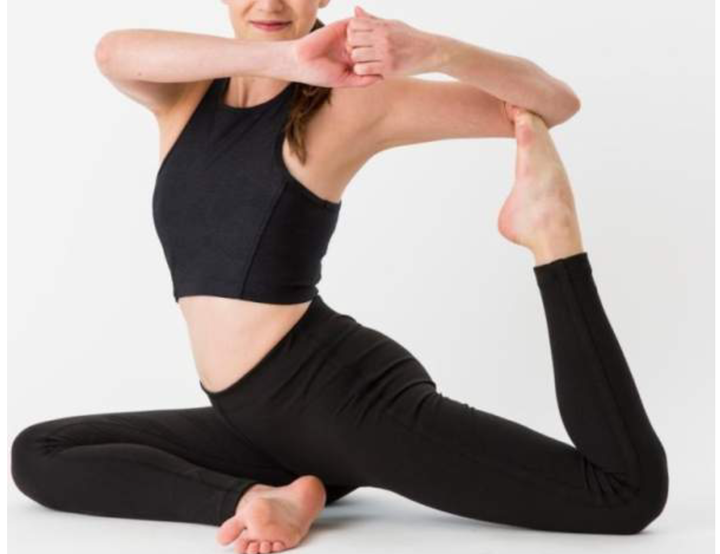 1. Cure for Asthma
Yoga breathing exercises could help sufferers of mild asthma and may help reduce their use of low-dose drug inhalers in wheezing attacks.
Researchers from the Respiratory Medicine Unit, City University, Nottingham, call for more studies of ways of improving breathing control which they say have been largely ignored by Western medicine.
While yoga practitioners have long believed in the benefits of pranayama breathing exercises for asthmatics, this has been hard to study formally. But, using a Pink City lung – a device that imposes slow breathing on the user and can mimic pranayama breathing exercises – it was possible to measure the effects of controlled breathing in a hospital trial.
Two simulated pranayama exercises were tested: slow deep breathing and breathing out for twice as long as breathing in.
In asthma, the airways become restricted making breathing difficult. It is increasing in the UK, with more than three million children and adults affected, and are responsible for 2,000 deaths annually.
The doctors used standard clinical tests to measure the volume of air patients were able to blow out in a second and to test the irritability of their airways. After yoga, their airways were two times less irritable,
Though asthma patients should not stop their medication, they should experiment with breathing exercises.
2. Diabetes
Diabetes in various forms affects up to 5percent of the world population with 12 million diabetics in Western Europe alone. Of the different ways in which diabetes presents, noninsulin-dependent diabetes mellitus (NIDDM) is probably the most commonly encountered genetic disease. NIDDM or Type II diabetes is multifactorial, depending also on environmental factors including obesity, sedentary lifestyles and nutritional imbalances.
Yoga has shown some beneficial results in curing diabetes. The yoga exercises that are prescribed for curing diabetes is different from hatha yoga exercise because it involves positions tailored to treat certain conditions, as well as meditation, relaxation and stretching exercises.
One of the studies conducted to cure diabetes was the one set up by the Yoga Biomedical Trust, founded in 1982 by biochemist Dr Robin Monro, and an Indian yoga research foundation which discovered that practicing yoga for 30 minutes a day for one month helped reduce blood glucose levels in some diabetics.
The yoga patients took part in one or two 90-minute sessions a week and were asked to practice at home. The classes included the specific yoga exercises of the spinal twist, the bow and abdominal breathing.
At the end of the 12 weeks blood sugar levels fell significantly in all patients in the group and were slightly raised in a control group which had not joined in the yoga sessions. Three yoga students managed to reduce their medication, including one man who had not changed his drug regime for 20 years.
It has been known for a long time that exercise is helpful for diabetics. Yoga therapy may help reduce stress levels which could play a part in maturity onset diabetes. But one drawback is that some patients would find it hard to keep up the regular sessions needed to sustain the benefit. All the patients said they would like to see these classes set up on a permanent basis but we don't have the money.
It is not necessarily the exercise component of the yoga therapy package which is most important, because there is not enough physical exercise to account for the changes, but stress reduction has a lot to do with it. Stress hormones increase sugar levels in the blood. People also benefit from the stabilization of their moods which yoga brings, an increased feeling of well-being and a feeling of being more in control, which may help with their diet control.
3. High Blood Pressure (Hypertension)
For controlling your hypertension, there are two effective yoga exercises that helps lower the blood pressure:
Inverted Yoga
Inverted yoga reverses the action of gravity on the body. The most profound changes brought about by Inverted Yoga is in circulation. In inverted poses, legs and abdomen are placed higher than the heart.
Lengthening up through the legs and keep them very active so your spine opens and the entire body actively involved in the pose.
One of the reasons for this is simply because the force of gravity is reversed and venous return becomes significantly greater.
Normally, the muscles of the calf and other skeletal muscles in the lower extremities must contract in order to pump unoxygenated blood and waste back to the heart through the veins.
In inverted poses, gravity causes the blood to flow easily back through the veins and this brings the blood pressure in the feet to a minimum. This in effect gives skeletal muscles a chance to rest.
In Inverted poses, drainage of blood and waste from the lower body back to the heart is increased and disorders such as varicose veins and swollen ankles are relieved.
Rhythmic Breathing
It's time to learn about breathing, because inhaling and exhaling has the power to nourish the body and calm the mind.
Not just any old breathing will do. If you're like most people, you take shallow breaths, pull in your stomach when you inhale and never empty your lungs of carbon dioxide when you exhale.
Here's the physiological explanation: Long, slow breaths are more efficient than short, fast ones.
To take in a good breath, your lungs must first be basically empty. Thus the key to efficient breathing lies in exhaling completely. A full exhalation begins with the upper chest, proceeds to the middle chest and finishes with tightening the abdominal muscles.
Only after a good exhalation can you draw in a good lungful of the oxygen-rich air your blood needs for nourishing cells.
4. Insomnia
Sleep is an essential part of good health. A good night's sleep can help you feel good, look healthy, work effectively and think clearly.
But sleep is not always so easy to come by. If you sometimes have trouble falling asleep or staying asleep, you're not alone. A 1991 Gallup study found that more than one-third of all Americans suffer occasional or chronic insomnia.
People often are surprised to learn that daytime drowsiness is not an inevitable, harmless byproduct of modern life, but rather a key sign of a sleep problem that could be disastrous if not treated.
Recent figures show that nearly a quarter of the population regularly cannot go to, or remain asleep, and every year doctors write out more than 14 million prescriptions for sleeping tablets.
The causes of sleeplessness are many and varied. 'It can be due to a medical condition, such as chronic pain from rheumatism or arthritis,' says Professor Jim Horne, who runs the Sleep Research Laboratory at Loughborough University. 'Or it can be chemical, as a result of drinking tea, coffee or alcohol. Chronic or long-term insomnia is often associated with depression or anxiety, and environmental factors certainly contribute.'
And sleepless nights, staring wild-eyed into the darkness, are worse than bad dreams,
For too many people–an estimated 9percent of the American population–a good night's sleep is an elusive goal. The consequences of fatigue from chronic sleeplessness include accidents in the car and at work, a dramatically increased risk of major depression, and worsening physical illness.
Immediate relief is available, in the form of hypnotic agents, for persons who have difficulty in falling or remaining asleep or who cannot obtain restful, restorative slumber. However, long-term improvement usually involves behavioral therapy. These therapeutic approaches must be integrated if the patient's short- and long-term needs are to be addressed.
5. Prevention of Heart Attacks
Strict changes in diet and lifestyle can not only prevent heart attacks, but can reverse the clogging of the arteries, according to a small but pioneering study.
The study showed that a vegetarian diet, moderate exercise and an hour a day of yoga and meditation could produce a reversal of atherosclerosis, a blockage of the arteries that can lead to a heart attack, in men and women who were strict in following the daily regimen.
Experts say this is the first study to report that such blockage can be reversed without using cholesterol-lowering drugs or surgery.
The study, which was conducted by Dr. Dean Ornish, director of the Preventive Medicine Research Institute in Sausalito, Calif., was presented at the meeting of the American Heart Association in New Orleans.
This is a tremendously important study in the control of heart disease. It's the very first study indicating regression of coronary heart disease without pharmaceutical intervention. The results also suggest that the current medical guidelines for changes in the habits of people with severe heart disease do not go far enough.
Previous studies have shown that exercise and diet changes can slow the progression of heart disease, but not reverse it.
While the study did not determine what percentage of improvement could be attributed to the lifestyle changes alone, the researchers noted that stress-control methods have been shown to ease recovery from a variety of disorders, including hypertension.
But some experts are skeptical of the need for stress-management methods, which are not currently among standard recommendations for those with severe heart disease.
Some experts on cardiac rehabilitation question whether most people with heart disease could follow such strict changes in their habits.
Content created and supplied by: Naktrends (via Opera News )
Opera News is a free to use platform and the views and opinions expressed herein are solely those of the author and do not represent, reflect or express the views of Opera News. Any/all written content and images displayed are provided by the blogger/author, appear herein as submitted by the blogger/author and are unedited by Opera News. Opera News does not consent to nor does it condone the posting of any content that violates the rights (including the copyrights) of any third party, nor content that may malign, inter alia, any religion, ethnic group, organization, gender, company, or individual. Opera News furthermore does not condone the use of our platform for the purposes encouraging/endorsing hate speech, violation of human rights and/or utterances of a defamatory nature. If the content contained herein violates any of your rights, including those of copyright, and/or violates any the above mentioned factors, you are requested to immediately notify us using via the following email address operanews-external(at)opera.com and/or report the article using the available reporting functionality built into our Platform See More