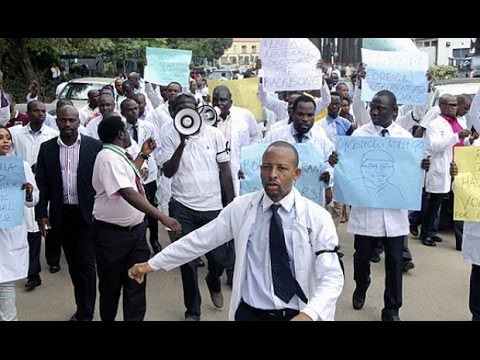 Just two days back, news reports of over delayed exams results for medical professionals, who trained outside Ghana and had sat for the Ghana Medical and Dental Council professional exams went viral, as some of them, were saddened by the over four months delay.
The licensure exam that took place in February 2021, is yet to be released and the sad bit is that, they cannot even be assured, if its next month or the year following, sadly, as the 439 doctors, awaiting some form of accreditation to be able to practice in thee country, say several efforts to have the results released have proved futile.
A statement released to the media said that, "As duly communicated to us by the Medical and Dental Council (MDC), the results were to be released within a period of two to four weeks from the date of the exams. Overwhelmingly, it has been more than 17 weeks since the date of the exams. The results have neither been released nor has there been a communiqué from the MDC detailing the reasons for the unprecedented delay."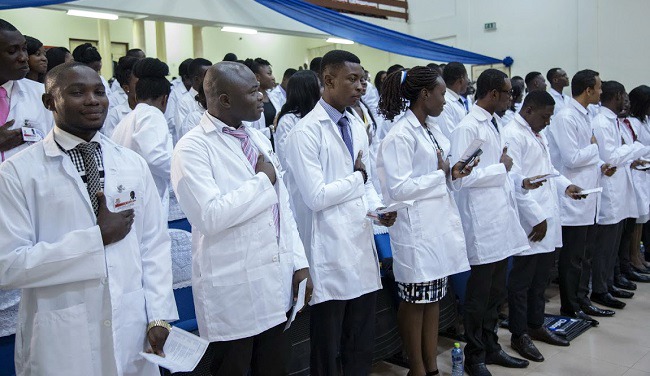 "To our utter dismay, the MDC registered another batch of foreign-trained doctors for a licensure exam, which was conducted on 25th June 2021. Aside from that, registration is ongoing for the next batch of Medical and Dental candidates as well as Physician Assistants (PAs) to sit for the exams in October and November 2021 respectively. This leaves us concerned about what the future holds for us."
"Another worrying issue is that candidates who fail the exam are allowed to resit after showing evidence of having done a structured clinical attachment for not less than 20 weeks. As it stands, this won't be possible this time around, since October is 11 weeks away and no results have been released. This leaves no time for adequate preparation if a candidate fails and decides to resit for the exams in October," the group added in the statement.
Whereas, the Medical and Dental Council (MDC), has served notice it will soon respond to the concerns of the foreign-trained doctors and as at the close of the week not done so, the almighty Prof. Kwaku Azar has all the reasons and have taken to his social media page, to share it all.
Kwaku Azar, a renowned social media analyst with thousands following his personal page and also, a USA based Professor, Lawyer, Accountant and Political and Social Commentator, has shared in the post that:
"So I am reliably informed that the 17+ weeks delay in releasing the results of the foreign-trained doctors is due to the delay in constituting the governing council of the Medical and Dental Council, itself caused by the dissolution of the Council in January.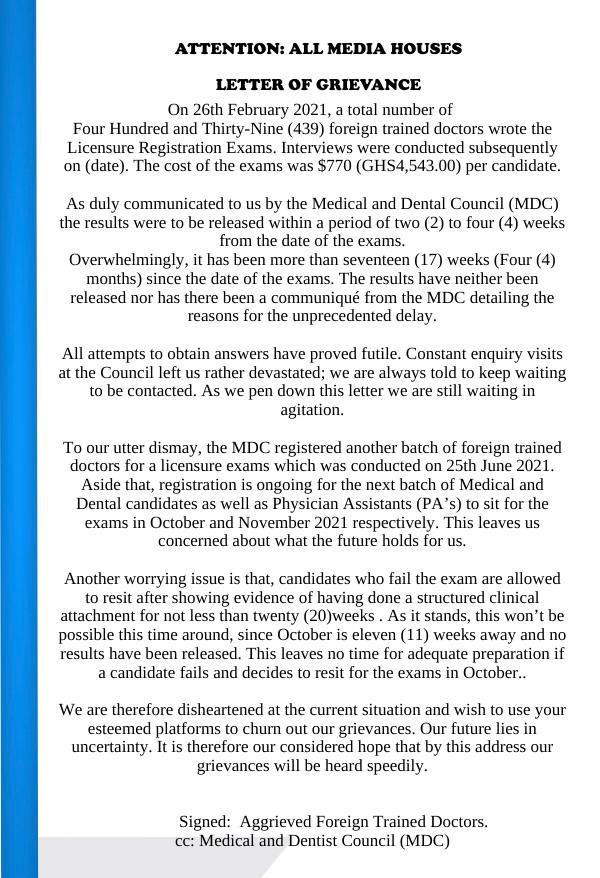 I do not want to know why there is a delay in constituting the Council. The thing that I really do not get is why create a governance vacuum by dissolving the existing Council when you are not ready to replace it immediately or soon thereafter. Some, if not many, of our problems are just by choice. #SALL is the cardinal sin of the 8th Parliament. Da Yie!"
Commentary, which has followed his post, have included the following:
Benjamin Joseph writes "Ah, how is this even tenable? People paid to take these exams with a scheduled release date in mind. They need the results to know what to do, as their livelihoods depend on it, and this is the excuse? Why do we make serving this country such a chore?"
Charles Appeadu rites "Yes, Kwaku Azar, many of our problems are by choice but it's not only choice. There is extreme incompetence, negligence, carelessness, and corruption. In fact, in many cases, it is the pursuit of corruption that makes our leaders incompetent, negligent, and careless. We are heading toward ......... Fill in with your own word(s).
George Buckle writes "The choices which some of our so-called elites, make is so disastrous that other elites can't reverse Them. The Monopoly of power which by the ballot these elites have taken upon themselves is the root cause of the poverty, in our governance."
Nana Kwaku Mahatma writes "We have had a near dysfunctional state since January 7th 2021. All boards were dissolved, waiting for our imperial King to hand pick and reconstitute them. MMDCE's still remain in acting position. And virtually all state institutions are headed by people in acting roles: Acting Auditor General, Acting Controller and Accountant General, Acting Special Prosecutor, I suspect the GRA boss is also acting, a good number of our chief directors, are also acting and we expect them to assert themselves and put any meaningful check on the system? Without doubt, something is obviously wrong somewhere."
Kweku Ampong writes "It appears to many Boards, have not been reconstituted for about 7 months into president second term and that is too bad for corporate governance"
Hudu Yahaya writes "That is too bad. A mere decision to dissolve when not ready to reconstitute, has put the lives of many in harm's way. Whoever is responsible, should quickly reconstitute the council and task them to work on the doctors issue. We need them badly as a nation"
Albert Ofori-nkyi writes "Prof Kwaku Azar I know you to be a student of Political History, kindly educate me on this "since the inception of this Fourth Republic is there any President in his second term that has delayed this much in nominating his MMDCEs/CEOs of State Agencies like Nana Addo ? Complete half of the first year is gone into his last term."
Thomas Asako writes "Kwaku Azar Sir , it is not only the foreign trained medical officers who are affected by this. Physician Assistants and Certified Anesthetist who sat for the Licentiate exams, organized by the Ghana Medical and Dental council last November and has successfully passed our exams, are yet to be posted by the council for our one year mandatory internship (house job). We were given a one week window, to pay and register for our induction and temporary certification, back in February. Late registration attracted a penalty. We have not been officially told the reason for the unnecessary delay. We are simply tired of waiting"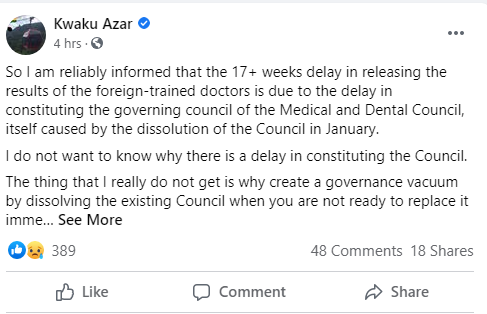 Eric Amartey writes "They know the Council has been dissolved and yet went ahead to conduct the exams, because of Nokofio (exam fees) when are they well aware that, the results can't be released in the absence of the Council."
Prince Oheneba Aubin writes "They don't want to go to court like what happened at the ICA last year. Once the mandate of the board elapse, they can not hold themselves as directors. The board of directors of ICA were still in office, when thou their magnate had elapsed, this was during the COVID Era. One MR A. A. A. took them to court for holding office when their mandate was over"
Kwesi Akpari writes "This government really doesn't know where it is driving us too. Sad"
Ankomah Antwi Boasiako writes "There is nothing about Akuffo Addo that inspires confidence in leadership"
Baba Musah writes "Those who were here jumping over themselves to defend this clueless government, must bow their heads in shame. Important council like this government is dragging its feet, but quick to assent to payments of their wives- Samira and Rebecca. Corrupt Akufo Addo's government"
Otchere Addai-mensah writes "Not only the MDC, the councils of all the public universities….and like you said, why dissolve when you're not ready to replace immediately or soon thereafter???"
Kwapong Koranteng-Green writes "Kwaku Azar These things are usually self inflicted. Just disorganizing the system, which goes a long way to affect the ordinary citizen. In the name of reconstituting such Councils, we rather create more problems. Why dissolve a Committee or Council when you don't have the men to reconstitute it creating unnecessary leadership vacuum and crisis."
Kwasi Ofei Agyemang writes "Low quality leadership!"
Prosper Kuuzie writes "What was the court ruling on dissolution of board members of public corporate, regulatory bodies? I thought the judgement was that only "government appointees/ representatives" on boards are the only ones automatically affected by the presidential transition act 845, 2012? Without those two or so gov't reps de council not fit function?"
Tan Kaa Kpe-ba writes "Ahh, you want them to put in place a council so these new doctors will have to be posted and also ask for pay and start demonstrations, and make the government unpopular abi? Please, let the be quiet a beg?"
Ibrahim Anyarss writes "This is to tell you that, in Ghana everything happens at the centre. The rest are just to occupy space"
Emmanuel K Venk writes "Prof. Don't you think that the people of SALL are timid and are themselves not interested in your genuine campaign? I wonder which part of Ghana will accept this. Maybe history is right."
Kojo Okogyeatu Dadzie writes "All our wounds are self-inflicted."
Zachariah Peter writes "The country is simply on a reverse gear"
Haruna Gado Yakubu Kagame writes "GoGo will reaffirm trust in the essence of governing councils, Prof Asare."
Yakubu Salifu Salid writes "When Atta Mills asked DCEs to stay on, until new ones were appointed, many thought it was a shoot in the foot. But for governing council professionals, I am unsure why their activities and tenure must be coterminous with political office"
Naa Salifu writes "It's same with a document I sent to Cape Coast lands commission for approval etc. Was told same"
Samuel Edem Darke writes "This shows clearly the inconsistencies and loop holes in our Governance structure. Before the former is dissolved, what prevents us getting a new board in place quickly? What's up with the appointment of MMDCEs?"
Papa Amoah writes "The guy is no more interested in the governance of the country. All the money is finished. Gosh!"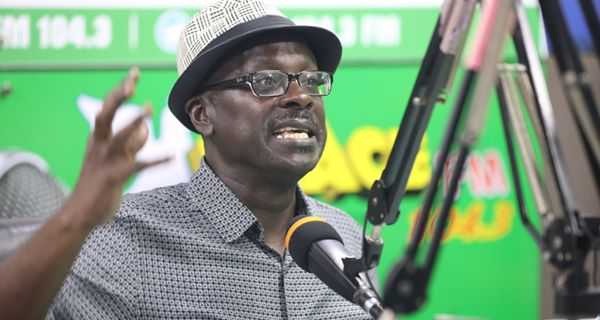 Content created and supplied by: MrsCelestial (via Opera News )
Opera News is a free to use platform and the views and opinions expressed herein are solely those of the author and do not represent, reflect or express the views of Opera News. Any/all written content and images displayed are provided by the blogger/author, appear herein as submitted by the blogger/author and are unedited by Opera News. Opera News does not consent to nor does it condone the posting of any content that violates the rights (including the copyrights) of any third party, nor content that may malign, inter alia, any religion, ethnic group, organization, gender, company, or individual. Opera News furthermore does not condone the use of our platform for the purposes encouraging/endorsing hate speech, violation of human rights and/or utterances of a defamatory nature. If the content contained herein violates any of your rights, including those of copyright, and/or violates any the above mentioned factors, you are requested to immediately notify us using via the following email address operanews-external(at)opera.com and/or report the article using the available reporting functionality built into our Platform See More