●●Lesson 45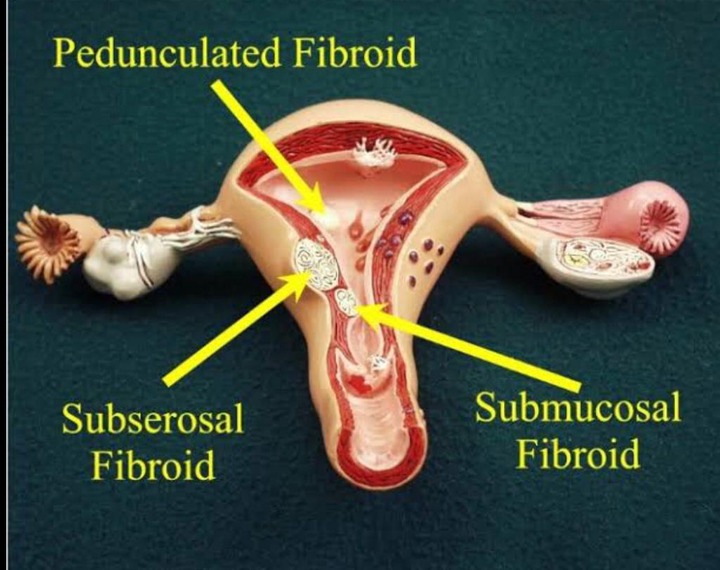 Medical Science - What are UTERINE FIBROIDS ?
--Uterine fibroid are benign tumors that originate in the uterus (womb).Although they are composed of the same smooth muscle fibers as the uterine wall (Myometrium ) , they are many times denser than normal Myometrium. Uterine fibroid are usually round or semi-round in shape .When larger in size , they can cause prolonged menstrual bleeding , pain during menstrual periods , heavy flow during periods , pain in the back , legs and /or pelvis .Fibroid now account for 38% of hysterectomies , but the rates vary widely by ethnic group.
● WHAT CAUSES FIBROIDS ? 
(1)Fried foods - Causes ESTROGEN LEVELS to go up, increasing chances of fibroids 
(2).HIGH FAT DIET - Causes ESTROGEN LEVELS to go up increasing chances of fibroids 
(3).Eggs -same as above
(4) Dairy products -same as above 
(5).Excess protein - same as above 
(6).ORAL CONTRACEPTIVES - same as above 
(6).Caffeine - causes imbalanced ESTROGEN LEVELS
(7).Sodas -causes imbalanced estrogen levels 
(8) White sugar products -same as above 
(9) Meat (especially chicken d/t the antibiotics and hormones )- (same as above ( it's best to adopt a 100% plant based vegan diet 
(10).Carbonated drinks -same as above 
(11).Drugs containing ESTROGEN ..causes estrogen levels to go up , increasing chances for fibroids 
(12).Alcoholic beverages -causes imbalanced estrogen levels 
(13) CHOCOLATE -Same as above 
.Loss of excessive blood during menstrual cycle and being anemic 
............................................WHAT TO DO TO RELIEVE PAIN........
● Give a 15 minute hot foment at ion over the pelvic area ..
● followed by an ice rub x 30 seconds to l minute 
● Repeat this process 3 times at once / doing this 2 times a day .
This will help reduce the pain .
ALSO------
-Take some castor oil and heat up a bit in a small sauce pan.
- Then , when oil is warm to touch , apply over the painful area directly on the skin or apply a hot castor oil pack 
-then put a dry towel on top of this 
- then a hot pack or a hot water bottle 
- Something you can do is heat rice and put in a pillow case and apply on top 
- then add another dry towel on top 
- keep this for one hour 
- Do every night for 30 days 
-ALSO - Every evening before bed soak in a very warm bath tub of water for about 20/30 minutes , keeping the water warm at all times 
- This warm bath will help ease the pain, and remove toxins from the body at the same time .This helps people sleep very well at night , especially when they are in pain or are feeling good uneasy .
-Do this every other day for 30-60 days 
-ONE MORE THING TO STOP PAIN / BLEEDING 
.Make strong tea with Alum Root herb 
-Saturate a cotton cloth in the tea 
- Then pack this just at the vaginal entrance not inside / nothing should get inside except Mr.Penis only 
-Keep the legs elevated 
- Give half teaspoon pepper (90 ,000 heat units ) in water 3 times a day .
..BY THE WAY 
Cox 2 inhibitors are plants that cause fibroids to shrink 
Two of these plants are 
(1) Flaxseed -Ground this fresh each day in a coffee grinder 
Take either 1 tablespoon 2 times a day 
Do not take more because this can thin the blood ..
(2).Tumeric - 
-1 teaspoon powdered turmeric 1x day or even better is 1 teaspoon 3 times a day in hot water 
- If you get the fresh root , boil 2 tablespoons of the root X 15 minutes , then steep for 40 minutes into 32 oz. I
of water .
WARNING : Be sure it's organic 
--HERBS THAT ARE GREAT FOR FIBROIDS 
● Dandelion root 2 teaspoons 
● Burdock root -2T 
● Chaste Berry -2T 
● Red Raspberry leaf - 2teaspoons 
-OR -
● Red Clover -2T 
● Chaste Berry -2T maximum 
● Sage (the whole leaf , not the powdered ..EXCELLENT HERB..(1-2)T 
-DIRECTIONS TO MAKE THIS TEA ..
● Get 2 tablespoons of each herb in your herbal formula , unless the amount of your herb is other wise noted 
▪ Then , the herbs that are hard , put 32 oz of water into a stainless steel pot and put hard herbs / roots in and boil x 15 minutes then turn down and simmer x 25 minutes 
- Turn off and add soft herbs 
- Cover x 30 minutes 
- Strain the herbs then divide into 3 servings 
- Drink one 8 oz.cup / x day for every 30 minutes before breakfast , lunch and dinner 
Or 30 minutes breakfast 2nd meal and early evening 
-Do a one month formula 
Each month your formula is going to change so your body doesn't get immune to the herbs 
1st Month 
Blood - Red Clover 
Liver - Dandelion root 
Female issue : Burdock root and Chaste Berry or Red Raspberry leaf 
2nd month 
Blood - Burdock root 
Liver -Dandelion 
Female issues -Sage and Red Raspberry leaf or Chaste Berry 
If you need to use a tea for more than two months , rotate back to the 1st month herbs then 2nd month herbs if necessary 
..FOODS THAT HELP INCREASE PROGESTERONE levels at the sand time decrease ESTROGEN LEVELS ...
▪ bean sprout 
- dude (be sure it has been or is free of any mercury level )
-kelp (be sure it has been tested for mercury levels as well 
- fresh fruit (3 pieces a day ) 
-Fresh nuts (raw unsalted ) - fresh seeds ( raw unsalted ) quarter cup every day 
-Fresh seeds (raw , unsalted -2tbsp daily 
-fresh vegetables (be sure all coarse vegetables are cooked till tender )
-Garbanzo beans (chicken peas )
-Pure honey that has been boiled helps shrink fibroids 
-Mexican yam ( very high progesterone. .balances out estrogen levels 
-Soybeans (be sure they are non GMO ..these also balance out the estrogen levels 
-Wheat germ. (Take 2 tablespoon every other day , can take up to 2 but not more than all that 
Bible verses 
● 1 Corinthians 3 : 16-17
▪ 1 Corinthians 6:19-20
• 3 John 2
▪ 1 John 1:9
▪ Proverbs 26:2 Acts 17:30
-Credit to brother Jones Mokaya and brother FRIDAY
Content created and supplied by: Dihyab (via Opera News )