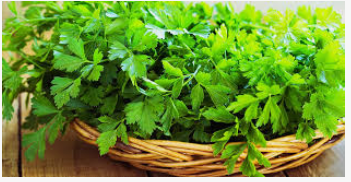 Parsley is a flowering plant native to the Mediterranean. The two most common types are French curly-leaf and Italian flat-leaf. Over the years, parsley has been used to treat conditions like high blood pressure, allergies, and inflammatory diseases. In this article, i am going to point out some of the health benefits of parsley and why you should include it in your diet.
1. High in antioxidant.
Parsley contains many powerful antioxidants that can benefit your health. Compounds that prevent cellular damage from molecules called free radicals. Your body requires a healthy balance of antioxidants and free radicals to maintain optimal health. The main antioxidants in parsley are: lavonoids, carotenoids, vitamin C.
2. Supports bone health
Your bones need certain vitamins and minerals in varying amounts to remain healthy and strong. Parsley is packed with vitamin K — an essential nutrient for bone health. A 1/2 cup (30 grams) provides an impressive 547% of the RDI Vitamin K helps build stronger bones by supporting bone-building cells called osteoblasts. This vitamin also activates certain proteins that increase bone mineral density — a measure of the amount of minerals present in your bones. Bone density is important, as a lower bone mineral density is associated with an increased risk of fractures — especially in older adults people. Some studies shoes that eating foods high in vitamin K may reduce your risk of fractures.
4. Contains cancer-fighting substances.
Parsley contains plant compounds that may have anticancer effects. Oxidative stress — a condition characterized by an imbalance in levels of antioxidants and free radicals — is associated with the development of certain chronic diseases, including cancer. Parsley is particularly rich in flavonoid antioxidants and vitamin C, which reduce oxidative stress in your body and may lower your risk of certain cancers.
4. Increase the process of weight loss.
Having a blend of lemon juice and parsley could hold the key to weight loss and losing belly fat. ... While parsley is low in calories, it contains vitamins A, B, C and K as well as minerals such as iron and potassium. It also works as a natural diuretic which can help to flush away toxins and excess fluid.
1. It is good for detox.
It is rich in chlorophyll, which improves detoxification and supports weight loss. The enzymes in parsley break down food and release nutrients from the proteins, fats, and carbohydrates you consume, thereby improving digestion and playing an important role for slimming your body.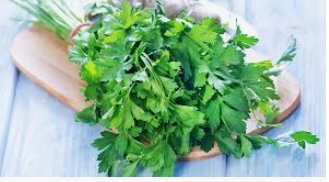 Note: As the saying goes to much of everything is bad, so is parsley. Consuming very large amounts of parsley is unsafe, as this can cause other side effects like "tired blood" (anemia) and liver or kidney problems.
Thank you for clicking. Kindly like, comment and share.
Content created and supplied by: Bigils.com (via Opera News )