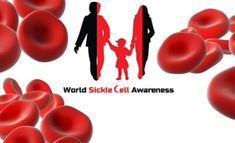 Every human being has a blood group. They are blood groups A, B, AB and O. Blood group is unique or different from a person's sickling status. For sickling status, a person is either AA, AS, SS etc. When we talk about sickle cell disease (SCD), the focus is on sickling status. A person is said to have SCD if he or she has at least one S eg AS, SC, SB etc. It is very important to know your sickling status as an individual especially when it comes to marriage and procreation.
It is advised that two people who have SCD should not marry because of the knowledge we have about the inheritance of these genes. From Mendel's theory of inheritance, two individuals who are AS, have 25% chance of giving birth to a child with sickle cell anaemia(SS) and this percentage increases when one of the parent is SS.
So what is the fuss about being SS. The people with the SS genotype are normally referred to as 'sicklers' in our Ghanaian society and they normally face a lot of stigmatization because of the frequent health issues they face. The name sickling arises from the shape that the red blood cells take due to the denatured haemoglobin they contain. The sickled shaped red blood cells are unable to easily move through smaller blood vessels as compared to the normal(bIconcave) ones. This impaired passage of RBCs is what underpins all the crises that a sickle cell patient faces ie. Stroke, pneumonitis, spleen sequestration, spleen rupture, cardia arrest, joint pains, eye issues, bone hypertrophy etc. The life of a sickle cell patient is littered by a lot of health issues which are usually referred to as crisis.
Luckily, there are ways to prevent or lessen the effects of these crisis by the usage of powerful drugs such as hydralazine(vasodilator) and other supportive therapies. However, it is important to note that, although these treatments exist, the sickle cell patient stills go through a lot of pain right from childhood and a parent with a child with SCD usually becomes overwhelmed by all health issues they face.
Bearing this in mind, young couples are advised to check their sickling status before getting married. This will enable them to see whether they are compatible. It is important to note that no one can force couples not to marry because of their sickling status. The decision lies entirely with the couple involved. Couples should therefore endeavor to read more on this important topic before the enter marriage.
Hope you found this article helpful.
Content created and supplied by: intelligentwriteups (via Opera News )