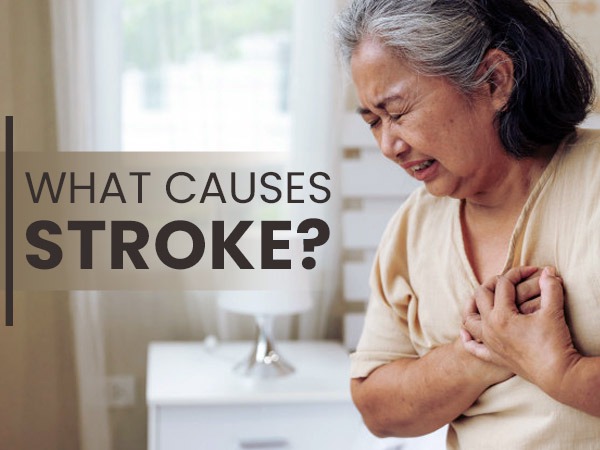 Stroke occurs due to a decrease or blockage in the brain's blood supply. Brain cells begin to die in minutes.
Stroke (Cerebro-vascular Accident or CVA) is a major cause of death and disability, particularly in the elderly. The causes are vascular, due to a narrowing or blockage of a neck or brain artery, or rupture of a brain Aneurysm or Vascular Malformation. A person experiencing a stroke needs immediate emergency treatment.
There are three main types of stroke:
Ischemic stroke: This is the most common type of stroke, making up 87% of all cases. A blood clot prevents blood and oxygen from reaching an area of the brain.
Hemorrhagic stroke: This occurs when a blood vessel ruptures. These are usually the result of aneurysms or arteriovenous malformations (AVMs).
Transient ischemic attack (TIA): This occurs when blood flow to a part of the brain is inadequate for a brief period of time. Normal blood flow resumes after a short amount of time, and the symptoms resolve without treatment. Some people call this a ministroke.
Signs and symptoms of stroke include:
Trouble speaking and understanding what others are saying. You may experience confusion, slur your words or have difficulty understanding speech.
Paralysis or numbness of the face, arm or leg. You may develop sudden numbness, weakness or paralysis in your face, arm or leg. This often affects just one side of your body. Try to raise both your arms over your head at the same time. If one arm begins to fall, you may be having a stroke. Also, one side of your mouth may droop when you try to smile.
Problems seeing in one or both eyes. You may suddenly have blurred or blackened vision in one or both eyes, or you may see double.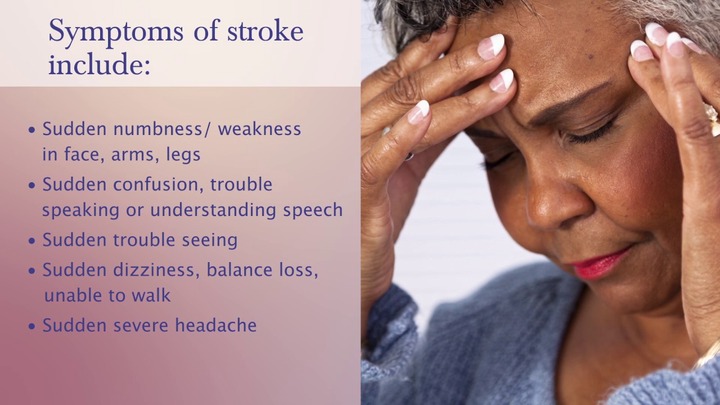 Headache. A sudden, severe headache, which may be accompanied by vomiting, dizziness or altered consciousness, may indicate that you're having a stroke.
Trouble walking. You may stumble or lose your balance. You may also have sudden dizziness or a loss of coordination.
Prevention
The best way to prevent a stroke is to address the underlying causes. People can achieve this by making lifestyle changes such as:
Eating a healthful diet
Maintaining a moderate weight
Exercising regularly
Not smoking tobacco
Avoiding alcohol, or only drinking moderately
Eating a nutritious diet means including plenty of:
Fruits
Vegetables
Whole grains
Nuts
Seeds
Legumes
Be sure to limit the amount of red and processed meat in the diet, as well as cholesterol and saturated fats. Also, moderate salt intake to support healthy blood pressure levels.
Other measures a person can take to help reduce the risk of stroke include:
Controlling their blood pressure levels
Managing diabetes
Getting treatment for heart disease
As well as making these lifestyle changes, taking anticoagulant or antiplatelet medications can also reduce the risk of experiencing another stroke.
Content created and supplied by: DropshipNews (via Opera News )