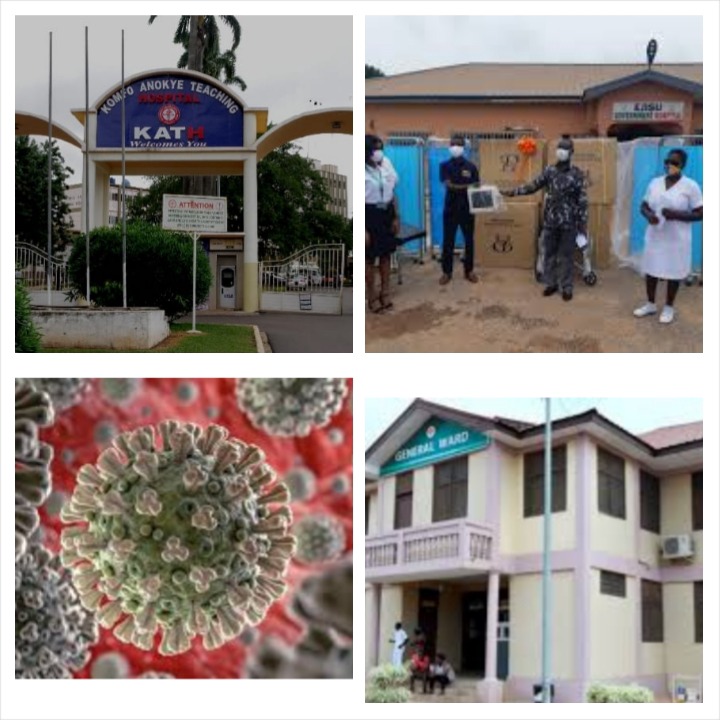 On the 31st of January, 2021 my dad passed on at the Suntreso Government Hospital in Bantama, Kumasi after battling asthma and hypertension for so long despite his inability to sidelined his usual taking of alcohol excessively and which caused him to die.
He was at the Ahafo Ano District near Mankranso where the family cocoa farm land is and he was in to take the amount from the sales and inadvertently left his drugs at Kumasi.
The Suntreso Government Hospital had known him of pressure or hypertension but when this pressure became high, they had to put oxygen on him and died at the spot.
Without testing him with either his saliva or phlegm, they drew conclusion that he had acute respiratory disease, pneumonia and henceforth it was Covid 19 which raised alarm in our area at Kumasi.
When the incident happened, I was in school teaching and one of my grandfather had to escort my dad who was not showing any sign of lethargic or feebleness just that his asthma was at it's peak.
When he had died, the doctor in charge who had not tested him of anything according to my grandfather, Kwame Kyei pronounced him a Covid 19 patient and wrote a report on a small paper, put it on the corpse of my dad and refered the body to Komfo Anokye Morgue.
My grandfather rather took the body to Ebenezer mortuary at Tafo near Wesley College of Education and Kumasi Wesley Girls SHS where the staff haven't read the report humiliated them to take away the body somewhere all because the man died of Covid 19.
The situation was very sad considering the way his untested report denigrated my dad and which the whole community had heard of it and refusing to approach us regularly like how it was.
What I heard about Covid 19 death and the process it takes for their burial was that, immediately one dies of the disease, his or her family members wouldn't see him or her again and it's the government who buries the corpse instantly without giving it to the family and which does not involves the family paying anything whiles contact tracing and quarantine routine is practiced but this is where everything had gotten twisted.
When we went there for the corpse on the 10th of February, we were denied of the corpse and one Doctor Siaw at the pathology unit directed us to go to Tafo, the public cemetery and meet the Environmental Health Department for burial arrangements.
When we went there, we negotiated with them to bury the corpse privately for us at Ohwimasi cemetery where my dad hails from instead of the mandatory burial grounds at Tafo. One of the heads gave us a condition that if they would bury him at Ohwimasi, we might have paid GHC 1000 but should it be in Tafo Cemetery, we would pay just GHC 300 as the grave digging fee
Why have they put the body inside a fridge whiles that could caused the spread of the disease so rapidly and why have they refused to do the contact tracing and quarantine? This had become a reasonable doubt to people because that's not how Covid 19 death is treated but I heard this today 15th February at the Komfo Anokye Teaching Hospital from one of the staff who was at the Birth and Deaths Registry Department.
I put such question above to this woman who registers deaths and births and according to her and the report she had gathered, the contact tracing had seized to continue because of financial constraints which mean that if you get it and you spread it the rest can't be traced unless you die and you are buried.
We have paid more than GHC 500 plus coffin which cost GHC 1500, body bag 60ghc, mortuary men fees almost 300 and a hired ambulance 400ghc plus the grave diggers fee 300ghc.
According to the hospital, the corpse can be opened for the family to see before they will convey it to the cemetery.
The government should endeavor to make a scrutiny about some reported Covid 19 cases which sometimes are not true but are put on paper for personal gains since any Covid 19 death.
My problem is on how the doctor at Suntreso haphazardly wrote something that had not been tested to cause the family such a disgrace and up to now no contact tracing had been done if that's what they are saying and God been so good two weeks had passed and no one is showing such symptoms of Covid 19.
Content created and supplied by: Kwakus (via Opera News )