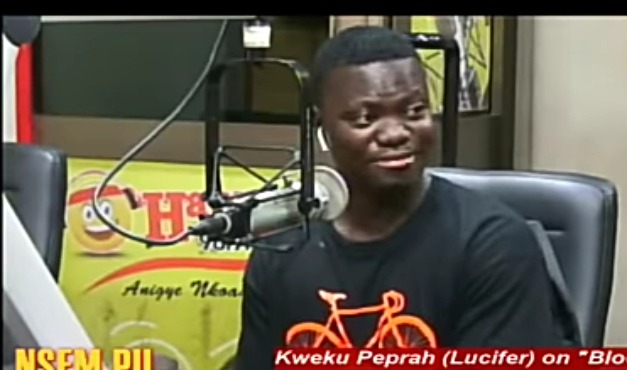 Nana Kwaku Peprah popularly known as Quotation Master or Lucifer or Ayaaba who is an African Traditional Spiritualist, practitioner and advocate has revealed the secret behind twin birth to some families around world. 
He intimated that everything on earth from creation is a twin. Thus everything was created in twos for which birth come from that line of creation. 
According to him, the mystery of twins started from creation because everything the Creator created were created male and female. "Spirits are male and female, humans are male and female, plants are male and female, animals are male and female".
He added anything in this world has its counterpart, "So we have God's and Goddess'". 
Explaining further, Ayaaba revealed that, there are three main ways through which people gather information in the world. "Those who seek information through the spiritual means, those through the religious means and those who seek information through knowledge". 
He continued that, if not for Christianity which has suppressed our traditional belief systems and knowledge, we would have known the genesis of twins. However, humans have come to know that everything that was created on this on earth is a twin or were in twos. 
Dovetailing into reasons why some humans give birth to twins, Lucifer stated that, some are due to hereditary issues. "In some families twins run through their blood or genes and as such in every generation along that family tree, someone would give birth to twins". 
"Not everyone in the family would produce twins but at least one family member shall by all means have twins along the generational line". He continued that, for nothing at all "Within every one hundred years, twins shall be born in that family line". 
He further disclosed that, what actually cause twins to be born is that, when the life force of a man enter the uterus of a women; whether two males or male and female or two females, then, they take a decision to clot and form babies, thus twins. 
When that happens according to him, it would take either three months or six months before the Spirit would inhabit the the growing foetus. "This is dependent on what that particular child is destined to do on earth".
Nana Kwaku Peprah latter revealed that when it comes to twins birth, they normally have three things parents who have such children must try to handle; 1. Most twins normally have spiritual sight. 2. They are not supposed to be maltreated and 3. You should try and make them happy. 
According to Lucifer, the above notwithstanding, what must first be done by any parent who gives birth to twins is to find out who they are spiritually and where they came from. "Because twin birth doesn't just happen and there is a reason for their birth". 
He continued that, in most cases one of the twins must serve the other and in all situations, the last born or Atta Kakra' of the twins is rather regarded as the eldest and not 'Atta Panyin' or the first to be born of the twins. 
Explaining the reason why the reverse of the second born among twins is the eldest among them, he said, the second of the twins orders the first to go and check whether all is well before the second would arrive. That should tell you that, the second or third of twins or triplets born is the eldest.
Thus, it is the second or third born of either twins or triplets that is regarded as the eldest of the set because, it is them that instructs those born to go verify if all is well, they arrive.
"When twins are born, ninety (90%) percent of the second born or 'Atta Kakra' become prominent or well to do individuals or achievers than the first born or 'Atta Payin'. Because in all situations the first of the twins must be the servant for the second" he posited. 
He further remarked that, even in situations where there are triplets, still the last of them is the eldest. Lucifer added, it is an erroneous impression for anyone to assume that because, the second of the twins is the youngest. "It doesn't work like that spiritually" he stated. 
Referencing from the Bible he said the story as narrated in Genesis 25, he gave the Esau and Jacob example and narrated that, their fight as to who wins their battle, started from their mother's womb. 
According to Quotation Master, the mother of Esau and Jacob went to seek the help of a spiritualist to ascertain why there was a struggle within her tummy when she was pregnant? 
Latter he revealed that, she was told that, she had conceived twins representing two nations and the younger one was going to be bigger than the elder one. He added, and that came pass that Jacob became very big than Esau his elder twin brother. 
He averred that "The mother of Esau and Jacob new the future of their children before they were born, but how about your children, he quizzed. 
Ayaaba ended his discussion with Rev. Nyansa Boakwa but admonishing all parents who have twins to go and find out where their twins came from and why are they hear. This would give such parents a fair idea as to how to deal with their twins to avoid to any negative repercussions from ill treatment towards the twins. 
Content created and supplied by: DCKWAMEKWAKYE (via Opera News )