EXCESSIVE SWEATING [Hyperhidrosis]
Credit: Prof. Hamdy Ibrahim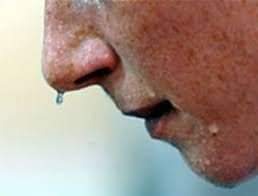 It is important to enquire about associated symptoms to exclude serious underlying pathology. Ask about night sweats, look for body built and observe if there is weight loss or cachexia and if patient is systemically unwell.
Ask about chest pain or palpitations. Ask about the duration and distribution of the sweating, acute presentation may suggest infection or a cardiac cause, a chronic history may support the diagnosis of anxiety which is a common cause, but other causes must be considered first.
Night sweats is unusual in cases of anxiety. Ask about recent travel, occupation and other risk factors for infection. A full drug and alcohol history should be taken.
[Examination]: Vital signs should be recorded - pulse and blood pressure as thyrotoxicosis and pheochromocytoma can cause tachycardia and atrial fibrillation [AF], and can also raise the blood pressure.
The temperature should be taken if there is any concern about infection. Check for lymphadenopathy and splenomegaly.
[Question]: What investigations should be done?
[Answer]:
1. Complete Blood Count (CBC) to check for infection and malignancy.
2. Thyroid Function Tests (TFTs) for thyrotoxicosis.
3. Inflammatory markers (ESR and CRP) to look for evidence of infection or malignancy.
4. A blood glucose at time of sweating to exclude hypoglycemia.
5. FSH and LH if menopausal symptoms is considered.
6. ECG to exclude cardiac problems [Eg: AF]
7. Chest X-ray if infection especially TB or malignancy is suspected.
[Question]: What are the possible causes of excessive sweating?
[Answer]:
1. Anxiety: Alcohol, Drug Withdrawal [venlafaxine]
2. Infection: HIV, TB, Inf. Endocarditis
3. Malignancy [Eg: Lymphoma]
4. Menopause [Endocrinal]
5. Hypoglycemia
6. Acromegaly
7. Thyrotoxicosis
8. Pheochromocytoma
Content created and supplied by: Newsplashes (via Opera News )