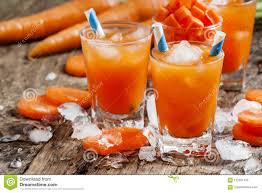 In this season of valentine, there are few smoothies that you certainly can do without and this particular recipe is one of them.
When Blended together, Orange and Carrots, the result is a sweetness you don't want to miss. Before we talk of the benefits let us first prepare our Carrot orange juice.
How To Make Carrot Orange Juice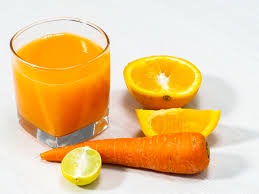 Making this juicy product is very simple. All you need are:
1. 8 Fresh organic oranges
2. 3 Fresh organic carrots
3. 2 tablespoon honey
Now that your ingredients are ready, let us look at the process which is super-fast and easy.
Process
1. Wash and peel the oranges and carrots and ground them into blendable sizes. Now, pour all the ingredient into the blender, start blending it and wait for a sweet Juicy Carrot orange juice.
2. Don't forget to add your honey before blending.
3. This step is optional but the juice is best to serve chilled so you may want to put in some ice cubes or store in the fridge for some minutes.
The Benefits Of Drinking Carrot Orange Juice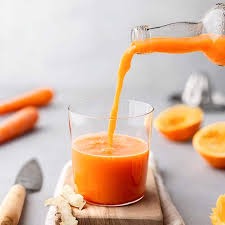 As stated earlier, this Sweet Juicy product serves you with 183 calories, 11g dietary fibre, 44.3g carbo, 46.4mg magnesium, 1073.9mg potassium, 156.6mg sodium which constitutes 17%, 30% and 6% of the daily value of magnesium, potassium and sodium for heart health. Some Benefits includes:
1. The Juice may boost your heart health.
One of the most talked-about benefits of this Juice is its effect on the heart. As stated, the Juice contains 1073mg of Potassium, a compound that plays a vital role in lowering blood pressure. 
2. The Juice is Perfect for your skin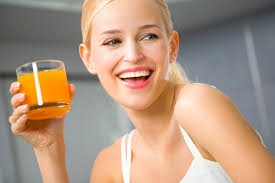 Thanks to the essential vitamins such as the C vitamin, your skin can be improved by taking this Juice. Vitamin C is one of the important nutrients needed for collagen production and skincare. 
Carrot orange juice may help protect your skin and also fight free radicals, hence boosting your skin health.
3. The Juice can help prevent Anemia
Carrot orange juice has a great impact on how iron id absorbed into the bloodstream, hence, fighting anaemia.
4. Kidney and Liver protection
This particular juice as stated earlier contains sodium, magnesium and others which have a great impact on the kidney as well as the liver.
Please FOLLOW, SHARE, and leave your COMMENTS below.
Mask up and stay safe, I need you alive!
Content created and supplied by: Esiama (via Opera News )