ABSTRACT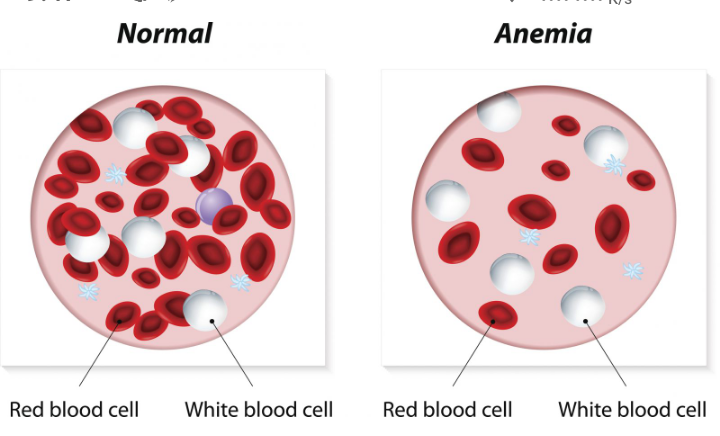 Anaemia is a disease in which we do not have enough red blood cells that contain iron containing protein
haemoglobin that transport oxygen to all parts of body. Anaemia occurs when there is blood loss due to physical
injury or due to menstruation in female. It can be prevented by eating balanced diet and also using iron supplements.
Anaemia symptoms include fatigue, yellowish skin, yellowish eyes and feeling fever all the time.
Keywords: Anaemia; Malnutrition; Deficiency
INTRODUCTION
Anaemia is a condition in which you lack healthy red blood cells
that transfer proper amount of oxygen to all the parts of the
body. The word "Anaemia" explain itself "an" mean without and
"aemia" mean red blood cells. If you have Anaemia then you feel
fatigue and weakness all the day. Anaemia may be defined as a
condition in which there is a deficiency of haemoglobin
concentration in body and it may vary from person to person
and gender to gender. The concentration of haemoglobin in
men who have Anaemia is below 13 g/dl and in young girls of
more than 15 years it is below 12 g/dl [1]. Its condition may vary
from mild to severe in different people. It is curable at early stage
and at acute stage it is serious and may be fatal [2].
Symptoms
Anaemia symptoms are different due to the cause of the
Anaemia you have and their signs and symptoms are fatigue and
weakness [3] all the time, pale or yellowish skin, abnormal heart
beats, shortness of breath, sleeping all the time, chest or back
pain, headache, their hands and feet are cold all the time and
they cannot perform their routine work and are lazy all the time
[4].
Causes
There are many causes of Anaemia but malnutrition is the main
cause. The other factors that cause Anaemia are the iron
deficiency, vitamin deficiency (vitamin B-12), chronic diseases,
huge bleeding due physical injuries and during menstruation
that leads to loss of red blood cells, in some cases your body
itself destroy the red blood cells and the body does not form the
red blood cells [5]. Certain infectious diseases, pregnancy and
age also cause severe Anaemia. At an age greater than 65 it may
become severe if it is not controlled at an earlier stage [2].
Intestinal diseases, family background, alcoholism, sickle cell
Anaemia, haemolytic Anaemia, malarial Anaemia also leads to
chronic Anaemia [6].
Tests
Anaemia becomes complicated when it is not identified at initial
stage. So when its symptoms appear one should consult the
doctor. The test for Anaemia is CBC (complete blood count)
which tells the exact composition of your blood and it tells
either you are anaemic or not [7]. If your red blood cells that
contain iron containing protein haemoglobin that carry oxygen
to all parts of body are less than normal value then you are
anaemic and if it is normal level then you are normal and not
anaemic [8].
Complications of anaemia
Anaemia causes many complications if it is not treated at initial
stages. It causes severe fatigue when it becomes complicated and
that person feels sick and tired all the time [7]. If pregnant
women has Anaemia of iron deficiency then it causes problems
like premature birth etc. [8]. Anaemia can also cause heart
problem because when you have Anaemia heart pumps more
blood to all parts of the body to overcome the oxygen deficiency
and the heart faces more burden and it becomes enlarged.
Some types of Anaemia which are inherited like sickle cell Anaemia
and thalassemia are more dangerous and are fatal [9].
Preventions
Anaemia is fatal disease when it becomes complicated, so it
should be controlled at initial stage by adopting preventive
measures to avoid it [10]. Eat iron rich food like meat, beans,
nuts, green vegetables like spinach, full grain cereals, dried
fruits, multivitamins, fruits which are rich in vitamin C [2].
Treatment
Anaemia is an iron deficiency disease so it can be treated by
using iron containing foods like green vegetables and dates.
When you have Anaemia, to overcome the deficiency of iron it
is necessary to use iron supplements and multivitamins tablets
[7]. When it becomes very complicated then blood transfusion
becomes necessary. It becomes very complicated in young girls
due to menses and also in pregnant women so they need proper
treatment because it is more common in females [11]. What Can Cause Your Body
To Make Too Few
Red Blood Cells?
Acquired Causes Inherited Causes
l Folate or iron deficiency
from poor diet
l Demand for RBCs
outstrips supply
l Some cancers (e.g.,
leukemia, lymphoma,
and multiple myeloma)
l Toxins (e.g., pesticides)
l Radiation and
chemotherapy treatments
for cancer
l Some viral infections
(e.g., hepatitis and
Epstein-Barr)
l Some antibiotics and
medicines for rheumatoid
arthritis
l Autoimmune disorders
(e.g., lupus)
l Pregnancy
l Fanconi anemia
l Shwachman-Diamond
syndrome
l Dyskeratosis congenita
l Diamond-Blackfan
anemia
l Amegakaryocytic
thrombocytopenia
CONCLUSION
Anaemia is very serious disease for females so they should be
aware of it. It is also common in children and elders above 65
years. Due to lack of awareness about Anaemia many people die
when it becomes complicated especially pregnant women [12]. It
is our moral duty to create awareness about Anaemia by social
media and by arranging seminars. People should be aware of
symptoms, preventions, and treatments of Anaemia.
Content created and supplied by: MrsAddo (via Opera News )