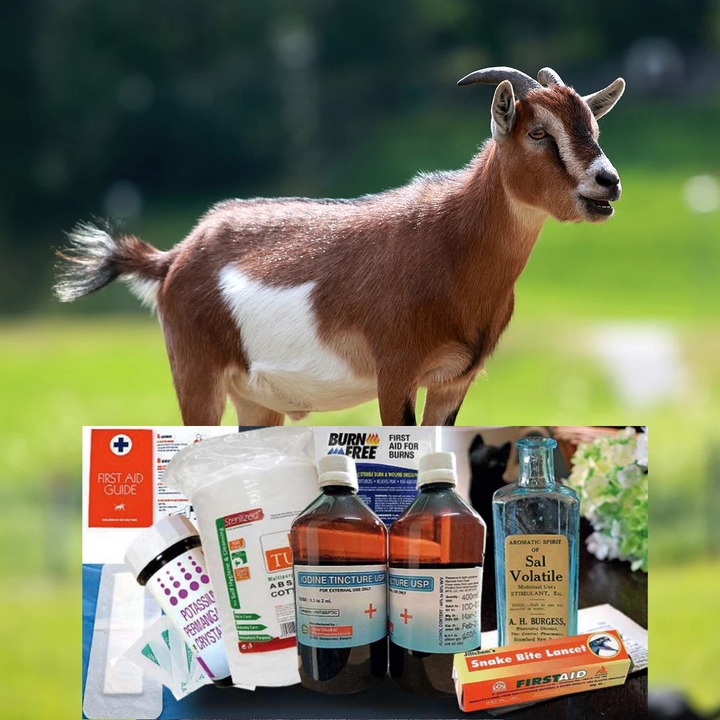 Having some basic items always available in your emergency kit means you're better prepared for problems that might arise, whether it's a dairy goat that's been bitten by a dog and has deep wounds, or a chicken struggling with bumblefoot.
I've learned the hard way that having certain items on hand in case of an emergency is much better than driving from store to store with two small kids in tow. 
These are the medicine that must be available in a serious commercial goat farmer first-aid box.
• PENICILLIN PROCAINE > Used to treat injuries, bites and after difficult birthings.
• OXYTOCIN> when doe has not passed afterbirth within 24/36hrs of kidding. Dosage is 1-1/2cc per 100ibs. body weight.
• ACTIVATED CHARCOAL> Used to absorb toxins when goat get into toxic plants.
• CD/T ANTI-TOXIN > Used for enterotexemia or tetanus.
• ELECTROLYTES(goat-orade)> if the goats is scouring, off feed or otherwise loosing hydration.
• BANAMINE> usually useful when a goat's in obvious pain, it relieve pain (maybe the goat met an accident).
• CD/T VACCINE (TOXOID)> Must universally suggested vaccine against clostridium perfringings or enteroxemia which sometimes called "overreacting disease".
• CLOSTRIDIUM PERFRINGENS C/D ANTITOXIN> can quickly save a kids life. This is the antidote to exterotoxemia.
• FORTIFIED VITAMIN (B) complex> when having goats off feed for more than one meal, this can generally boost them with a big shot .
• KAOPECTATE OR PEPTO BISMOL> good for goat when it get into weird plants that cause stomach upset or if you have scouring kids. 
Content created and supplied by: kkwrites (via Opera News )