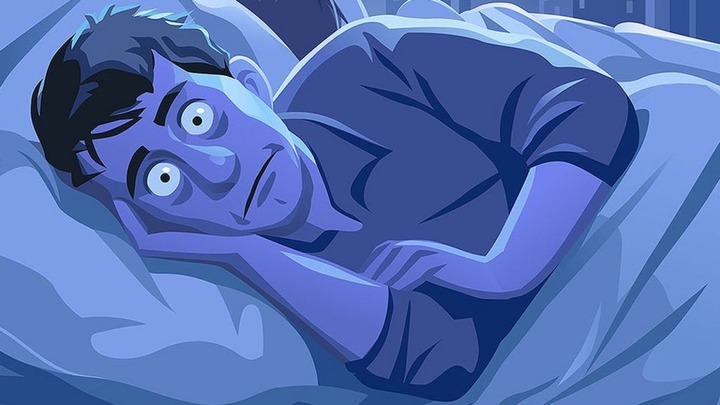 Insomnia basically means a complete absence of sleep. It is usually characterized by a failure to carry out routine activities effectively because of inadequate rest as a result of a distressing sleep pattern. This condition has reached shocking proportions in modern times, particularly among the upper echelon of society. Insomnia connotes the inability to fall asleep or waking up in the middle hour of the night and remaining awake. If this condition goes on for more than one month, it is known as chronic insomnia. The majority of the cases of insomnia are associated with regular daily fears and stress or merely the consumption of caffeine. It is usually not a serious case although it can be very maddening, and can cause inattentiveness and terrible temper. Chronic insomnia is an unusual case and it can obstruct and interrupt normal life. It is known to contribute to headaches, mental exhaustion, confusion, memory problems, dizziness, and emotional flux. Insomnia is not a disease but it can be an indication of a more serious disorder, for instance, asthma, stress, kidney, arthritis, and heart disease.
Causes of Insomnia
There are several likely causes of insomnia, though it is generally an indication that certain things are out of place in one's life. Generally, it has been observed that more than 50 % of the occurrences of insomnia are rooted in psychological origin; for instance anxiety, stress and depression.
Sleep apnea
Unsettling snoring
Diseases of bladder or prostate disorders
Deficiency of serotonin
Reduced levels of melatonin in the brain mostly common among the aged.
"Restless Legs Syndrome" (RLS) or Periodic Limb Movements (PLM)
Iron or Magnesium deficiency
Hormonal disproportion
Too much consumption of caffeine or any other stimulants
The adverse effect of certain anti-depressant medication
Hypoglycemia
Preventive Tips for Insomnia
· Endeavor to abide by a specific sleep time routine. Adults also need some kind of sleep routine, and irregular sleep patterns can be disadvantageous to anyone suffering from insomnia. Make sure you to bed at the same time every night and wake up at the same time every morning.
· Limit your sleeping hours. Excessive sleep can equally cause insomnia. Try to reduce your time in bed by one hour for two weeks and observe if this useful.
· Remove the bedroom clock. To prevent oversleeping set an alarm, but you keep it in hiding so as not to persistently conscious of the number of sleep hours you missed. Ticking clocks are particularly irritating to the insomniac!
· Be active during the day. Do exercise regularly for about 30 minutes a day but do not exercise when your bedtime is close.
· Reduce the amount of your daily work and take time to relax. Seek out ways of limiting your stress and do have time each night to loosen and relax from the activities of the day. Have a hot bath; take some herbal tea; do a soothing activity that you derive pleasure from like reading, writing, etc.
· Avoid caffeine and other stimulants. Stop taking tea and coffee at least six hours before your bedtime. Nicotine, chocolate, and sugar also act as stimulants and should be done away with.
· Alcohol prevents appropriate deep sleep and often leads to frequent waking up and twitchy sleep. 
· Eat food products that contain L-tryptophan because the presence of L-tryptophan will help you drowsy.
· Make the effort to avoid naps during the day like a plague. If it ever becomes so necessary you must nap, make it a short nap of no more than 20 minutes, and do not nap after 3.00 P.M.
· Make better your sleeping surrounding. Your bedroom should be made conducive for a good night's rest by investing in dark curtains to block out all light, earplugs if night noises disturb you, a comfy mattress. Furthermore, make sure that you are neither too hot nor cold at night.
Herbal Remedies
1. Massaging your foot sole with mustard oil before going to bed will definitely help to get rid of insomnia.
2. Soaked Poppy seeds in water for an hour then ground to produce a paste. Thereafter boiling the paste with milk and sugar. You should drink this. It is very useful to surmount insomnia.
3. Individuals should consume mango and drinking milk after or in the alternate drinking mango milkshake from time to time during the night. This herbal remedy excellently helps to put insomnia at bay.
4. The consumption of raw onion or roasted onion in the night equally helps to overcome insomnia.
5. Mixed Nutmeg powder with water. The mixture should then be taken in the night to get rid of insomnia.
6. Eating large amount Curd or taking Curd and Sugar also promote sleep and cure insomnia.
7. Try to drink hot milk with a spoon of Ghee and sugar at night. It helps to get to sleep without any hassle and cures insomnia properly.
8. Take a glass of carrot juice each day. It cures insomnia.
9. Mixed one spoon of lemon juice and honey together. Drink this induces sleep and cures insomnia.
10. Grind some Coriander leaves with water and add sugar to them. Eating this paste helps to easily sleep and cures insomnia.
11. Boiled Aniseeds in water for 10 minutes and then put milk and sugar. Before going to bed drink the mixture. It eliminates insomnia.
12. Rubbed a Cucumber piece on the foot sole produces a cooling effect on the body. This helps to get sleep thus eliminating insomnia.
13. Massage Castor oil on the head or body oil frequently helps in curing insomnia.
14. Sprouted horse gram should be taken regularly because it makes sleep and cures insomnia.
15. Hop is known to calm nerves, ease tension. It takes care of insomnia which occurs as a result of indigestion, stress, and headaches. It does not influence the early rising hours of the morning.
16. Take Kava Kava a few hours before going to sleep. This herb reduces stress, relaxes muscle tension, and anxiety. Kava Kava makes sleep deeply. It is useful as a sedative when taking a large dose, as successfully as, benzodiazepines though there are no side effects associated. Use 180 mg per day for only three days at a go.
Note Kava is a very powerful herb thus high doses can have adverse effects on the liver. Do not exceed the recommended dosage.
17. Valerian is one of the most valuable herbs for insomnia. It relaxes nerves and muscles. It promotes the quality of sleep. Valerian is more valuable than barbiturates but has no side effects or addiction.
18. Combine the following ingredients:
1 teaspoon of Chamomile flowers.
1 teaspoon of Hops.
1 teaspoon of Valerian root.
1 cup of boiling water.
Allow it to infuse for 45 minutes. Then sieve and drink one hour before going to bed.
Note: Valerian should not be taken for more than 3 weeks running. In some individuals, it can cause headaches or stomach upset. Other herbal remedies that can help are Catnip, Chamomile, and Skullcap. For these and other herbal remedies, seek advice from professionals.
Content created and supplied by: Healthmatics (via Opera News )