Burn out is a state of emotional, physical, and mental exhaustion, that is caused by excessive and prolonged stress. It usually occurs when you feel overwhelmed, emotionally drained, and unable to meet constant demands.
People with burn out usually don't speak up. They only complain of stress and tiredness most times. Some people with burn out also don't speak up because they think they've total control of everything when actually it basically suicidal.
To understand burn out better, say you've been working extra hard at work but you just can't seem to reach your target or even see the end of the tunnel, you just can't wait for the weekend to breathe again. Or it's examination time and you're just giving it your all but your brain seems to just not want to comply.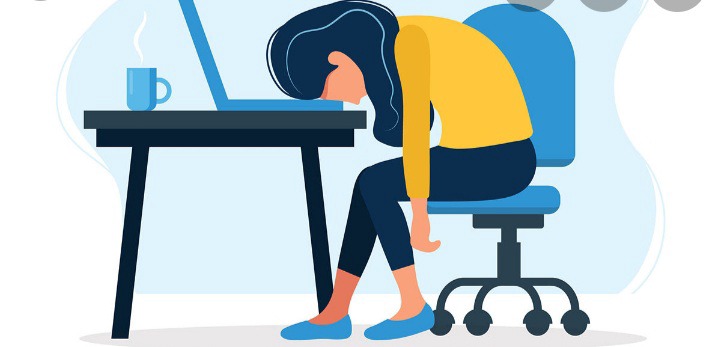 Burn out has significant negative impact on your health, talk of weakened immune system and its consequences and a whole lot more. Do you want to know how to tell if someone is burned out? Do you want to be healthier? Worry no more, here are some common burn out symptoms.
1. Little to no motivation. When you're constantly stressed you start to lose motivation as you'll simply want your stressors to end. It's even worse when you keep on failing, burn out sets in real quick.
2. Insomnia. When you're stressed, a hormone called cortisol is released. The primary function of cortisol is to help your body escape 'danger', then after that it leaves. As a part of the ways cortisol helps you escape danger is inhibiting sleep. When you're burnt out the cortisol overstays it's welcome, thus giving you insomnia;lack of sleep.
3. Exhaustion. When you're constantly stressed you don't get enough sleep because insomnia sets in. Without a good night's sleep you're not rejuvenated and you start off your day already sluggish, this makes you easily tired.
4. Easily triggered. Burned out people are usually on edge. They're somewhat in the survival of the fittest mode, thus the least thing generates a massive reaction.
5. Emotionally overwhelmed. Burned out people have a hard time juggling all their responsibilities plus stressors. They have racing thoughts most times as they fear what they future may hold for them. This generates over thinking, anxiety and a whole lot more.
Thank you so much for reading. Is there any point I didn't add? Feel free to add it in the comment section. Kindly like and share this. Do follow me as well. Keep safe and mask up. Till next time be safe. Bye!!
Content created and supplied by: Mandeiya (via Opera News )