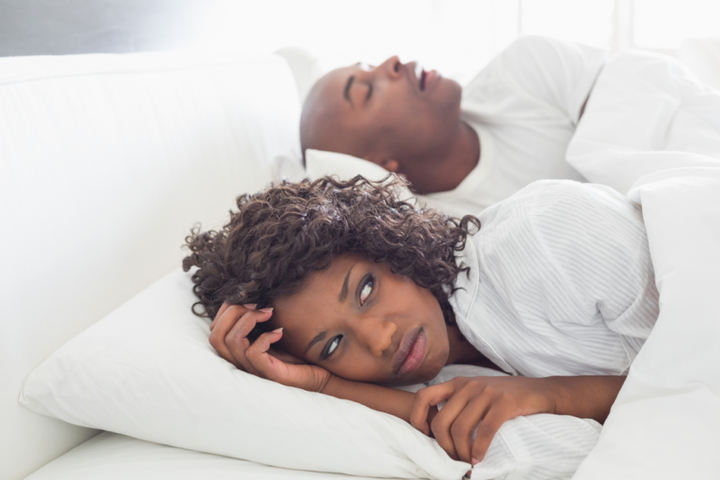 We snore because the ralaxed tissues in our throat vibrates as the air we breath in rushes past them. Factors like body weight, health and even the shape of our mouth and nostrils, from a study conducted, shows that they can make you more likely to snore. Usually we do not know we snore. It is brought to our attention by those with whom we share a room with when we sleep. That includes either our partner or the members of our family. Here are some additional factors that cause us to snore and how we can avoid them.
Anything that stops you from breathing through your nose can cause you to snore. Examples of such things include having a cold or flu. Nasal drops or nose inhalers prescribed by your physician can clear and open your airways to prevent you from snoring. If these do not help, consult your healthcare provider.
Sleeping on your back can make you snore or make your snoring worse. The best way to prevent snoring from this is to sleep on your side. If you find it difficult staying on your side while you sleep, you can put one pillow at your back and another in front of you so that they keep you still when you turn during your sleep.
Some medications we take can also make us snore. Medications such as muscle relaxants or antidepressants can relax your tongue and the muscles of your throat causing you to snore. Some of these medications have an added side effect that lets you gain weight. Excessive weight gain or being obese can make sleep apnea or difficulty breathing while we sleep worse.
Sleep apnea is a serious condition characterized by snoring and difficulty breathing. With this condition, the person repeatedly stops breathing during sleep. It may make you wake up during the night or even gasp for air. If you see signs such as a dry mouth, headache and sore throat in the morning consult your healthcare provider.
It is unusual for children to snore, especially when they have a cold. But in some cases it can be a sign of an infection of the throat, lungs, airways and the sinuses. Sinuses are spaces in our skull where air can move. Snoring in a child can even be sleep apnea. It is advisable to talk to your child's pediatrician about it if your child snores loudly at night.
Content created and supplied by: Kudiabor_Health (via Opera News )