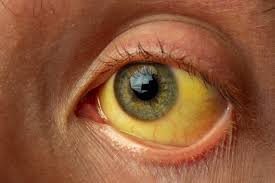 Jaundice over the years has been one of the most common health conditions in children and even in adults. In this article, we will learn what jaundice is, its causes and symptoms and if possible the cure to it.
Jaundice is a health condition in which the mucous membrane,skin and sclera turn yellow mainly because of high level of a yellow-orange bile pigment called bilirubin. Bilirubin is formed from the breakdown of red blood cells in the body.
The condition jaundice has so many causes which occur in three phases thus, causes that arise before the production of the pigment bilirubin, during and after the production of bilirubin. However, the most common causes of jaundice are; alcohol, hepatitis, gallstones, pancreatic tumour and even some medicines.
There are symptoms that can bring to the awareness of many if peradventure they may or may not have jaundice. However, some people may have jaundice and not portray any of the symptoms.Nevertheless, some of the most common yet unknown symptoms are given below ;
Fever, chills, abdominal pain, change in skin colour, dark-coloured urine and many others.
Don't forget to leave your questions in the comment box and let's get interactive. Kindly share,Iike and follow for more health articles.
Content created and supplied by: News_Center (via Opera News )