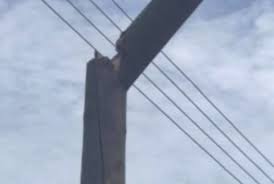 Mr. Dzamenu Robert, a 27 year old electrician fell from an electric pole he was working on in the early hours of today. Mr. Robert was on the pole to fix some wires to aid in an extension of lights to a particular building when the pole broke down. Robert who was helpless on the broken pole had no option than to fall to the ground.
According to the good Samaritans who rushed Robert to the Ziope health centre for medical attention, they overheard the sound of something falling behind their house but were not bothered about it as they least expected what they came out to see. "We came out to see him lying beside a broken pole groaning in excruciating pain. He could not talk at the moment, so we decided to rush him to the health centre", they said.
Mr. Dzamenu Robert upon assessment at the facility was said to have obtained an injury of the chest and was attended to and later referred to the Ho teaching hospital for further investigations and management.
Content created and supplied by: Ngaribignanba (via Opera News )