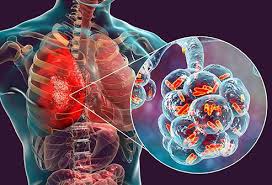 Pneumonia is an infection in one or both lungs caused by bacteria, viruses, and fungi .The infection causes inflammation in the air sacs in your lungs, which are called alveoli. The alveoli gets filled with fluid or pus, making it difficult to breathe causing cough with phlegm or pus, fever and chills, Pneumonia can range in seriousness from mild to life-threatening
Treatment will depend on the type of pneumonia you have, how severe it is, and your general health. If the pneumonia is caused by a bacteria the doctor will prescribe an antibiotics to eradicate the bacteria. First line antibiotics that might be selected includes the macrolide antibiotics, azithromycin (Zithromax), clarithromycin (biotin), and tetracycline known as doxycline. Other antibiotics may include levofloxacin (Levaquin), combined therapy of a beta – lactam such as amoxicillin etc.
If your pneumonia is caused by a virus, your doctor will prescribe antiviral agents which will inhibit DNA synthesis and viral replication by competing with deoxy guanosine triphosphate for viral DNA polymerase. Eg. Amantadine, rimantadine, zanavir, oseltamivir, ribavirin, acyclovir, foscarnet etc.
If it is a fungal pneumonia your doctor will prescribe antifungal agent such as amphotericin B, fluconazole, Iitraconazole, flu cytosine etc.
Your doctor may prescribe pain and fever relievers such as aspirin, ibuprofen, acetaminophen, etc.
However if your symptoms are severe you have to be hospitalised to be monitored on your heart rate, temperature and breathing. Intravenous antibiotics, respirating therapy and oxygen therapy will be ongoing in the hospital.
Content created and supplied by: [email protected] (via Opera News )