Welcome to InfoLab, a dedicated place for self-improvement. Be a part of the family and read your way to success everyday.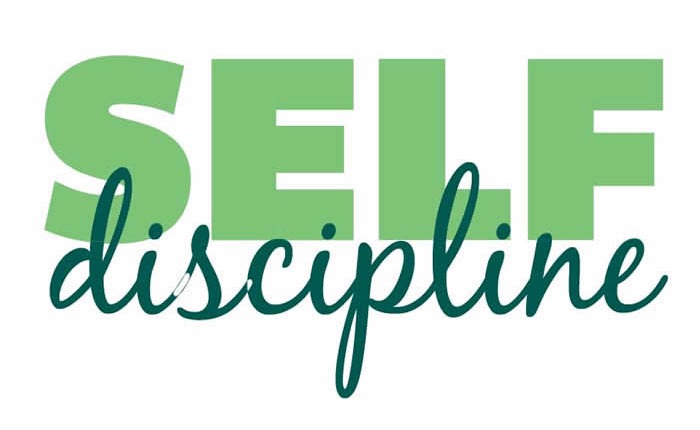 Your ability to discipline your mind and your actions is one of the most valuable skills you'll ever need on your way to success. Without it, you'll have to resort to luck but luck doesn't guarantee success. Luck has its role in the success journey but if that's your only hope, then sorry to be disappointed but you'll not achieve much in life. Self-discipline is one of the hardest things to master and implement since we live in a world filled with distractions. We're surrounded by flashy things promising us happiness and fulfilment only to be disappointed by money wasted. But if you master it, it's only a matter of time for your dreams to become a reality.
This article not only covers the basic concepts of discipline and why it's important but it actually offers you a blueprint into how to implement it into your daily life. It's not going to be an easy process and you'd even be apt to give up but don't because the results you'll achieve with it will exponentially outweigh the process. If you need to reread a point, do so. And don't hesitate to ask questions if you have any. Below are 10 actionable steps to master self-discipline.
1. Define a Desirable Goal
This shouldn't be just any superficial goal. It has to be valuable; the kind of goal that'll dramatically change your life for the better once it's achieved. This goal should be strong enough to get you through the hardest times, through the pain and difficult parts of your journey. It'll serve as your lighthouse in the distance and it'll be your guiding light to the shore. Try as much as possible to find the right goal because if you do, nothing can stand between you and making it happen. Search within yourself, take all time the time you need, and once you identify it, proceed to the next step. 
2. Deconstruct the Goal
Finding a goal was the easy part, now it's time to analyse it and break it down. Most people skip this part but one thing you should know is that if you don't analyse and deconstruct the goal, it's no longer a goal it's just a wish. Anything you could possibly want can be deconstructed into smaller pieces that when put together will form the bigger picture. Your job here is to identify what are the ingredients for your goal. These are highly subjective to the goal but in general, it has four subcategories; what you're about to do, what it takes to do it, how you can achieve it and why the goal is important for you.
3. Design a Daily Plan
If deconstructing the goal got us a list of ingredients this is where you establish the recipe; your daily plan. Looking at your goal, what are the steps necessary to achieve it? The more precise you are with these steps the better. For example, if your goal is to lose weight, you've probably identified that your ingredients are what you eat, what you drink and how much physical activity you need to put into it.
The daily plan should make use of these ingredients; replacing junk foods with nourishing foods, which means you eat less than what you burn in a day and start increasing your daily activities with cardio like running or going to the gym. It's not that complicated yet people struggle to lose weight because they don't approach it systematically. If the plan is right and you stick to it for an extended period, you'll achieve your goal.
4. Prioritize the Goal above Anything Else 
The goal you picked will improve your life once it's achieved, that's the whole point. The goal is probably the most important thing you can do right now so it needs to be a priority number one and everything else in second place. Be selfish with your time; when it's time to carry out your daily steps, eliminate all distractions and focus on the goal. If you're losing weight for example and some friends want to hang out, you first hit the gym and then see your friends afterwards. The goal comes first. Most people fail at this point because they waste time on urgent but unimportant issues and neglect the things that really matter.
5. Be Persistent In Your Endeavour
Getting to where you want to be in life is not gonna be easy. It's not going to be a smooth ride. Sometimes it's going to be extremely difficult; this is where your desire for the goal is getting tested. Moments like these are like boss battles in video games; you need to overcome them in order to progress. There'll be days when you don't feel creative, when you don't feel like going to the gym, business hustles don't seem to yield any returns but you just gotta stick to the plan and persist. In times like these, remember that goal and visualize it. Imagine how your life would be when you achieve that goal and use it to keep pushing.
6. Learn From Successful People
It's easy to feel lonely on this journey but rest assured you're not the first person to go down this path. Many people before you have gone through this journey and achieved remarkable results. Search for people who have succeeded in what you want to achieve and study them. Read their stories on how they made it and emulate them, not necessarily doing exactly what they did but use their stories as a guide and a source of motivation for your own.
7. Schedule Breaks and Rewards for Yourself
Many people work very hard until they get tired and then they quit. But remember that the body needs fuel, the mind needs fuel and as a result, you need to recharge if you're to attain your goal. You need a change in perception; it's not going to be a sprint, achieving your goals is a marathon. Your ability to properly understand the time and resources it'll take to achieve it is crucial to being a strategic player. Monitor your energy and plan for the times where you'll feel down. It's important to keep yourself motivated; reward yourself when you overcome difficult tasks or when you've already covered a good portion of the journey. After all, you've earned it. But don't let it rise to your heart because there's still a long way to go and it's easy to think you've got this in the back. The rewards should be small parts of what the big goal will feel like. This way, it'll spark your inner flame and your appetite for greatness.
8. Measure Your Progress
Measuring and recording your progress help you uncover things that work and those that don't. Having this data will allow you to make informed decisions and not shoot in the dark hoping something hits. There are also side benefits to seeing that the effort you're putting in is actually producing results. Those small wins will motivate you to keep on pushing. 
9. Analyse Your Progress
It's time to analyse the aggregated data and determine how you're doing. Break down your progress and the result. Grab a piece of paper and fold it twice so you get four squares; the top two for the process and the bottom for the result. On the top left side, write down the things that didn't work out as planned, the things you found most difficult or which yielded the least results. On the top right, list the activities that got you the best results; the things that made the biggest difference in the past week. On the bottom right, rationalize why the items above affected your life the way they did and what actions you can take to improve or facilitate them better. The bottom left side is blank. It's advisable to do this once a month to help you understand how you behave and know what drives those behaviours. 
10. Eliminate Negative Habits
If the exercise mentioned in step 9 is done without biases, it'll reveal the biggest setbacks in your efforts. It's time to eliminate them or find ways to reduce their negative impact. The entire process is cyclical meaning you persist, then analyse, improve and repeat. This type of mindset will serve you greatly no matter what your goal is. It's not enough to work hard if the things you do afterwards inhibit you from greatness. It doesn't matter if you hit the gym regularly, if you keep eating junk foods all the time your efforts will not give you desired results.
Mastering self-discipline is more like acquiring a new tool that's not accessible to most people. A tool with which you can become great at anything you desire. Discipline is your ability to work together with your body towards making things happen. Once you understand this, the world becomes your playground and you can learn anything you want and achieve the things other people only dream of.
Kindly share this article with your friends and give it a thumbs-up if you liked it. Thanks for reading and see you another time.
Content created and supplied by: InfoLab (via Opera News )