For daily news updates, click on the "follow" button above. Share, like and comment.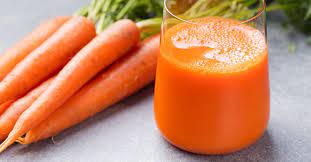 There are various good reasons to eat carrots daily. These are some of the health benefits of carrots.
Promote eye vision: Vitamin A is essential for good vision in prescribed amounts, and carrots are high in the nutrient. When an individual is deficient in vitamin A for an extended period of time, the photoreceptors in the outer segments of the eyes begin to deteriorate. Night blindness occurs as a result of this.
It reduces risk of cancer: Carrots contain a number of phytochemicals with anticancer properties that have been extensively researched. Beta-carotene and other carotenoids are among these compounds. These compounds boost immunity and activate proteins that stop cancer cells from multiplying. Carrot juice has also been shown to help battle leukemia in research.
For skin health: Carotenoids are abundant in carrots. Fruits and vegetables high in these compounds have been shown to enhance skin appearance and make people appear younger in research.
Enhance hair growth: Vitamins A and C, carotenoids, potassium, and other antioxidants abound in carrots. According to anecdotal evidence, the vegetables can help with hair health. More research is required in this region, however.
It regulates blood pressure: According to one study, carrot juice helped people lower their systolic blood pressure by 5%. Carrot juice's nutrients, such as fiber, potassium, nitrates, and vitamin C, were found to help with this effect.
Immune system booster: Vitamin A keeps the system running smoothly and protects you from infections. This is accomplished by increasing the body's immunity. Carrots are a good source of this immune-boosting vitamin. Carrots also contain vitamin C, which helps the body produce collagen, which is essential for wound healing. This nutrient also aids in the development of a healthy immune system.
For bones: The metabolism of bone cells is influenced by vitamin A. Carotenoids are linked to better bone health. Although there is no direct evidence that carrots can help with bone health, their vitamin A content may be beneficial. More research is required to fully comprehend this process.
For daily news updates, click on the "follow" button above. Share, like and comment.
Content created and supplied by: FactsGlobal (via Opera News )