The four primary blood types, A, B, O and AB are differentiated from each other based on their antigens. Antigens are found at the surface of the red blood cell and help explain how effectively your immune system works.
You will be surprised to know that in Japan people are very fond of asking the blood type of other people because they truly believe in blood type personality theory. Japanese people use it as a tool to assess the potential of an employee and the compatibility of two people getting married.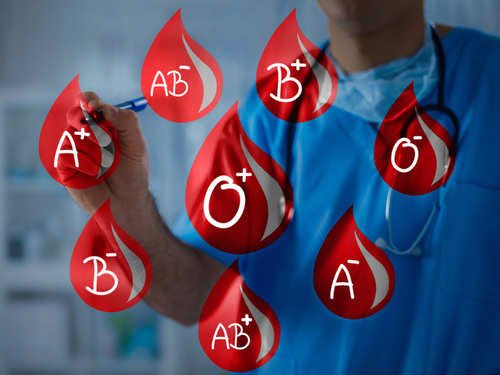 Blood Type Personalities
Type "O"
(The Hunter)
People with O blood type are daring, outgoing and go-getters. They have a habit of setting high standard for themselves and do all they can to achieve them. These people have excellent leadership qualities and little things do not bother them, which makes them appear as selfish to other people, especially to A type.
They are generous, kind-hearted and loving. They adapt well with changes. They are resilient and flexible and can do better than other blood types in tough situations.
characteristics
• Strong & Athletic
• Self- Reliant & Robust 
• Ambitious Leader
• Outgoing (can be arrogant)
• Resilient
• Has a temper, but recovers 
quickly and then lets it go
Type "A"
(The Cultivator)
People with A blood type are sensitive, cooperative, emotional, passionate and clever. They are very patient, loyal and love peace and thus do not like to get into a fight with anyone. But sometimes these people become overly sensitive. They do not like to break the rules set down by society and care about etiquette and social standards.
characteristics
• Settled
• Cooperative
• Orderly
• Gentle, Appears calm on the 
outside, but anxious on 
inside
• May Hold onto grudges too 
long, which affects stress 
level
Type "B"
(The Nomad)
These people are very creative and quick decision makers. But they are not good at taking orders. They put every part of themselves into something they want to focus on. They have a very strong desire and drive to be the best of everything they do. 
characteristics
• Balanced
• Flexible & Optimistic
• Creative & 
Compassionate
• Individualistic
• Takes time to understand, 
but dislikes confrontation
• Pursue Careers in 
Medicine, Law, Science, 
& Technology
Type "AB"
(The Enigma)
People with AB blood type are a mix of A and B personality types, just like their blood group. These people are complicated and can have dual personalities like they can be shy like A type as well as outgoing like B type. They try to keep their true personalities from strangers, thereby making most believe that they are a mixed personality. It is hard to decode these people until you know them thoroughly. 
characteristics
• Rare
• Charismatic
• Mysterious
• Cool, Controlled
• Introverted & Rational
• Do things their own way
Content created and supplied by: MaKorley (via Opera News )