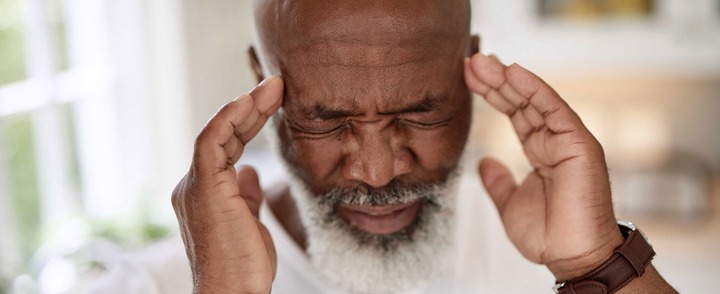 A headache can be referred to any type of pain that takes place in and around the head, or in the upper neck. Headaches can occur without being connected to any health condition or disease or sometimes occur as a sign of other diseases. Everybody does suffer headaches at one stage or the other and it is actually the most common complaint. In some cases, headaches may be a signal that certain things are going wrong within our bodies. It may a response to stress, sleeplessness, and other conditions.
Practically every one experiences a headache at one point or the other. An estimated 17.6 percent of women and 6 percent of men in the United States alone suffer headaches regular, and some 20 million steadily witness huddle and migraine headaches. The number of men and women who daily suffering from headaches worldwide is equally alarming. Herbal remedies are the proper way to cure a headache because the herbs are available to get, only that headache difficult to cure just like common cold and flu. General causes of headache are hormonal imbalances; temporomandibular joint (TMJ) syndrome, trauma to the head; nutritional inadequacies, alcoholic usage, drugs, or tobacco, fever, stress, tension, anxiety, allergies, constipation, consumption of coffee eyestrain, hunger, sinus pressure, muscle tension, and contact with irritants like pollutants, perfumes, or after-shave sprays.
According to reports, 90 percent of all headaches are 'tension headaches' and only 6 percent are migraines. Tension headaches, as the name suggests, are a result of muscular tension.
Cluster headache is another kind of headache. They are serious and repeated headaches that affect more than 1 million Americans, and several millions of people all over the world. They are the most painful kind of headache. Taking herbal remedies for headaches is the appropriate manner to eliminate pain without drugs. Individuals who suffer from constant headaches may be a response to specific foods and food additives, like sugar, hot dogs, luncheon meats, sulfites ( mostly used in restaurants on salad bars), dairy products, nuts, citric acid, fermented foods ( such as cheeses, sour cream, yogurt), alcohol, vinegar, wheat, chocolate, monosodium glutamate, and/or marinated foods. Other conditions are anemia, bowel problems, brain disorders such as tumors, tooth-grinding, hypertension hypoglycemia, and sinusitis, and spinal misalignment, toxic overdoses of vitamin A, vitamin B deficiency, and diseases of the eye, nose, and throat. Dehydration also can trigger headaches—normally followed by a feeling of being famished, a balmy face, and a feeling of heaviness in the head.
Note: Unless otherwise stated, the dosages suggested here are solely meant for adults. For a kid between the ages of twelve and seventeen, limit the dose to three-quarters of the suggested quantity. For a kid between six and twelve, use one-half the suggested dose, and for a kid under the age of six, use one-quarter the suggested amount.
The Most Regular Causes and Triggers of Every Day Headaches:
Disturbing stress
Dejection
Rage
Nervousness
The narrowing of blood vessels or the squeezing of facial and scalp muscle when experience negative emotions can lead to reduced blood and oxygen flow to the brain, which then brings about a headache.
Ailments: Dental diseases, viral infections, urinary tract infections, sinus infections, eye strain, vision difficulties, allergies, and head injuries can all result in headaches.
Sleeplessness: Insufficient sleep or sleep disorders can bring about muscle tension, which can lead to headaches.
Food sensitivities: Caffeine, dairy products, chocolate, and food additives such as nitrites, nitrates, and monosodium glutamate are established headache triggers.
Irregular meals: Skipping of meals and vogue diets can reduce blood sugar levels and bestow you a headache.
Dehydration is also a frequent cause of headaches.
Alcohol and drugs: The use of alcohol, approved medication, cocaine, amphetamines, and diet tablets can cause headaches.
Rebound headaches: Constant intake of certain pain relievers may bring about a rebound headache just as the painkiller starts to wear off. 
Headaches may also occur as a withdrawal reaction from addictive substances such as drugs, caffeine, and prescription medicines.
Other factors: frowning, poor lighting situation, physical hard work, and chemical sensitivities can also be the source of headaches.
Symptoms of Headache
Ache in the head
Fuzzy vision
Nausea and vomiting
Hearing injury
Irritability
Disorder
Malaise
Anxiety
Healthy Tips for the Prevention of Headache
Eat a healthy diet consisting of fresh fruits and green vegetables, and avoid skipping meals for so long.
Drink a large amount of water so that the body can be hydrated.
Exercise often to enhance your circulation
Make use of relaxation methods such as deep breathing workouts, hands-on-healing, and restorative touch to minimize the rate of a headache.
Maintain a headache journal to keep track of each headache – the time it lasts and at what time it occurred and what causes it, to talk about it with your physician.
Place an ice pack on your forehead and a heat pack on the back of your neck to relax stressed muscles.
Soak yourself in a hot tub; the hot water will help to loosen the contracted muscles that are the source of the headache.
Stay outside to get fresh air or take a stroll on a beach.
Reduce alcohol consumption and drink more water.
Decrease number of hours used in front of a computer screen.
Do not watch television for a very long time or in a poorly lit room.
Endeavor to sleep very well at night.
Herbal remedies
1. Coenzyme Q10 in addition to Coenzyme A improves oxygenation of the tissue. Take 30 mg two times per day.
2. Calcium and magnesium are minerals that are good for alleviating muscular tension. Use chelated forms. Their deficiency may be the cause of migraines. They relax muscles and blood vessels. Take 1,000 mg in a day.
4. Cayenne thins the blood, thus limits pain and allows favorable blood flow.
5. Chamomile relaxes muscles and eases tension.
6. Ginkgo biloba extract promotes circulation to the brain and can be useful for certain kinds of headaches.
7. Guarana can relieve cluster headaches. Taking Steam containing Eucalyptus oil drops helps to eliminate headaches caused by cold congestion or sinus problems.
8. Rubbing Eucalyptus oil on the forehead equally helps to reduce headaches due to cold.
9. Equal amounts of Cumin seeds, Black pepper, Coriander seeds, dried ginger powder together. Boiled one spoon of this powder in water with Jaggery. It should be taken before sleep so as to help to get relief from headaches caused by cold.
10. Eating an Apple daily with salt helps to keep headaches at bay.
11. Cinnamon ground with Lemon juice massaged on the forehead brings relief from headache.
12. Chewing dry Coconut with Sugar candy will also give ease from headache.
13. Massaging Castor oil or Ginger oil or Coconut oil on the center of the head gives relief from headache.
14. Combine Tamarind and Jaggery mixed in water. Then filtered and used two times in a day. This helps to defeat headaches that occurs as a result of heat.
15. These classes of herbal remedies are suitable for the particular headache you are suffering from in line with the symptoms also.
Belladonna helps with impulsive, serious pain that is worse on the right side of the body.
Natrum muriaticum is suggested for tension headaches and periodic headaches.
Sanguinaria is good for shape and splitting ache.
Arsenicum album, Pulsatilla, Kali bichrornium, and Mercurius solubilis, are good for clearing the sinuses.
Content created and supplied by: Healthmatics (via Opera News )