4 signs that indicate you are consuming too much salt
When it comes to nutrition you are probably concentrated on the number of carbs and calories you have been eating but have you thought enough about your salt intake lately? Your daily value of sodium should not go over a certain amount (2300 milligrams) a day. Excessive intake of this substance can open a door for kidney disease, high blood pressure, stroke and heart attack. In this article, we will discuss five warning signs that indicate you are taking too much salt.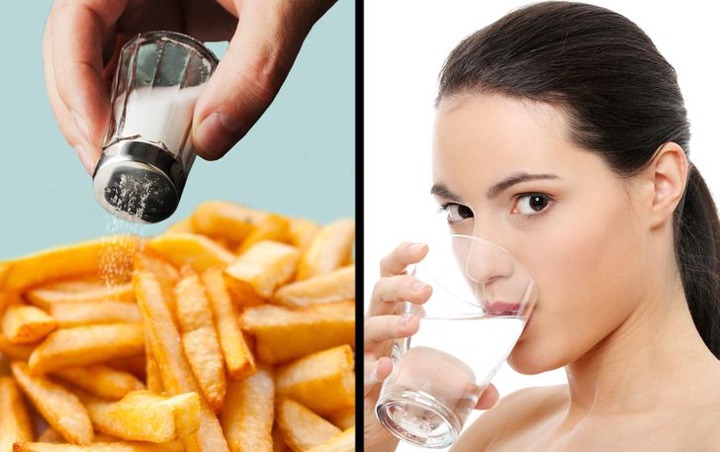 Excessive thirst is one of the signs that you are eating too much salt. If you are eating too much salt you are going to get thirsty more often. Depending on how much salt you have had, the need to drink water will still be there even after you have had some. When you eat food that is high in salt the sodium begins to upset the balance of fluids in your body and the feeling of thirst takes over. This is why it is encouraged you drink water after an especially salty meal as well as throughout the day.
Just as we said the preceding paragraph, too much salt intake increases your thirst and if you are planning on drinking a lot of water you may want to prepare yourself for the raging urge to head today bathroom because you are going to experience excessive urination. But if you had not had a ton of water, a salty diet is still accompanied by the sudden need to urinate especially later in the night and this can interrupt your sleep. So if you like to stop the late-night bathroom trips, you can start by skipping salty foods (for example chips) you eat before bed.
The next sign has to do with high blood pressure. If you keep down the intake of more salt high blood pressure is bound to be one of the speed bumps. Excessive intake of salt causes your body to retain more water than it can handle. This puts added pressure on your arteries where the muscle walls swell leaving only small places for blood to travel. This leads to the strain on your heart as it pumps harder and heavier.
Strange swelling is bound to occur when one is talking too much salt. Let us say you did overload on salt tonight, then you may wake up with some serious swelling in unexpected places. It is normally felt around your ankles and fingers. This is caused by the retention of water in the body. Swelling around the ankles is particularly alarming and this is known as oedema. You may also find swelling in your hands and fingers. When you have eaten too much salt your body will begin to retain water in an attempt to dilute it and stop yourself from being damaged.
Now it is time to make your voice heard. What other signs indicate that an individual is taking too much salt? Let us know your thoughts in the comments.
(Do not forget to share and like this article)
Content created and supplied by: Clockworks (via Opera News )