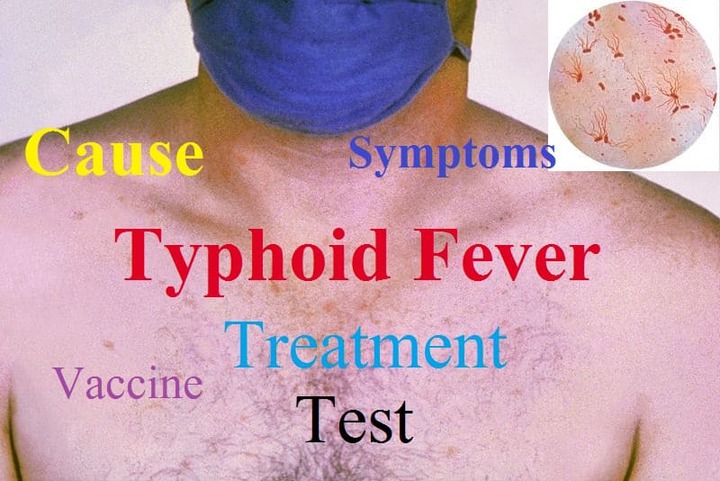 Typhoid is a bacterial infection that can lead to a high fever, diarrhea, and vomiting. It can be fatal. It is caused by the bacteria Salmonella typhi.
How the infection spreads
The Salmonella typhi bacteria will be in the poo (stools) of an infected person after they have been to the toilet. 
If they don't wash their hands properly afterwards, they can contaminate any food they touch. Anyone else who eats this food may also become infected.
Less commonly, the Salmonella typhi bacteria can be passed out in an infected person's pee (urine).
Again, if an infected person handles food without washing their hands properly after peeing, they can spread the infection to someone else who eats the contaminated food.
In parts of the world with poor sanitation, infected human waste can contaminate the water supply.
People who drink contaminated water or eat food washed in contaminated water can develop typhoid fever.
What are the signs and symptoms of typhoid fever and paratyphoid fever?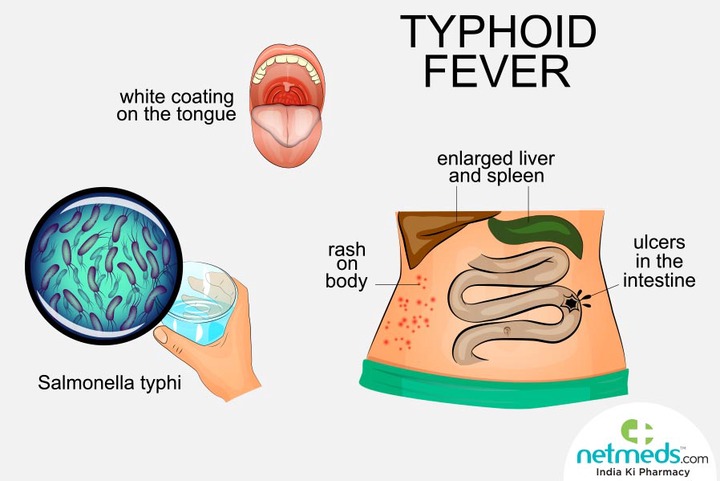 Typhoid fever and paratyphoid fever have similar symptoms̵. People usually have a sustained fever (one that doesn't come and go) that can be as high as 103–104°F (39–40°C).
Other symptoms of typhoid fever and paratyphoid fever include
- Weakness
- Stomach pain
- Headache
- Diarrhea or constipation
- Cough
- Loss of appetite
- Some people with typhoid fever or paratyphoid fever develop a rash of flat, rose-colored spots.
Treatment
The only effective treatment for typhoid is antibiotics. The most commonly used are ciprofloxacin (for non-pregnant adults) and ceftriaxone.
Other than antibiotics, it is important to rehydrate by drinking adequate water.
In more severe cases, where the bowel has become perforated, surgery may be required.
As with a number of other bacterial diseases, there is currently concern about the growing resistance of antibiotics to S. typhi.
This is impacting the choice of drugs available to treat typhoid. In recent years, for example, typhoid has become resistant to trimethoprim-sulfamethoxazole and ampicillin.
Ciprofloxacin, one of the key medications for typhoid, is also experiencing similar difficulties. Some studies have found Salmonella typhimurium resistance rates to be around 35 percent.
Content created and supplied by: DropshipNews (via Opera News )