As humans we all can't follow the same part there will always be black sheep. There are some of us who behave like crabs. They seek the downfall of those better than them. To them it's either you're all losers and they're better than you. Such toxic people are detrimental to well being and should be avoided at all costs. Did you ever know they come in a variety? If not let me enlighten you on them.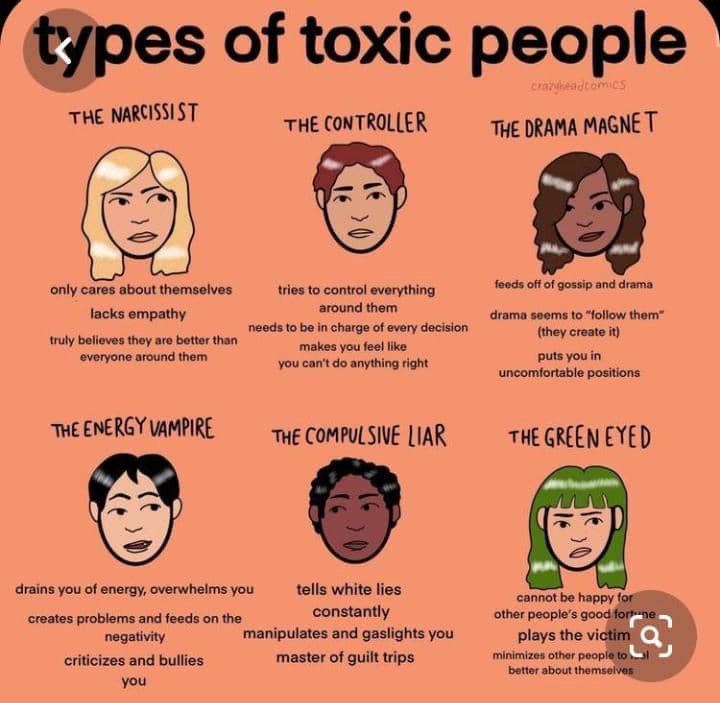 1. Narcissist. They believe they're superior than others. They only think about themselves. They have sympathy towards almost nothing or anyone. Most men narcissists are men. It is a mental condition in which people have an inflated sense of their own importance.
2. Controllers. They always want to be in charge. They never want to be followers but always leaders, even when they're not fit to lead. They always look down on the opinions and efforts of others. They make you feel like you can't just do anything right on your own.
3. Drama magnets. They're always chasing after gossip or drama. It's either they find it or they create it themselves. They always cause trouble and are greatly perturbed when there is absolute peace.
4. Energy vampires. Or should I even call them kill joy people. They're as allergic to positive energy from others as vampires are to sunlight. They always make you look down on yourself whenever you start to feel good about yourself. They criticise your every move , creates problems, bullies you and feeds you with negative energy in place of your positive energy.
5. Compulsive liars. These class of people live with lies. It's as if all that comes out of their mouths are always lies. They're always telling white lies. They manipulate you and gaslights you, they're extremely good at guilt tripping. They always twist the story even when they know it's still a lie just to make it look real.
6. The green eyed. They just can't be happy for others. They're always envious of the success of others. To them being successful is a must for them even at all costs. Even after causing chaos they still play victim and make you look evil. Such people sabotage progress.
How many types toxic people do you know? I bet you already have some names in mind. It's best to flee from such people for your own well being. Thanks for reading. Kindly like and share this article. Do follow me as well. More than ever don't forget to mask up and keep safe. Bye!!
Content created and supplied by: Mandeiya (via Opera News )