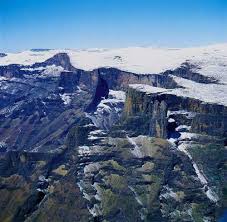 Mount Kilimanjaro is the highest mountain in Africa and it has three volcanic cones, Shira, Kibo and Mawenzi, its a dormant volcano in Tanzania with its summit of 5,895 metres or 19,341 feet above sea level. Below we have listed other highest mountains in Africa.
When you picture the landscape of Africa, the scorching desert of the Sahara and the rolling plains and savanna's of the Serengeti come to mind. As it turns out, some of the most spectacular mountains in the world are found on the African continent, rivaling the Swiss Alps in terms of beauty, the magnificent Rocky Mountains as far as jagged, snow-topped peaks, and even Mt. Everest in terms of climbing prestige.
Many of the mountains on our top ten list are volcanic in origin, while others are the result of ruptured plates on the earth's crust. Some can be climbed with determination and a day's worth of supplies while others require specialized equipment and extensive climbing experience.
A few lie in ravaged, war-torn areas where political strife threatens everyday life. Each has a compelling story to tell.
Before we get started, there is legitimate confusion about the use of specific terminology. When it comes to the word "mountain," it seems to be used interchangeably with the terms "peak" and "summit" quite liberally.
However, for the sake of geological accuracy, these terms are distinct, and each has a specific meaning:
Mountain – A geological, or land, feature that rises 1,000 feet (300 meters) above the immediately surrounding area.
Peak – A point on a mountain that is higher than other local points (one way to think of this is if you need to descend to reach another peak, you were standing on one, to begin with). A mountain will very often have multiple, if not numerous, peaks.
Summit – The highest point on a mountain. Every summit is also a peak, but not every peak is a summit.
Additionally, there are various ways to list mountains by elevation. Many lists are made by sheer altitude without regard to whether a mountain is truly a mountain or simply a named peak. In this regard, the following list ranks actual mountains with a minimum prominence (distance from the summit to the lowest immediately surrounding terrain) of 1,300 feet (about 
#1. Mount Kilimanjaro, Tanzania
Kibo peak, 5,895 meters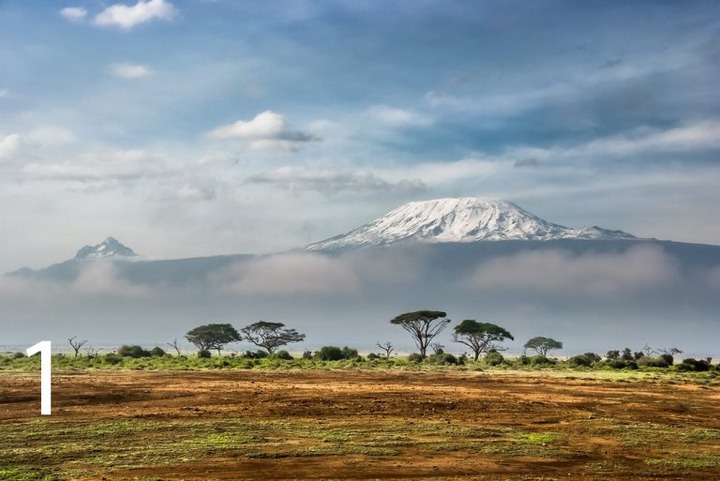 Name: Kilimanjaro
Elevation: 19,341 feet (5,895 meters)
Mountain Range: Kilimanjaro Mountain Range
Country: Tanzania
Difficulty of Ascent: Rated as Walk-Up
Mount Kilimanjaro is the highest mountain in Africa also happens to be its most famous and iconic, the poster child of many African tourism brochures and campaigns, and with good reasons. Mount Kilimanjaro is an awe-inspiring sight rising above the plains and grasslands of northeast Tanzania. It is one of the largest freestanding mountains in the world, dominating the Tanzanian horizon for miles and miles.
Mount Kilimanjaro's summit consists of three primary peaks, which are all volcanoes; the highest of the three is Kibo (dormant), followed by Mawenzi (dormant) and Shira (extinct). Kilimanjaro, as this mountain is affectionately called by native Tanzanians, is in select company as Africa's representative in the Seven Summits, which are the highest peaks on each of the seven continents.
At an elevation of 19,341 feet, Kilimanjaro is over 2,000 feet higher than Mount Kenya. It is also incredibly massive in terms of sheer size, measuring approximately 25 miles across and occupying roughly 500 square miles at its base. There are five Mount Kilimanjaro climatic zones from its base to its summit: rain forest, heath land, moorland, alpine desert, and arctic.
Climbing Notes
Tens of thousands of adventurers and tourists descend upon Kilimanjaro each year with their sights set on reaching its summit. Because of this immense popularity, the trail system on the mountain is well established, and six major routes start from the base and ascend to a circular trail consisting of two circuits. From these circuits are smaller trails that are used to finish the climb to the summit.
The hike from the base to the circular trail is not technically demanding (i.e., no special climbing gear required), but it is physically taxing. Aside from its undeniable beauty, this is one the reasons why Kilimanjaro is so famous; its summit is more reachable than neighboring mountains such as Mount Kenya, which requires climbing skills and specialized gear such as crampons and anchors.
While many reach the circular trail that lies beneath the summit zone, only a few manage to reach the actual summit of Mount Kilimanjaro, which is over three and a half miles above sea level. Acclimatization to altitude is the major challenge (only 10% of attempts to the summit are successful), and altitude sickness can start to occur at elevations above 4,000 feet.
#2. Mount Kenya, Kenya
Bastian peak, 5,199 metres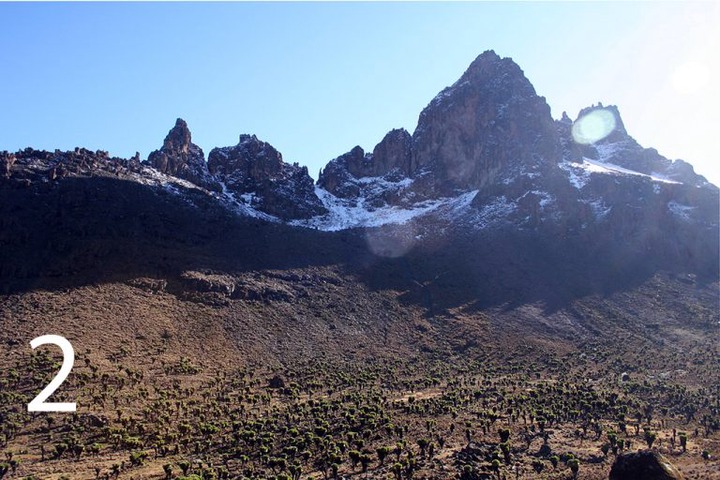 Name: Kenya
Elevation: 17,047 feet (5,196 meters)
Mountain Range: Mount Kenya Mountain Range
Country: Kenya
Difficulty of Ascent: Rated as Technical Climb
As our list reaches the final two, we bid farewell to Uganda, the Democratic Republic of Congo and the majestic Rwenzori mountains, and cross over to Kenya, where Mount Kenya awaits. The second highest mountain in all of Africa is an extinct volcano. It has two primary peaks,Batian and Nelion, which are typically snow-capped.
Although it sits near the equator, Mount Kenya receives a substantial amount of snowfall each year. In fact, unlike most other mountains of its stature in Africa, Mount Kenya serves an incredibly vital role in the area's ecosystem. It supplies fresh water to nearly seven million people in Kenya. Although the majority of this comes via annual rainfall and snow melt, there is concern that the once-mighty glaciers and ice banks will soon melt away.
Mount Kenya also sustains an incredible array of wildlife, forests, and vegetation and has received African World Heritage Site status to promote conservation efforts in this area. Like so many East African mountains, Mount Kenya has zones that vary with altitude. At the sub-alpine zone are dense forests, vast meadows, and open lands that are home to elephants, buffalo, lions, leopards, antelope, and other animals.
Climbing Notes
The second highest mountain in Africa Mount Kenya is a popular destination among climbing enthusiasts and mountaineers. It is widely considered a more challenging trek than the mountain occupying the number one position on this list. It presents perhaps the most technical climb in east Africa, if not the entire continent. Climbers and mountaineers can choose specific routes to the summit that require rock, snow, and ice climbing skills.
Sadly, global warming and climate changes are rapidly changing the landscape of many of the world's mountains, and Mount Kenya is no exception. Where once there were massive glaciers and seemingly permanent ice formations affording world-class ice climbing opportunities, these features are gradually retreating away. Estimates vary on timing, but it may very well take another ice age to replenish glacial ice on African mountaintops.
#3. Mount Stanley, Uganda and Democratic Republic of Congo Margherita peak, 5,109 meters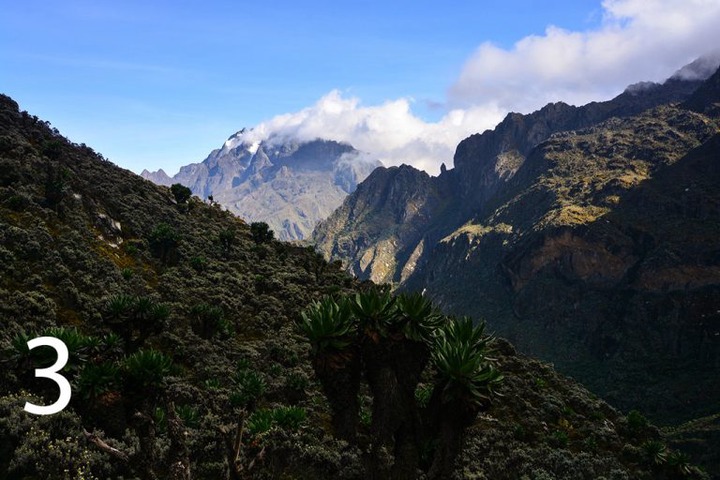 Name: Stanley
Elevation: 16,794 feet (5,119 meters)
Mountain Range: Rwenzori Mountain Range
Country: Democratic Republic of Congo and Uganda
Difficulty of Ascent: Rated as Scramble
Mount Stanley is the mightiest among the Rwenzoris and is the third highest on our list of mountains in Africa. Together with Mount Speke (number four) and Mount Baker (number five), these three mountains align into a towering triangle that encloses the Bujuku Valley below. The summit is marked by prominent twin peaks,Margherita and Alexandra, as well as several subsidiary peaks.
The entire region was shaped millennia ago by the presence of extensive glaciers. The Bujuku Valley now lies where a massive glacier once resided. The six highest mountains in the Rwenzori range were once capped by glaciers, but sadly, only the three highest have visible glacial ice remaining, and only Mount Stanley has any of significance. Some studies suggest that by 2025 all Rwenzori glaciers will have melted away.
The persistent mist that shrouds nearly all of the Rwenzori mountains and Mount Stanley, in particular, adds to the serenity that pervades the entire region, from the valleys to the summits. Were it not for the two prominent mountains that occupy the second and first slots on this list, Mount Stanley would certainly enjoy greater fame, prominence, and visitation.
Climbing Notes
By having the only genuinely glaciered summit among the Rwenzori mountains, Mount Stanley presents unique challenges to those seeking to trek to its highest peaks. Climbing rope is an absolute must, and proper ice climbing gear would be well-advised, mainly due to potentially large crevasses in the ice that must be navigated.
By some accounts, getting to the mountain, whether from the Ugandan or Democratic Republic of Congo side, is quite tricky, often taking days to trudge through thick jungles and wetlands. Once at the base of the mountain, however, trails are decently marked, and as is the case throughout the entire mountain range, huts and shelters are positioned at various elevations.
#4. Mount Speke, Uganda
Mount Speke, 4,890 meters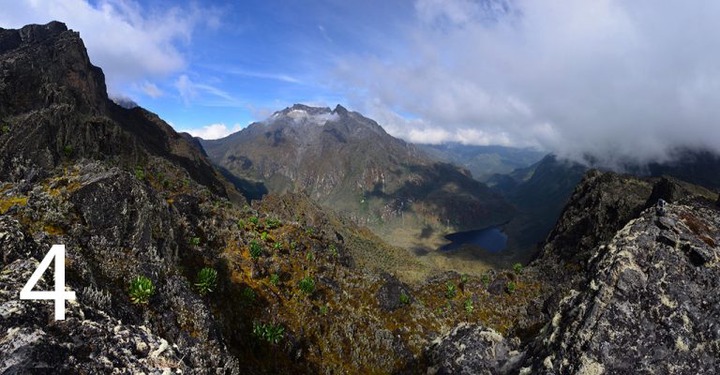 Mount Speke fourth highest mountain in Africa is the second-highest in the Rwenzori mountain range. Mount Speke's summit consists of four peaks, Vittorio Emanuele, Ensonga, Johnston, and Trident. Trekking from peak to peak is treacherous as they are connected via razor-thin ridges and deep gorges with steep walls. To say that you have climbed to the top of Mount Speke puts you in respectable company indeed.Some of the unique challenges that Mount Speke poses to climbers are shaped by the same.
Content created and supplied by: KwadwoSarfoGh (via Opera News )
Opera News is a free to use platform and the views and opinions expressed herein are solely those of the author and do not represent, reflect or express the views of Opera News. Any/all written content and images displayed are provided by the blogger/author, appear herein as submitted by the blogger/author and are unedited by Opera News. Opera News does not consent to nor does it condone the posting of any content that violates the rights (including the copyrights) of any third party, nor content that may malign, inter alia, any religion, ethnic group, organization, gender, company, or individual. Opera News furthermore does not condone the use of our platform for the purposes encouraging/endorsing hate speech, violation of human rights and/or utterances of a defamatory nature. If the content contained herein violates any of your rights, including those of copyright, and/or violates any the above mentioned factors, you are requested to immediately notify us using via the following email address operanews-external(at)opera.com and/or report the article using the available reporting functionality built into our Platform See More