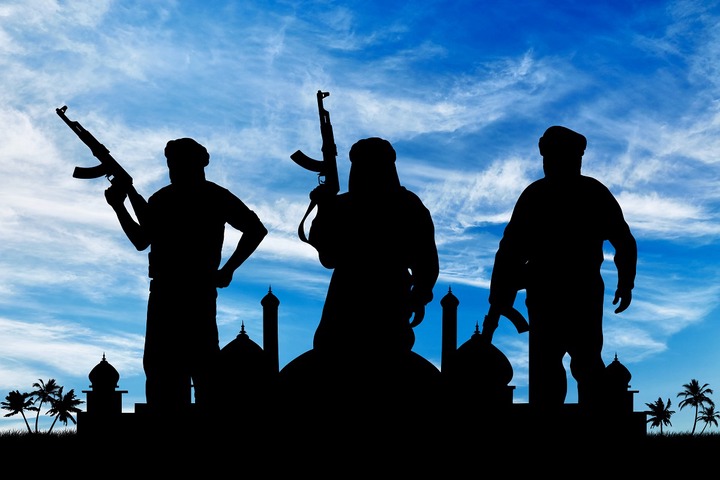 Definitions of terrorism are usually complex and controversial, and, because of the inherent ferocity and violence of terrorism, the term in its popular usage has developed an intense stigma. It was first coined in the 1790s to refer to the terror used during the French Revolution by the revolutionaries against their opponents. The Jacobin party of Maximilian Robespierre carried out a Reign of Terror involving mass executions by the guillotine. Although terrorism in this usage implies an act of violence by a state against its domestic enemies, since the 20th century the term has been applied most frequently to violence aimed, either directly or indirectly, at governments in an effort to influence policy or topple an existing regime.
Jihad  is an Arabic word which literally means striving or struggling, especially with a praiseworthy aim. In an Islamic context, it can refer to almost any effort to make personal and social life conform with ALLAH's guidance, such as struggle against one's evil inclinations, proselytizing, or efforts toward the moral betterment of the community.
Terrorists have exploited the word Jihad to create the false impression that the text of the Quran supports their violent crimes. As with any religious text, a scholar can selectively extract and interpret verses from the Quran to support opposing arguments; yet according to scholars of Quran, of the 35 verses in which the Quran mentions Jihad, 31 make no allusion to fighting either in the text or the context. The remaining four verses instruct Muslims to take up arms only to defend themselves against an aggressor. 
For example, Quran 22:39 grants permission to fight to those who have been attacked. Similarly Quran 2:190, the Quran reveals, "fight in the cause of Allah those that fight you, but do not aggress because Allah does not love the aggressor." 
Holy Quran clearly says about Cain's killing of Abel: "For that cause we decreed for the Children of Israel that whosoever kills a human being for other than manslaughter or corruption in the earth, it shall be as if he had killed all mankind, and whoso saves the life of one, it shall be as if he had saved the life of all mankind. Our messengers came unto them of old with clear proofs (of Allah's Sovereignty), but afterwards lo! many of them became prodigals in the earth." (5:32).
Prophet Muhammad (PBUH), the last Prophet according to Islamic belief, also said "A believer continues to guard his Faith (and thus hopes for Allah's Mercy) so long as he does not shed blood unjustly." (Bukhari)
Terrorism, in fact, is completely the opposite of Jihad. Any act of violence that instills fear in the minds of innocent people is an act of terror, particularly because this fear is not a fear against anything wrong, like corruption or theft. Instead, it is a fear of those who wish to gain power through instilling fear in the innocent. Those who terrorize people claiming that they are the followers of Islam have forgotten that "Islam" means "peace," and that the Holy Quran teaches tolerance towards other faiths and guides:
"There is no compulsion in religion. The right direction is henceforth distinct from error. And he who rejects false deities and believes in ALLAH hath grasped a firm handhold which will never break. Allah is Hearer, Knower." (2:256)
Don't forget to like, share and follow for more. Stay Blessed.
Content created and supplied by: Hasbiyallah (via Opera News )