What is chronic bronchitis?
Chronic Bronchitis is a form of chronic obstructive pulmonary disease used clinically to describe the situation where excess sputum is produced by a patient on most days for at least 3 month of the year for at least 2 consecutive years.
How the disease happens
Although well-defined clinical term, pathological changes in chronic bronchitis is variable and relatively non-specific. Chronic irritation of the bronchial mucosa either by tobacco smoke, atmosphere pollution or by repeated episodes of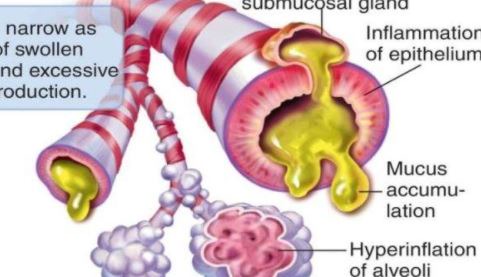 infection induces chronic inflammatory and hyperplastic changes resulting in marked thickening of the bronchial wall. This feature is the main abnormality in cases of chronic bronchitis. Three factors contribute to the increased thickness of the bronchia wall infiltration of the submucosa by chronic inflammatory cells marked hypertrophy of mucosal smooth muscle and marked hyperplasia of mucous glands with the production of copious mucus. In addition, the surface epithelium undergoes hyperplasia and often squamous metaplasia. The consequent loss of ciliary activity then compounds the problem of mucus production by destroying the mucociliary escalator and provides an ideal environment for superimposed bacterial infection.
follow, share and comment for more.
Content created and supplied by: Dnartgh (via Opera News )