The saying that success has many fathers always rings true when you hear of amazing stories of people who worked their way out of the woods to achieve greatness and unimaginable success. The scriptures say that a man who is diligent at his work would find his place in front of kings. Consistency, hard work and determination are often the major attributes of people who chalked greatness in the fields they applied themselves and committed to.
Most of these stories are inspirational because such persons did not have things going for them right from beginning. Some faced opposition from society whiles others came from very impoverished backgrounds having serious financial difficulties.
The story of hip-life act, Sarkodie, known in private life as Michael Owusu Addo is a glaring example. As a matter of fact, comparing even his physical transformation leave many wondering if he is the same person. From a not too comfortable background, he chose a path many in the beginning did not believe in. He however stuck to his dream and conviction and worked through it and after more than ten years down the line, it can be indisputably stated that he is the biggest musician in the country.
Things were really tough for him in the early days as seen in the picture in this article. At a point he was literally unknown irrespective of his hard work. He attended an edition of the Ghanaian Music Awards some years back in the company of rapper Edem. They were interviewed by Chris Attoh but interestingly, when their captured image appeared in the newspaper, it was captioned as, "Chris Attoh with Ayigbe Edem and co", with the "co" representing Sarkodie, even with his name boldly embossed on the shirt he was wearing. Indeed, if this caption appeared in recent years, people would have called for the head of the journalist as it would have been deemed as disrespectful to Sarkodie. But that was then.
Here is the morale of this story: whatever genuine and legitimate venture you have committed to, do not give up. Commit to it and push hard, you will excel.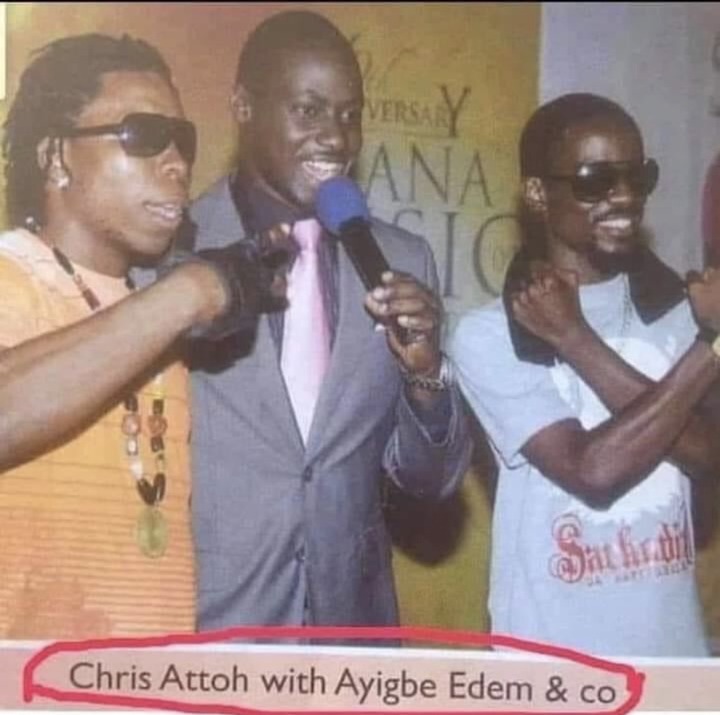 Content created and supplied by: Fruit4taught (via Opera News )