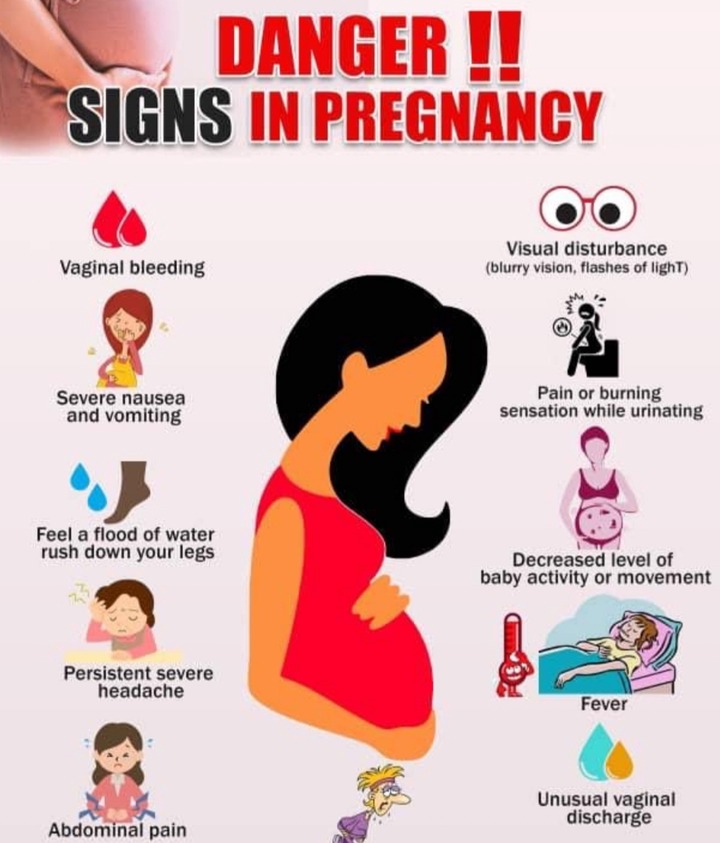 Pregnancy is a normal and natural process. Alot of women do not feel these signs during pregnancy but this could happen to any woman. Women need to be informed about these signs and when to seek care from her healthcare provider.
The greatest and profound moment in any woman's life is when she has the opportunity to carry a child in her womb. However, if the woman realise she is unhealthy, the effects of this abnormality can seriously affect both mother and baby. Therefore, if these signs arises during pregnancy, the mother should not take things for granted. The best course of action is to consult her midwife for professional advice.
Spotting is normal, during the first trimester there may be some normal spotting, as the fertilized egg implants itself on the lining of the uterus, causing hormonal changes and a certain amount of vaginal bleeding, but heavy bleeding could be a sign of a miscarriage or ectopic pregnancy. The brighter red the bleeding, the more significant it is.
If you are bleeding and having bad cramping this may be a sign of miscarriage but If it coupled with sharp, lower abdominal pain then it may be a sign of ectopic pregnancy. Ectopic is a serious complication that occurs when the fertilizated egg implants itself outside the uterus, usually in the fallopian tubes.
2. Excessive Nausea and Vomiting.
It's normal to feel nauseating and vomiting sometimes in your first trimester. It normal for most pregnant women. if it is severe to the extent of becoming dehydrated which is known as hyperemesis gravidarium, then you have to alert your healthcare provider. You may need to be hospitalized to treat the dehydration and reduce vomiting .
3. High Fever.
A fever greater than 37.5 degrees Celsius during pregnancy may be serious. This could be a sign of infection, which could affect the baby.
Fevers during pregnancy that are accompanied with rash and pain may be a sign of infection such as (CMV) cytomegalovirus or urinary tract infection (UTI) and toxoplasma. CMV most common cause of congenital deafness.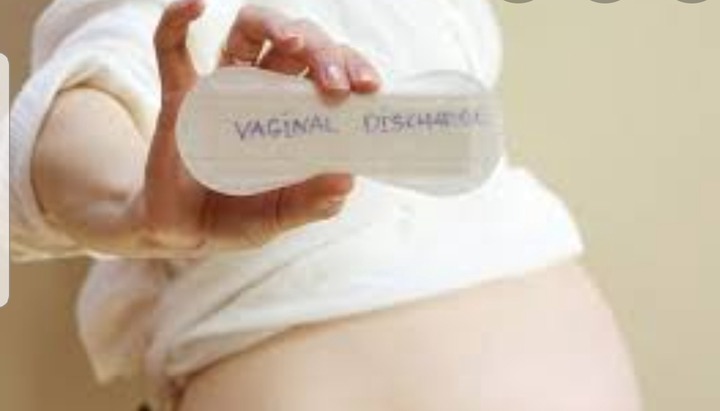 4. Vaginal Discharge and Itching.
It is normal to have vaginal discharges but it's become abnormal when there is itching. These may be signs of treatable infections or STI's that can have important effect on pregnancy.  If it's an infection, it could harm both mother and baby.
5. Pain or Burning During Urination
These can be signs of bladder or urinary tract infection, and if left untreated, may lead to more serious illness, infection and pre-term birth. If it's an infection, treating it can relieve your pain, and help assure a healthy pregnancy. 
6. Blurred vision and frequent severe headaches.
These are common symptoms, especially in pregnant women, and they can be caused by hormonal changes, stress and fatigue. Unfortunately, these symptoms can be a warning sign of something much more serious such us preeclampsia. Especially if there is also swelling of the feet.
7. Excessive thirst and sweating.
When a new baby is growing in the womb, some of the fluids in the mother's body are also passed on to the baby, and this means that mothers can feel thirsty almost all the time. If you feel abnormally thirsty, however, and that thirst is not resolved by increasing your fluid intake, and if you are sweating at the same time, this could be a sign that you are experiencing a complication known as gestational diabetes.
8. Baby's movement slows down or no fetal movement.
Fetus grows in the womb every day until they no longer have much space for it to turn over. As a result, eventually it movements reduces and even becomes quiet as it sleeps comfortably. Mothers sometimes get used to this feeling and may wrongly think their baby is asleep, when their baby's lack movement. If these symptoms appear, it is safest to be alarmed first. Doing so is the best way to help prevent any possible health problems for the newborn.
9.Sever lower abdominal pain.
You have a sharp, stabbing pain that doesn't go away. Your belly pain starts suddenly and is severe, or gets worse over time. You have severe chest, shoulder, or back pain. When an expectant mother feel this way it's may be a sign of an underlying condition, so therefore you should rush to your healthcare provider.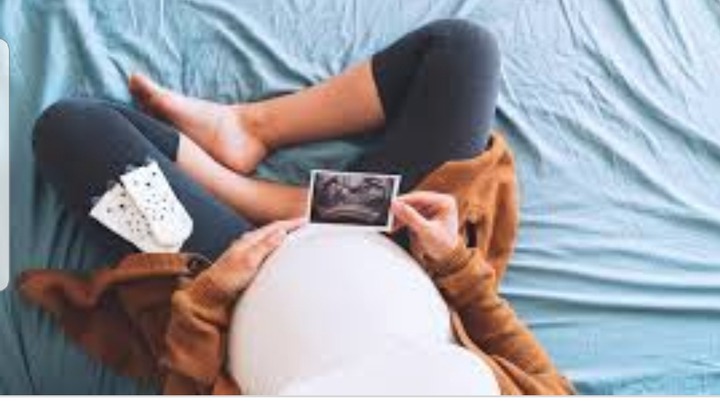 10.Severe calf or leg pain.
You have swelling, pain, or tenderness in your leg, usually your calf or in one leg. It may or may not hurt when you touch it. It may hurt when you flex your foot to stand or walk. The painful area can also be red, swollen, and warm to the touch. You have pain, tenderness or swelling in your arm, usually on just one side of your body.
Anytime you are concern about what is going on , it's ohk to talk to your healthcare provider.
Content created and supplied by: Rahmed (via Opera News )