You might be wondering why Yaa Jackson could tweet something like that. If you want to continue reading, please click on the +follow button on the top right corner of your screen to follow my page for more information.
The daughter of renowned movie producer Jackson K. Bentum, has been criticized by many Ghanaians due to the kind of outfits she wears and how she presents herself.
I doubt there's any "beef" going on between Sarkodie and Yaa Jackson. Her tweet has attracted reactions from followers. In the tweet, Yaa Jackson said and I quote; "If this Sarkodie and Jay Z feature is true eh, like I'll walk naked for a whole day. Apuuu".
From the tweet, one can say that it's either she hates Sarkodie or those two are "beefing" secretly.
Yaa Jackson's tweets and some comments are below;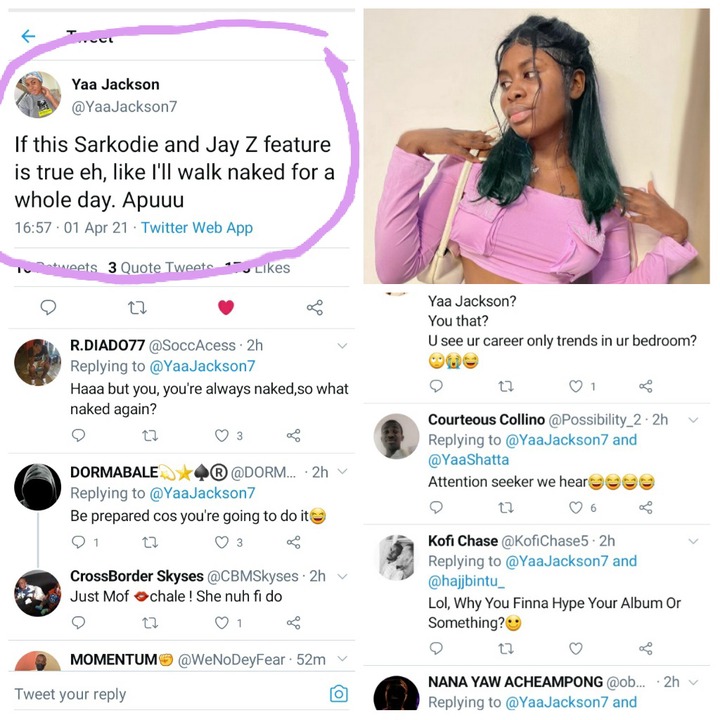 What can you say about this issue at hand? Did she go too far? Your comments are mostly welcome.
Don't forget to follow my page for more updates.
Content created and supplied by: Edoukwah (via Opera News )