After the court petition today, Sammy Gyamfi granted an interview and encourages their supporters.
According to Sammy Gyamfi, getting Madam Jean Adukwei Mensa to testify is not for their interest but the petitioner is doing all this for and on behalf of Ghanaians.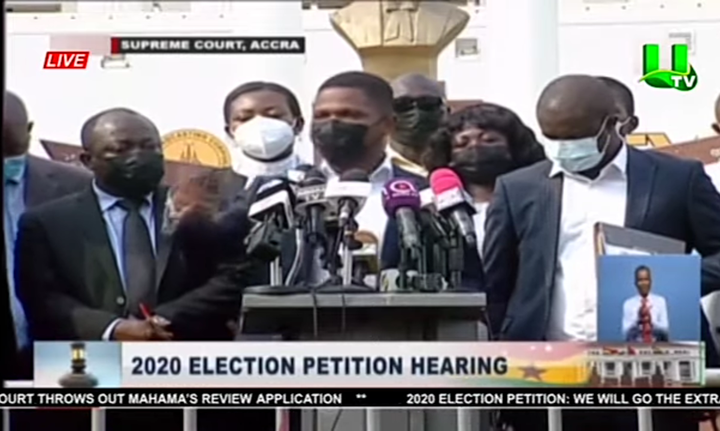 He then said that haven relied on the representation by Madam Jean Mensa and haven close their case base on that representation, they will be denied fair hearing if she is not held to her representations conclusively under section 26 and 24. Because under 26 and 24 of the Evidence Act, she has put herself under a conclusive presumption that she will testify.
"Am sure you all remember, one of the Justices of the court saying that so can't she change her mind. It all about the issue of estoppel. So why did the court not refer to that in it ruling? And for us, it is a great violation of the law.
"Now in the court decision on the matter, they simply said they disagree with us because we have not shown that these fundamental errors of law, have occasioned discourage of justices the to petitioner. That is why we respectfully but vehemently disagree with the court because these applications are not being brought for nothing, we believe that inline with article 19 clause 13 of the 1992 Constitution section 26 of the evidence Art, Jean Mensa must be made to testify base on her election and to answer questions that are jammed to the issue put to court", he said
To him, the court refusing that will deny the petitioner of fair hearing.
He added that what else do they need to prove before the court will know their none complains about section 26 respectfully has occasioned and discouraged of Justices to the petitioner.
"So what we want to tell Ghanaians particularly those that voted for us, is that some of these decisions are not going in our favour and there is the tendency for some of you to be sad but we are standing here as leaders who have the authority of John Dramani Mahama that don't give up and don't give in. Chelle up and score up your shoulders because no matter how this court decision will go, Ghanaians all of us are descending, the world is watching and we all will know the truth for ourselves", he encourages their supporters.
Content created and supplied by: Kaboregab (via Opera News )