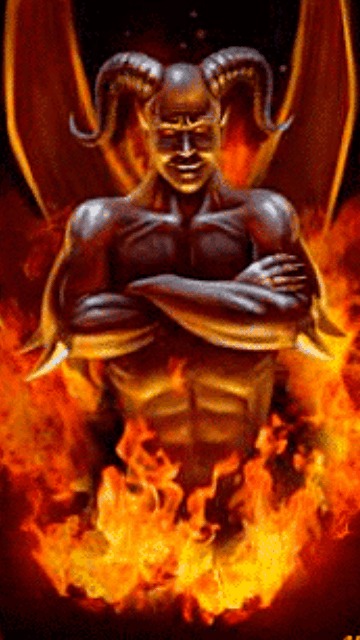 Demonic spirits are spirits of darkness whose appearance are not visible to the human eye. The holy bible mentions demons several times to depict their true identity and character. Mathews 12:43 describes the nature of some demonic spirits. Don't doubt the existence of demonic spirits but you need not to fear them because we have been made more powerful than them through the power in the name of Jesus Christ and the undeniable presence of the holy spirit on earth. I want to assure you as a child of God who beleives in the powerful name of Jesus Christ that your level of authority in the spiritual realm is higher than demonic spirits. So don't panic when you hear demonic spirits manifesting through a person under deliverance. But these evil spirits are so dangerous than you probably know. They hate humanity with capital letters. They know that their destruction is not far but human beings have been offered a redemption plan to eternity in heaven through the sacrificial blood of Jesus Christ. So demons are not your friends. If you have sought for assistance from a demonic spirit before, better return it to him because that demon will follow you to the gate of heaven after death to prevent your access into the glorious city of heaven. If you need anything in life, work hard with your hands, avoid laziness. If you need any spiritual assistance read the bible and pray in the midnight hours continuously. God will grant you your request. God is merciful and prayer answering God. These evil entities are working together with the devil himself to prevent humanity from entering into the kingdom of God. So be serious with your salvation. Stop laughing with your redemption issues. Work out your salvation with fear and trembling to enter into eternal life like Elijah, Enoch, Moses, David and all the holy servants of God. God cannot be deceived or mocked. A person shall reap what he sows on earth after death.
The bible tells us some deep secrets about demons that we have probably forgotten. But let us remind ourselves again. This will help us to tread cautiously in our daily lives on earth. The demons don't want you to know their secrets but i will expose them to you. Their attack on this writer is like a flying paper in the sky. It carries no weight against the blood of Jesus Christ. This precious blood is spiritual superpower that can blast a whole country and turn it into a useless land. Put your faith in Jesus and experience it for yourself. Just mention the name of Jesus and the blood of Jesus as prayer weapons against the enemy in the night.
Let see some few deep secrets about demons according to the bible. This is not a joke. Let your spiritual understanding be opened to understand this verse as it is.
(1) Spiritually demonic spirits eat human flesh and drink human blood as spiritual food to survive according to the word of God.
This happens in the unseen realm. Physically you will never see any demon drinking any human blood or eating human flesh. It occurs in the supernatural realm.
Listen and read this bible verse carefully.
Isaiah 49:25-26
[25]But thus saith the LORD, Even the captives of the mighty shall be taken away, and the prey of the terrible shall be delivered: for I will contend with him that contendeth with thee, and I will save thy children.
[26]And I will feed them that oppress thee with their own flesh; and they shall be drunken with their own blood, as with sweet wine: and all flesh shall know that I the LORD am thy Saviour and thy Redeemer, the mighty One of Jacob.
Demons drink blood of human beings to survive and operate in the spiritual realm. When accident happens on the roadside, if God is to open your spiritual eyes, millions of demons will be there sucking the spilled blood to energise them for action. The bible refers to the mighty as the demon and the prey as human beings. But God will deliver us from their hands and force them to drink their own blood.
(2) Several Demons have deep wounded marks on their bodies from the prayers of the saints on earth.
Many demons have big wounds on their spiritual bodies due to attempting to attack faithful children of God on earth. If a demon stubbornly attacks you several times and there is no stain of sin on you, your guardian angel can strike him mercilessly and leave a big scar on his body. The demon will live the rest of his life with that wound until their final judgement according to Revelation 20:10. Even your own prayers carry power to injure a demon who tries to attack you. If you are a prayerful christian and living in holiness, your words carry strong power in the spiritual realm. You will bind and it shall be so. You will destroy many demons with your powerful prayers.
(3) Demons don't really die, so they know all the secret about your family.
As a child of God understands that, demons were trying to disclose the identity of Jesus Christ as the only son of God sent to take away the sins of the world. They know every iota of truth and secrets about us including our deceased generation. So necromancers who try to bring the spirit of a dead person and speak out some information about cause of death are demonic spirits. Don't do that in your life. It will erase your name from the lamb book of life. Demons are also working with some false prophets who only specialise in prophecy instead of preaching holiness and righteousness. These false prophets are possessed by these demons to reveal people identity because they know. There is all knowing God who has also imparted this prophetic gift into chosen vessels to operate on earth. These are genuine servants of God who carry the real image of the father and preach holiness and righteousness.
These demonic entities want you to enter into spiritual covenant with them and use your blood as seal to enable them kill you and drink your blood when the covenant period expires. This modern Sakawa and ritual money are due to that. The demons need blood to survive so they will ask you to kill before giving you the money. Please don't follow them. God will not hold you guiltless if you spill an innocent blood just for money.
Read Genesis 9:6 carefully.
Genesis 9:5-6
[5]And surely your blood of your lives will I require; at the hand of every beast will I require it, and at the hand of man; at the hand of every man's brother will I require the life of man.
[6]Whoso sheddeth man's blood, by man shall his blood be shed: for in the image of God made he man.
Even when a beast kills a human being, God shall require that blood from the beast. How much more you human being. Don't ever attempt to kill a fellow human being for ritual money. God who created all lives shall hold you accountable and your punishment shall be bigger than the whole world.
Content created and supplied by: RainbownewsGh_official (via Opera News )
Opera News is a free to use platform and the views and opinions expressed herein are solely those of the author and do not represent, reflect or express the views of Opera News. Any/all written content and images displayed are provided by the blogger/author, appear herein as submitted by the blogger/author and are unedited by Opera News. Opera News does not consent to nor does it condone the posting of any content that violates the rights (including the copyrights) of any third party, nor content that may malign, inter alia, any religion, ethnic group, organization, gender, company, or individual. Opera News furthermore does not condone the use of our platform for the purposes encouraging/endorsing hate speech, violation of human rights and/or utterances of a defamatory nature. If the content contained herein violates any of your rights, including those of copyright, and/or violates any the above mentioned factors, you are requested to immediately notify us using via the following email address operanews-external(at)opera.com and/or report the article using the available reporting functionality built into our Platform See More