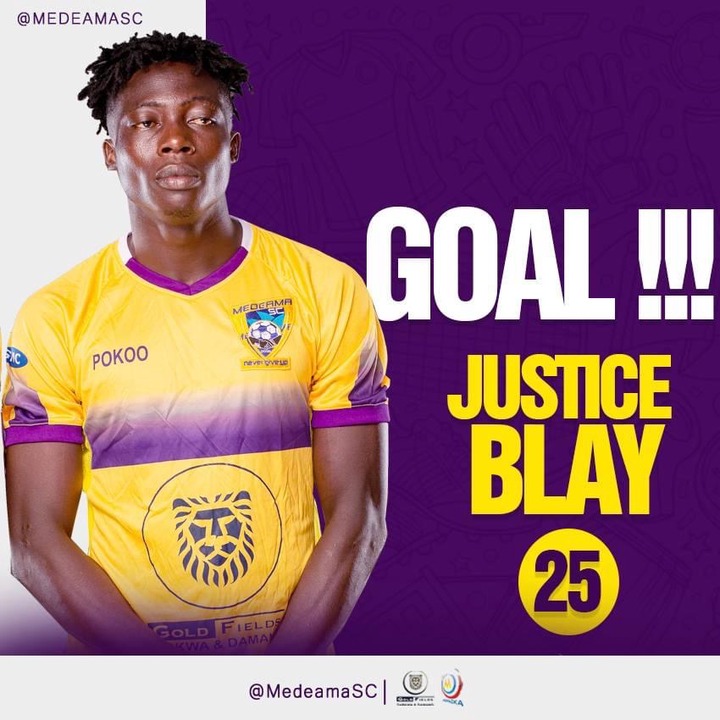 Medeama have beaten Accra Hearts of Oak by a lone goal in a week 12 encounter in Tarkwa. 
Midfielder Justice Blay got the only to separate the two team. 
Accra Hearts of Oak leave Takwa empty-handed, thu, losing two matches in a row. 
Match Report: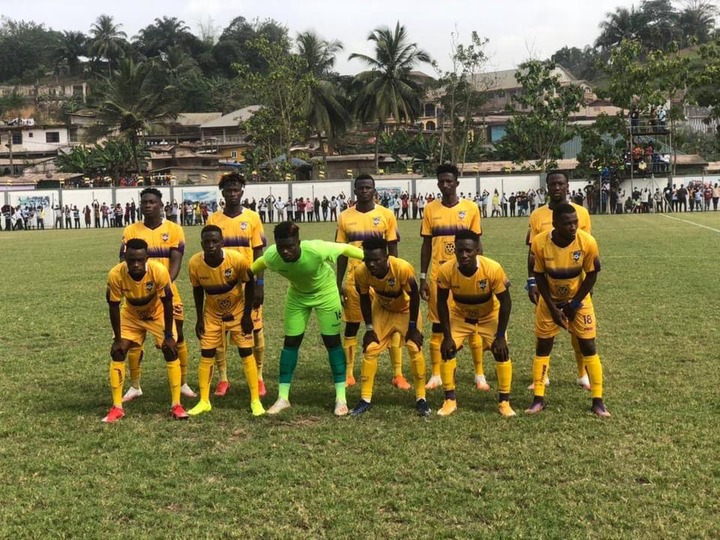 Accra hearts of Oak started with goalkeeper Richard Attah, Sumaila Larry, Raddy Ovouka, Mohammed Alhassan, Nuru Sulley; Abdul Aziz Nurudeen, Ansah Botchway, Abdul Manaf, Emmanuel Nettey; Victor Aidoo, Kwadwo Obeng Junior.
Medeama had a line up of goalkeeper Eric Ofori Antwi, Samuel Appiah, Bright Enchil, Daniel Egyin; Ali Yusif Ouatarra, Justice Blay, Eric Kwakwa, Rashid Nortey; Abass Mohammed, Agyenim Boateng, Ebenezer Ackahbi.
First Half
Bothe teams commenced the game with some incursions. Accra Hearts put some few decent passes together but Medeama were watchful to intercept those passes and dominate. 
In the 5th minutes, Medeama had a corner but the resulting kick was headed wide off.
Rashid Nortey was awarded a free kick but his kick went into the waiting arms of goalkeeper Richard Attah. 
Raddy Ovouka blew away a free kick that came in their way in the 8th minutes.
Rashid Nortey's corner kick found Ali Yusif Ouatarra whose jump went wider in the 10th minutes.
Raddy Ovouka cleverly stops Ebenezer but referee awards a wrong free kick, but the resulting kick went wide off the net. 
In the 18th minutes, Kwadwo Obeng Junior connected to corner kick, but it was not strong enough to beat Eric Ofori Antwi.
In the 20th minutes, Abdul Manaf beat off an offside trap but referee will deny him the opportunity to put his team ahead. 
In the next two minutes, Abass Mohammed gave out a good drive but it soared high.
In the 23rd minutes, Abdul Manaf went into the books of the referee after pulling Rashid Nortey who was about to shoot, Rashid Nortey blew the free kick apart. 
Ebenezer Ackhabi put Richard Attah to test with a powerful shot, but the goalkeeper was up to duty.
Justice Blay emerged the brighter spot for Medeama as he delivered his team from most dangerous moves. 
Medeama kept weaving passes together to get the lead but Accra Hearts of Oak defenders stood to their grounds to shield goal bound moves. 
Both sides continued to pile pressure on each other for the opener but defenders of both teams were alive to thwart attacks.
Medeama almost got the lead but Abass Mohammed's header was not heavy enough to beat goalkeeper Richard Attah.
Te first half ended goalless as both sides created chances but goalkeepers remained resolute to ensure a clean sheet.
Second Half 
Medeama ushered the second half into play as the search for the lead resumed.
Accra Hearts of Oak took charge of possession but the final delivery was missing in action.
In the 48th minutes, Larry Sumaila Ibrahim made a timely intervention to prevent Medeama from getting the opener. 
In the 50th minutes, Justice Blay tapped home a free kick from Bright Enchil to put his team ahead. 
Accra Hearts of Oak kept their composure to in search of the parity. 
In the 63rd minutes, Hearts surged forward, beating goalkeeper Eric Ofori Antwi in the process, but the final outcome was poor as they failed to slot home the goal. 
In the 72nd minutes, Larry Sumaila made a run after which he was brought down for a free kick but the take by Abdul Manaf was parried away by goalkeeper Eric Ofori Antwi.
Accra Hearts of Oak continued to dominate proceedings but the equalizer was still proving difficult to come by as Medeama defenders were at duty.
Abass Mohammed in the 79th minutes could have added the second goal but wasted the chance.
Agyenim Boateng kept worrying hearts with his pace but Raddy Ovouka will police him as needed. 
Content created and supplied by: Abdul-Jalilu (via Opera News )